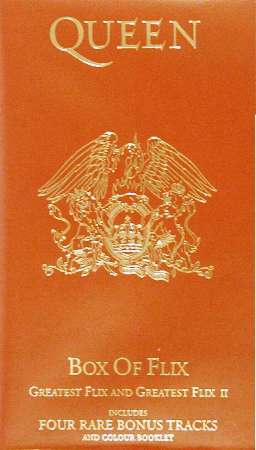 Released 28 October 1991.
Length 78 minutes (video one) and 81 minutes (video two).
'Greatest Flix' Tracklisting:
1. Killer Queen (photo montage)
2. Bohemian Rhapsody
3. You're My Best Friend
4. Somebody To Love
5. Tie Your Mother Down
6. We Are The Champions
7. We Will Rock You (slow studio version)
8. We Will Rock You (fast live version)
9. Spread Your Wings
10. Bicycle Race
11. Fat Bottomed Girls
12. Don't Stop Me Now
13. Love Of My Life (live)
14. Crazy Little Thing Called Love
15. Save Me
16. Play The Game
17. Another One Bites The Dust
18. Flash

'Greatest Flix' Bonus Tracks:
19. Keep Yourself Alive
20. Liar
21. Killer Queen (Top Of The Pops performance)
22. Now I'm Here

'Greatest Flix II' Tracklisting:
1. The Show Must Go On (montage video) (edit)
2. A Kind Of Magic
3. Under Pressure
4. Radio Ga Ga
5. I Want It All
6. I Want To Break Free
7. Innuendo
8. It's A Hard Life
9. Breakthru'
10. Who Wants To Live Forever
11. Headlong
12. The Miracle
13. I'm Going Slightly Mad
14. The Invisible Man
15. Hammer To Fall
16. Friends Will Be Friends
17. The Show Must Go On
18. One Vision
19. God Save The Queen (title track)
This is a double VHS set in a plastic case with a colour booklet, and contains the 'Greatest Flix' and 'Greatest Flix II' videos. The 'Greatest Flix' video features four bonus tracks, approximately 18 minutes in length, three of which (excluding 'Liar') were later included on the 'Greatest Video Hits I' DVD. 'Liar' is exclusive to this set, although excerpts also appear on the 'Rare Live' video.
---