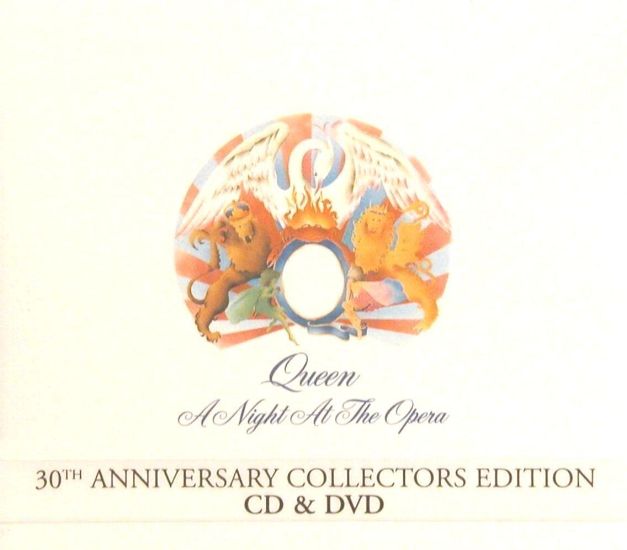 Released on 21 November 2005 as a CD and DVD set.
Length 43 minutes (both discs).
Tracklisting:
1. Death On Two Legs (Dedicated To....)
2. Lazing On A Sunday Afternoon
3. I'm In Love With My Car
4. You're My Best Friend
5. '39
6. Sweet Lady
7. Seaside Rendezvous
8. The Prophet's Song
9. Love Of My Life
10. Good Company
11. Bohemian Rhapsody
12. God Save The Queen
Executive producers : Brian May and Roger Taylor
CD & DVD mastered by Bob Ludwig

DVD produced by Simon Lupton and Rhys Thomas
Audio for DVD produced by Kris Fredriksson
All new videos directed by Simon Lupton & Rhys Thomas
Archive commentary compiled by Greg Brooks, Simon Lupton and Rhys Thomas

5.1 mixes produced by Roy Thomas Baker and Brian May, mixed by Elliot Scheiner.
except: 'God Save The Queen', produced by Brian May and Justin Shirley-Smith, mixed by Kris Fredriksson
5.1 conformed to stereo by Scott Elson


This set was released to mark the 30th Anniversary of Queen's 1975 album, and features the CD album and a DVD equivalent, in a wrap-around sleeve with a booklet and outer slipcase. The CD is a newly remastered version of the album, and was also available separately as a CD and LP.

The DVD includes the original promo video for 'You're My Best Friend', the alternate 'flames' promo video for 'Bohemian Rhapsody', and ten newly created videos for the remaining tracks. Each track has been remixed into 5.1 surround sound, full details of which are available on the Surround Sound Mixes page. The majority of the mixes were previously available on the 2002 DVD-Audio release of the album, but it adds a new surround sound mix of 'God Save The Queen', aswell as archive commentary for each video.

The new videos feature a lot of footage from the Hyde Park, Earl's Court and Houston concerts, but a number of other shows are present including the Concert For Kampuchea, Wembley 1986, and Budapest 1986.

When the DVD first loads, the menu is shown over the start of 'Death On Two Legs', and if you leave it then the menu disappears as the main part of the song starts at 0:38. The first menu allows you to play in stereo, in 5.1 surround sound, select a song or goto the setup.

If you allow the DVD to play then return to the menu, a 38 second piano version of 'Death On Two Legs' is played, which could possibly be from a demo or early take. This menu allows you to play all tracks, select a song, goto setup, or resume.

'Seaside Rendezvous' was later included as a bonus video on the 'A Night At The Opera' 2011 iTunes LP.
---