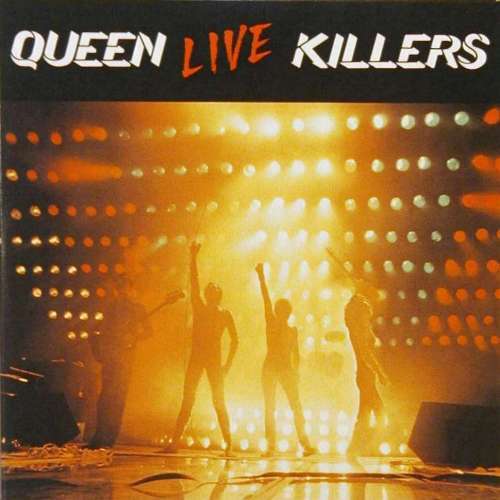 Current region: UK. Not all MP3's listed may be the correct versions. If no widget is shown, you may need to update Flash or your browser.
Released 22 June 1979, reached no 3, on chart for 29 weeks, achieved Gold status.
Re-released on CD in a slimline double case on 8 September 2003.
Disc One length 47:12, Disc Two length 43:11
Disc One Tracklisting:
1. We Will Rock You (fast version)
2. Let Me Entertain You
3. Death On Two Legs (Dedicated To....)
4. Killer Queen
5. Bicycle Race
6. I'm In Love With My Car
7. Get Down Make Love
8. You're My Best Friend
9. Now I'm Here
10. Dreamer's Ball
11. Love Of My Life
12. '39
13. Keep Yourself Alive

Disc Two Tracklisting:
1. Don't Stop Me Now
2. Spread Your Wings
3. Brighton Rock
4. Mustapha (intro) / Bohemian Rhapsody
5. Tie Your Mother Down
6. Sheer Heart Attack
7. We Will Rock You (slow version)
8. We Are The Champions
9. God Save The Queen
Produced by Queen
Engineered by John Etchells, assisted by David Richards
Recorded by John Etchells on the Manor Mobile
Mixed at Mountain Studios
Recorded on the European Tour, January - March 1979

Sleeve concept by Queen
Sleeve design Foster and Knowles Advertising and Ichikudo Printing Co. Ltd.
Cover photo: Koh Hasabe


The album omits some tracks which were performed on the tour, most notably 'Somebody To Love', 'If You Can't Beat Them', 'It's Late' and 'Fat Bottomed Girls'. The tracks come from a number of different concerts on the 1979 European Tour, but the album does not list where each track comes from. Click here for a very interesting page which tries to locate the origins of each track, with the basic details listed below. Some tracks come from a single show, whlie some are edited to include as many as three or four different shows, and some feature overdubbed elements.

Various tracks have been released on compilation albums over the years, but unless noted below, they simply contain different amounts of audience noise at the start or end of the track.
Singles:
Love Of My Life / Now I'm Here (no 63, 29 June 1979)

[discography]

We Will Rock You / Let Me Entertain You (USA and Japan only, 24 August 1979)

[discography]
Related Album:
---
---
---
---
---
---
---
---
---
---
---
---
---
---
---
---
---
---
---
---
---
---
---