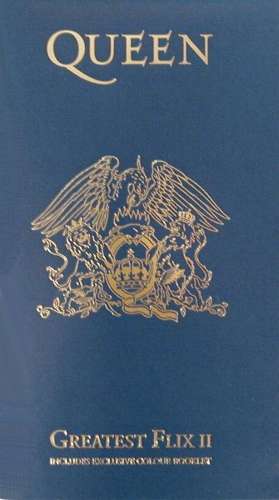 Amazon MP3 Previews for this page will be displayed when you have chosen your region, if they are available.
Released 28 October 1991.
Length 81 minutes.
Tracklisting:
1. The Show Must Go On (montage video) (edit)
2. A Kind Of Magic
3. Under Pressure
4. Radio Ga Ga
5. I Want It All
6. I Want To Break Free
7. Innuendo
8. It's A Hard Life
9. Breakthru'
10. Who Wants To Live Forever
11. Headlong
12. The Miracle
13. I'm Going Slightly Mad
14. The Invisible Man
15. Hammer To Fall
16. Friends Will Be Friends
17. The Show Must Go On
18. One Vision
19. God Save The Queen (title track)
Compiled by Rudi Dolezal and Hannes Rossacher
Produced by Jim Beach


This video was essentially later re-released in 2003 on DVD, losing some videos but adding others and bonus features, as 'Greatest Video Hits II'.

The video begins with a unique edit of 'The Show Must Go On', which features excerpts from the making of various promo videos. At the beginning of each track, a screen is shown which features artwork from the single, and the song's title.

Whilst the video is a companion to the album 'Greatest Hits II', it contains three unique versions - 'Friends Will Be Friends', 'The Invisible Man' and 'Headlong', aswell as the single version of 'Who Wants To Live Forever', which is also not on the album.
---