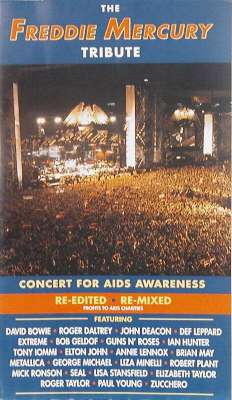 Released 23 November 1992 as a double video set.
Length 84 minutes (video 1) and 106 minutes (video 2).
Video One Tracklisting:
1. Insert 1 - Bohemian Rhapsody
2. Queen Introduction
3. Enter Sandman (Metallica)
4. Sad But True (Metallica)
5. Nothing Else Matters (Metallica)
6. Insert 2 - You Take My Breath Away (live), The Great Pretender, My Melancholy Blues, Somebody To Love (live), One Vision
7. Queen Medley (Extreme)
8. Insert 3 - I Want It All, Play The Game (live), The Show Must Go On, These Are The Days Of Our Lives
9. Now I'm Here (Def Leppard & Brian May)
10. Insert 4 - I'm Going Slightly Mad
11. Too Late God (Bob Geldof & The Happy Club)
12. Knocking On Heaven's Door (Guns 'n' Roses)
13. Paradise City (Guns 'n' Roses)
14. Elizabeth Taylor Speech

Video Two Tracklisting:
1. Insert 5 - We Will Rock You and Freddie Singalongs
2. Tie Your Mother Down
3. Heaven & Hell / Pinball Wizard
4. I Want It All
5. Las Palabras De Amor (The Words Of Love)
6. Hammer To Fall
7. Stone Cold Crazy
8. Thank You
9. Crazy Little Thing Called Love
10. Too Much Love Will Kill You
11. Radio Ga Ga
12. Who Wants To Live Forever
13. I Want To Break Free
14. Under Pressure
15. All The Young Dudes
16. Heroes
17. '39
18. These Are The Days Of Our Lives
19. Somebody To Love
20. Bohemian Rhapsody
21. The Show Must Go On
22. We Will Rock You
23. We Are The Champions
24. God Save The Queen
25. Insert 6 - God Save The Queen
Produced by Queen and Jim Beach
Directed by David Mallet
Inserts directed by Rudi Dolezal and Hannes Rossacher.
Animations produced by Jerry Hibbert and Ralph (?)
Sound produced by David Richards
Also featuring Spike Edney, Joshua J. Macrae, Chris Thompson, Mike Moran, Miriam Stockley, Maggie Ryder, and the London Community Gospel Choir.

Recorded at Wembley Stadium, London, on 20 April 1992.


This video was later re-released as a double DVD to mark the 10th anniversary of the concert. Due to the number of songs on the release, the live Queen tracks can be found on the DVD page.

The Inserts included on the video were shown during the concert to entertain the audience as the crew prepared for the next act. They all appear on the original video and the reissue DVD, although they originally contained the audience singing along to some of the tracks.
---
---
---
---
---
---
---
---
---
---
---
---
---
---
---
---
---
---
---
---