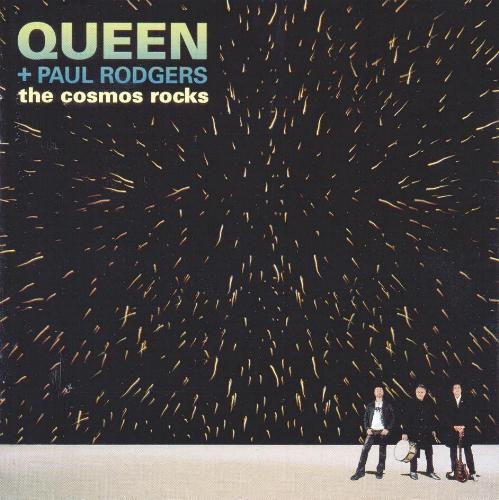 Released 15 September 2008, reached no 5, on chart for 6 weeks. Reissued on 7 May 2012 on the Universal label.
Album length 58:47
Tracklisting:
1. Cosmos Rockin'
2. Time To Shine
3. Still Burnin'
4. Small
5. Warboys
6. We Believe
7. Call Me
8. Voodoo
9. Some Things That Glitter
10. C-lebrity
11. Through The Night
12. Say It's Not True
13. Surf's Up... School's Out!
14. Small (reprise)

iTunes Exclusive Bonus Track:
15. Runaway

Unreleased Live Track:
Take Love
Produced by and performed by Brian May, Paul Rodgers and Roger Taylor.
Co-produced and engineered by Joshua J. Macrae, Justin Shirley-Smith and Kris Fredriksson
All tracks written by Queen + Paul Rodgers (with the exception of 'Say It's Not True')
(for a brief guide to which individual members wrote which tracks, click here)
Recorded and mixed at The Priory. studio assistance by Zebedee Mullen and Tom Mitchell
Studio co-ordination and PA to Mr Taylor: Justine "The Enforcer" Ellis
Mastered by Kevin Metcalfe at The Soundmasters, London, assisted by Alex Wordsworth
Queen management: Jim Beach
Paul Rodgers management: Chris Crawford
Paul Rodgers Business Manager: Cynthia Kereluk Rodgers
Design by Richard Gray
Press and Publicity: Phil Symes
Photography by Edgar Martins
Special thanks to John Deacon and Paul Kossoff

Big thanks to our brilliant touring musicians: Spike Edney, Jamie Moses and Danny Miranda
And to all our fans and friends out there, old and new
This album is d edicated to Freddie Mercury


In addition to the normal CD and LP issues, this album was also released as a CD and DVD set containing a DVD of highlights from the 'Super Live In Japan' DVD.
Singles:
Say It's Not True / Say It's Not True (video) (originally a free download on 1 December 2007 then given a physical release on 31 December 2007, which reached no 90)

[discography]

C-lebrity / Fire And Water (live) (no 33, 8 September 2008)

[discography]
---
---
---
---
---
---
---
---
---
---
---
---
---
---
---
---
---