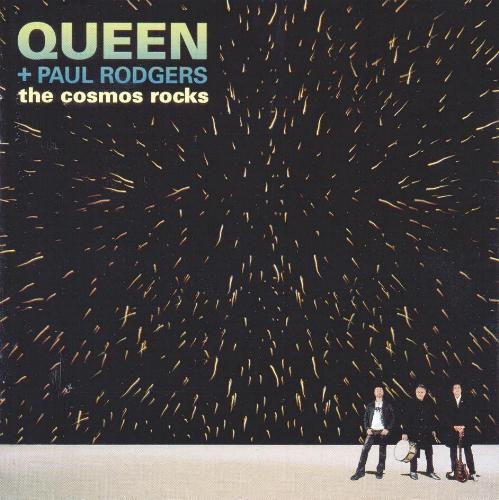 Current region: UK. Not all MP3's listed may be the correct versions. If no widget is shown, you may need to update Flash or your browser.
Released 15 September 2008, reached no 5, on chart for 6 weeks. Reissued on 7 May 2012 on the Universal label.
Album length 58:47
Tracklisting:
1. Cosmos Rockin'
2. Time To Shine
3. Still Burnin'
4. Small
5. Warboys
6. We Believe
7. Call Me
8. Voodoo
9. Some Things That Glitter
10. C-lebrity
11. Through The Night
12. Say It's Not True
13. Surf's Up... School's Out!
14. Small (reprise)

iTunes Exclusive Bonus Track:
15. Runaway

Unreleased Live Track:
Take Love
Produced by and performed by Brian May, Paul Rodgers and Roger Taylor.
Co-produced and engineered by Joshua J. Macrae, Justin Shirley-Smith and Kris Fredriksson
All tracks written by Queen + Paul Rodgers (with the exception of 'Say It's Not True')
(for a brief guide to which individual members wrote which tracks, click here)
Recorded and mixed at The Priory. studio assistance by Zebedee Mullen and Tom Mitchell
Studio co-ordination and PA to Mr Taylor: Justine "The Enforcer" Ellis
Mastered by Kevin Metcalfe at The Soundmasters, London, assisted by Alex Wordsworth
Queen management: Jim Beach
Paul Rodgers management: Chris Crawford
Paul Rodgers Business Manager: Cynthia Kereluk Rodgers
Design by Richard Gray
Press and Publicity: Phil Symes
Photography by Edgar Martins
Special thanks to John Deacon and Paul Kossoff

Big thanks to our brilliant touring musicians: Spike Edney, Jamie Moses and Danny Miranda
And to all our fans and friends out there, old and new
This album is d edicated to Freddie Mercury


In addition to the normal CD and LP issues, this album was also released as a CD and DVD set containing a DVD of highlights from the 'Super Live In Japan' DVD.
Singles:
Say It's Not True / Say It's Not True (video) (originally a free download on 1 December 2007 then given a physical release on 31 December 2007, which reached no 90)

[discography]

C-lebrity / Fire And Water (live) (no 33, 8 September 2008)

[discography]
---
---
---
---
---
---
---
---
---
---
---
---
---
---
---
---
---