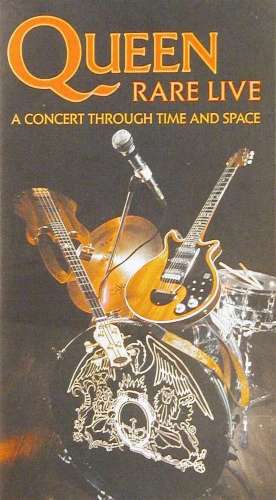 Released 21 August 1989.
Length 60 minutes.
Tracklisting:
1. Freddie Singalong
2. I Want It All
3. Crazy Little Thing Called Love
4. Liar
5. Freddie Singalong ('Now I'm Here')
6. Another One Bites The Dust
7. Rock And Roll Medley
8. My Melancholy Blues
9. Hammer To Fall
10. Killer Queen
11. We Will Rock You
12. Somebody To Love
13. Tie Your Mother Down
14. Keep Yourself Alive
15. Love Of My Life
16. Stone Cold Crazy
17. Radio Ga Ga
18. You Take My Breath Away
19. Sheer Heart Attack
20. We Are The Champions
21. God Save The Queen
Directed by Rudi Dolezal and Hannes Rossacher
Produced by Jim Beach

Recorded at various venues between 1973 and 1986.


This is a concert 'in time and space', and consists of tracks recorded at many different concerts from Queen's career. At the start of each track, a screen is shown, showing the date, venue, attendance, and song title. Audience noise from each track segues into the next to give the impression of it being a single concert. 'I Want It All' includes footage and details of all of the tracks on the video.

The video also includes additional excerpts of Tokyo (19 April 1975), Hyde Park (18 September 1976), Concert For Kampuchea (26 December 1979), Montreal (24/25 November 1981), Tokyo (11 May 1985), Newcastle (9 July 1986), and Budapest (27 July 1986), and features Fred Mandel (Osaka 1982), Morgan Fisher (Frankfurt 1982) and Spike Edney (Wembley 12 July 1986) on keyboards and/or guitar.

Unfortunately the video and sleeve have some very inaccurate notes about the source of each recording, but the notes below refer to the actual source of each track.
---
---
---
---
---
---
---
---
---
---
---
---
---
---
---
---
---
---
---
---
---
---