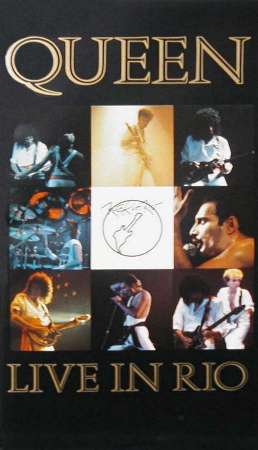 Released 13 May 1985.
Length 60 minutes.
Tracklisting:
1. Machines (or Back To Humans)
2. Tie Your Mother Down
3. Seven Seas Of Rhye
4. Keep Yourself Alive
5. Liar
6. It's A Hard Life
7. Now I'm Here
8. Is This The World We Created?
9. Love Of My Life
10. Brighton Rock
11. Hammer To Fall
12. Bohemian Rhapsody
13. Radio Ga Ga
14. I Want To Break Free
15. We Will Rock You
16. We Are The Champions
17. God Save The Queen
Directed by Aloysio Legey
Produced by Jim Beach
Sound produced by James 'Trip' Khalaf

Recorded at the Rock In Rio festival, Rio De Janeiro, Brazil, on 12th and 19th January 1985, starting at around 2:00am.


The majority of the tracks were recorded at the first show on 12 January, with the exception of 'Now I'm Here', 'Love Of My Life', the piano intro before 'Bohemian Rhapsody', and 'I Want To Break Free'. It is fairly difficult to identify the origin of each track, but the easiest way is that Roger wore white trousers on the first night, and black on the second, but you don't see him close-up very often. Some tracks feature footage from both shows.

This video is also available as a bootleg release titled 'Rock You From Rio', on CD, vinyl and DVD. The release comes in a white sleeve, with a picture from Freddie from 1986 on the cover, and is a direct copy of the original, but apparently the DVD video footage has been stretched and is distorted as a result. It was not released by Queen or their record companies, but has somehow found it's way onto Amazon and other retailers.

Spike Edney provides additional keyboards and guitars.

The video was later released in 2013 on DVD as part of a 6 DVD Box Set, exclusive to North America. It is a straightforward video to DVD conversion, with no remastering or remixing, and retains the same tracks. The video has also been broadcast on TV in it's entirety, lasting approximately 75 minutes with adverts.
---
---
---
---
---
---
---
---
---
---
---
---
---
---
---
---
---
---