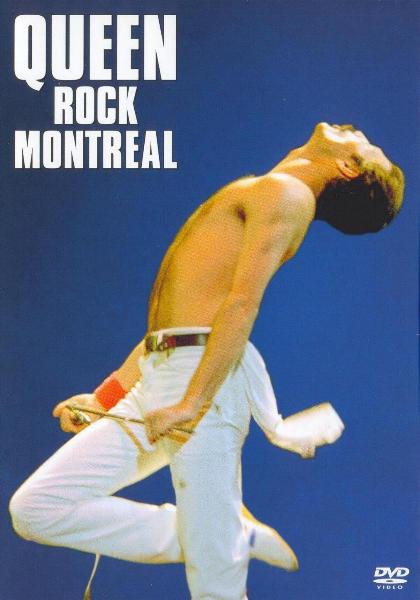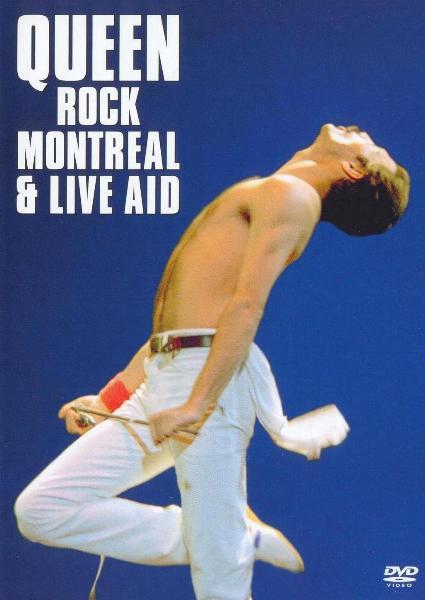 Available as 'Queen Rock Montreal' as a single DVD, or 'Queen Rock Montreal & Live Aid' as a double DVD, HD and Blu-ray.
Released on 29 October 2007 (standard DVD's) and 27 November 2007 (HD and Blu-ray).
Length 95 minutes (disc 1) and 43 minutes (disc 2).
Disc One Tracklisting:
1. Introduction
2. We Will Rock You (fast version)
3. Let Me Entertain You
4. Play The Game
5. Somebody To Love
6. Killer Queen
7. I'm In Love With My Car
8. Get Down, Make Love
9. Save Me
10. Now I'm Here
11. Dragon Attack
12. Now I'm Here (reprise)
13. Love Of My Life
14. Under Pressure
15. Improvisation
16. Keep Yourself Alive
17. Drum & Timpani Solo
18. Guitar Solo
19. Crazy Little Thing Called Love
20. Jailhouse Rock
21. Bohemian Rhapsody
22. Tie Your Mother Down
23. Another One Bites The Dust
24. Sheer Heart Attack
25. We Will Rock You (slow version)
26. We Are The Champions
27. God Save The Queen

Disc Two Content:
1. Bohemian Rhapsody
2. Radio Ga Ga
3. Freddie Singalong
4. Hammer To Fall
5. Crazy Little Thing Called Love
6. We Will Rock You
7. We Are The Champions
8. Is This The World We Created?
9.Live Aid Rehearsal
10. TV Interview
Produced by Saul Swimmer and Jim Beach
Directed by Saul Swimmer
Executive Producer: Adrian Scrope
Director of Photography: Richard E Brooks
Live audio by Trip Khalaf and Clair Brothers Audio
Sound produced by Mack

Executive Music producers: Roger Taylor and Brian May
Executive producer for Queen Films: Jim Beach
Executive producers for Eagle Rock Entertainment: Geoff Kempin and Terry Shand
Digital Restoration by DTS Digital Cinema
Post production supervision for Queen Productions: Kris Fredriksson and Justin Shirley-Smith
Music mix produced by Justin Shirley-Smith, Kris Fredriksson and Joshua J. Macrae
Pro tools HD and Pro Production: Kris Fredriksson, additional pro tools HD by Joshua J. Macrae
Music mastered by Tim Young at Metropolis Mastering

Live Aid footage courtesy of the Band Aid Trust, directed by John G Smith.
Live Aid produced by Michael Appleton and Phil Chilvers
Audio recording by Mike Robinson and Jeff Griffin
Music mix by Justin Shirley-Smith, Pro Tools by Kris Fredriksson and Richard Edgeler.

Disc 1 recorded at the Forum, Montreal, Canada on 24th-25th November 1981.
Disc 2 recorded at Live Aid, Wembley Stadium, London, on 13 July 1985.


This concert was simultaneously released as a double album, and full details of all tracks are found on the album page. The first DVD is essentially a re-release of the 1984 'We Will Rock You' video, but it has been extensively remixed and restored and the quality of both the visual and audio content is vastly improved. There are numerous other differences aswell, this release has new titles, different footage at the end of the concert, and there are some subtle differences in terms of camera angles etc. The sound also has some differences, see the Queen Rock Montreal album page for full details of these.

The single DVD, and the first DVD in the double disc set, simply contains the concert, in stereo and surround sound, or with commentary by Brian and Roger. When the DVD first loads, the concert begins, with a mini menu allowing you to play in stereo, surround sound or go to the main menu. This menu disappears at approximately 1:25, and the concert continues as normal.

The main menu features a montage of photographs, with a 0:52 edit of the 'Introduction', and features options for Play Concert, Song Selection (featuring the song titles spread over 2 screens, with further photo montages, and a 1:06 edit of the 'Introduction'), Commentary by Brian May and Roger Taylor (goes to a screen with the 0:52 edit of the 'Introduction', and a picture of John; this allows you to select the subtitle language (German, English, Spanish, French, Italian, Dutch, Portuguese or None) or to play the concert with commentary), and finally Audio Options (goes to a screen with a picture of Roger, the 0:52 edit, and allows you to select between LPCM Stereo and DTS Digital Surround Sound).

The audio is available in stereo or surround sound, for which the front channel seems normal, the centre channel is silent, and the rear channels mainly feature audience noise and echoed music.


The second disc focuses entirely on Queen's performance at Live Aid in 1985. The menu features a photo montage, with an 0:52 edit of the 'Introduction' from disc 1, and has the following features:

1. Complete Live Aid Performance (stereo or surround sound) (25 minutes)
2. Live Aid Rehearsal (11 minutes) - this was originally broadcast in the UK on TV-AM in the week before Live Aid, and includes an interview and rehearsals of 'Bohemian Rhapsody' and 'Radio Ga Ga' plus a short excerpt of 'Hammer To Fall'.
3. TV Interview USA '82 (7 minutes) - a mini-feature on the band, shown on the USA TV show 'PM Magazine'. It features short interviews with Roger, Brian and John, a mini-biography, footage from some promo videos, and excerpts from album tracks.


The menus also feature a weblink for more information, and a subtitle submenu, which features a photo of Brian, with the same 0:52 'Introduction' edit as the main menu, and subtitles available in German, English, Spanish, French, Italian, Dutch and Portuguese; they are only available for the rehearsal and interview footage.

The Live Aid footage is identical to that previously released in the boxed set. The surround sound mix through all channels is similar to normal, but on the centre channel the band is more prominent, and on the rear channels the audience is more prominent.
---