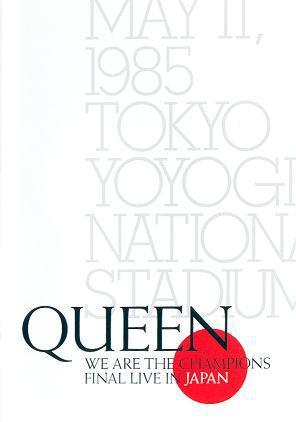 Released in Japan only on VHS and Laserdisc in 1992, and reissued in new artwork on DVD in 2004.
Length 90 minutes.
Tracklisting:
1. Machines (or Back To Humans)
2. Tear It Up
3. Tie Your Mother Down
4. Under Pressure
5. Somebody To Love
6. Killer Queen
7. Seven Seas Of Rhye
8. Keep Yourself Alive
9. Liar
10. Improvisation
11. It's A Hard Life
12. Freddie Singalong
13. Now I'm Here
14. Is This The World We Created?
15. Love Of My Life
16. Another One Bites The Dust
17. Mustapha
18. Hammer To Fall
19. Crazy Little Thing Called Love
20. Bohemian Rhapsody
21. Radio Ga Ga
22. I Want To Break Free
23. Jailhouse Rock
24. We Will Rock You
25. We Are The Champions
26. God Save The Queen
Unknown director, producer etc.

Recorded at the Yoyogi Auditorium, Tokyo, Japan, on 11 May 1985


This is an almost complete concert, it only omits an improvisation, 'Brighton Rock', and Brian's Guitar Solo. As a result it fades out at the end of 'Love Of My Life', then back in again for 'Another One Bites The Dust'. All of the tracks apart from 'Improvisation', 'Mustapha' and 'God Save The Queen' appear on the 'Opera Omnia' bootleg.

The video was released officially on DVD in 2004, and also unofficially under the name 'Live In Japan 1985' in 2006, produced by Masterplan (or simply MP). It is identical to the original release, without any extra features. The details below are based on that DVD, as the official releases are hard to find.
---
---
---
---
---
---
---
---
---
---
---
---
---
---
---
---
---
---
---
---
---
---
---
---
---
---
---