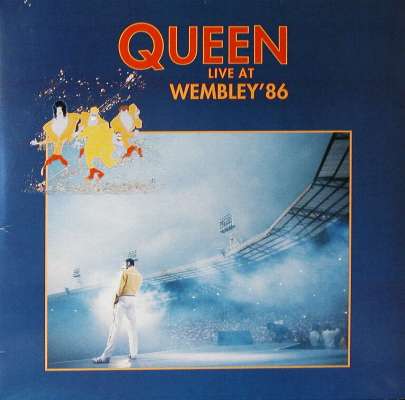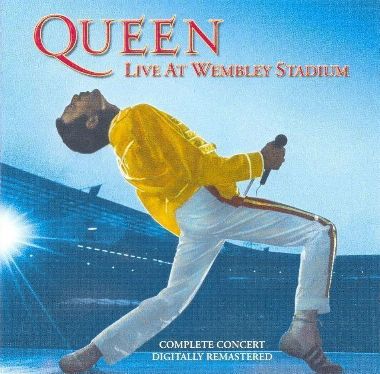 Released 26 May 1992, reached no 2, on chart for 15 weeks, achieved Gold status.
The album was re-released in 2003 to coincide with the DVD, retitled 'Live At Wembley Stadium'.
Disc One length 60:24, Disc Two length 50:28.
Disc One Tracklisting:
1. One Vision
2. Tie Your Mother Down
3. In The Lap Of The Gods.... Revisited
4. Seven Seas Of Rhye
5. Tear It Up
6. A Kind Of Magic
7. Under Pressure
8. Another One Bites The Dust
9. Who Wants To Live Forever
10. I Want To Break Free
11. Impromptu
12. Brighton Rock Solo
13. Now I'm Here

Disc Two Tracklisting:
1. Love Of My Life
2. Is This The World We Created?
3. (You're So Square) Baby I Don't Care
4. Hello Mary Lou (Goodbye Heart)
5. Tutti Frutti
6. Gimme Some Lovin'
7. Bohemian Rhapsody
8. Hammer To Fall
9. Crazy Little Thing Called Love
10. Big Spender
11. Radio Ga Ga
12. We Will Rock You
13. Friends Will Be Friends
14. We Are The Champions
15. God Save The Queen
Produced by Queen (and possibly James 'Trip' Khalaf)
Recorded by Mack, mixed by Brian Malouf
Digitally mastered by Eddie Schreyer at Future Disc Systems, Hollywood
Queen are: Freddie Mercury, John Deacon, Roger Taylor, Brian May
Additional Guitars, Vocals and Keyboards by Spike Edney
Management: Jim Beach
Guitar technician: Brian Zellis
Keyboard and bass technicians: Peter Hince and John Collins
Design: Richard Gray
Photography: Denis O'Regan and Neal Preston

Recorded at Wembley Stadium, London, on 12 July 1986. The previous night's show, Friday 11 July, was also released on the 2011 DVD.


This album was previously released in 1990 as an edited video, and released as an album in 1992. It was then re-released with the original artwork in 2003, and again with new artwork also in 2003, alongside a full length DVD. The US reissue featured four bonus tracks, namely: 'A Kind Of Magic', 'Another One Bites The Dust' and 'Crazy Little Thing Called Love', all taken from the first night's show on 11 July, and 'Tavaszi Szel Vizet Araszt', from the Budapest show on 27 July. The show was released again as a double DVD set in 2011, with or without a double CD, with the CD tracks starting in slightly different places (in most cases giving more time before the actual song itself starts). The times below refer to the 2003 reissue CD.
Singles:
---
---
---
---
---
---
---
---
---
---
---
---
---
---
---
---
---
---
---
---
---
---
---
---
---
---
---
---
---