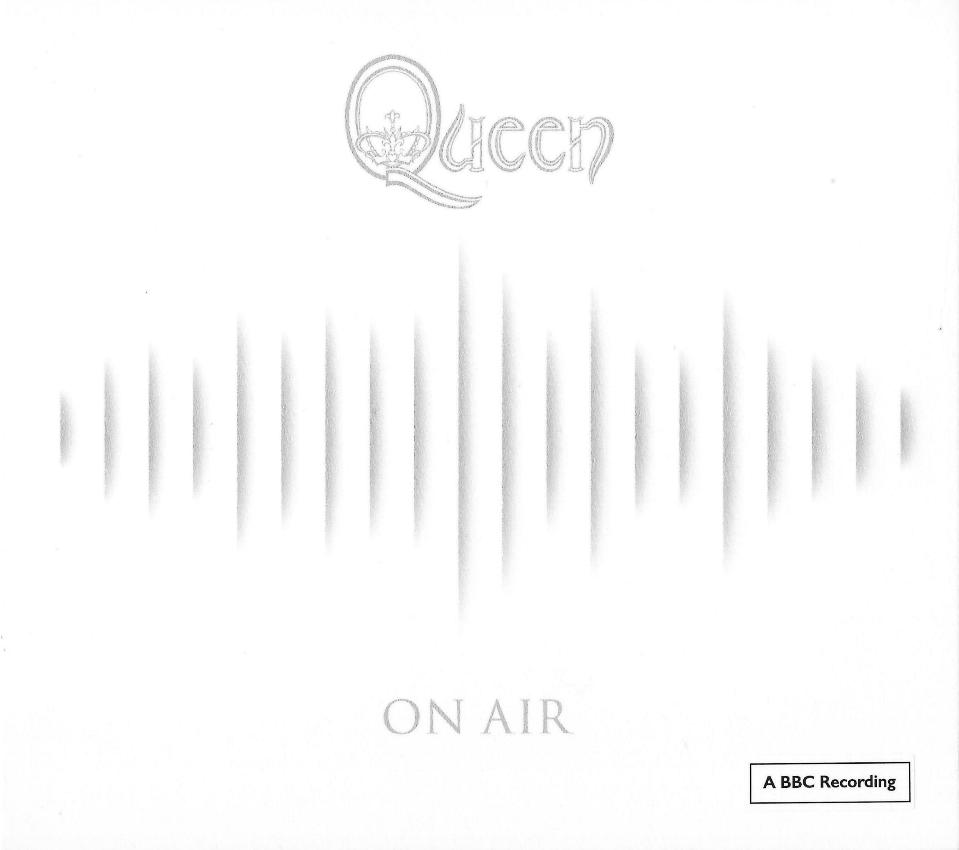 Released on 4 November 2016, as part of the 'On Air' deluxe 6 CD set only.
Length 73:14.
Tracklisting:
Golder's Green Hippodrome, London, 1973:
1. Procession
2. Father To Son
3. Son And Daughter
4. Guitar Solo
6. Son And Daughter (reprise)
6. Ogre Battle
7. Liar
8. Jailhouse Rock

Morumbi Stadium, Sao Paulo, 1981:
9. Introduction
10. We Will Rock You (fast version)
11. Let Me Entertain You
12. I'm In Love With My Car
13. Alright Alright
14. Dragon Attack
15. Now I'm Here
16. Love Of My Life

Maimarktgelande, Mannheim, 1986:
17. A Kind Of Magic
18. Vocal Improvisation
19. Under Pressure
20. Is This The World We Created?
21. (You're So Square) Baby I Don't Care
22. Hello Mary Lou (Goodbye Heart)
23. Crazy Little Thing Called Love
24. God Save The Queen
Compiled by Justin Shirley-Smith and Kris Fredriksson
Golders Green concert produced by Jeff Griffin, sound balance by John Etchells, introduced by Alan Black
Morumbi concert engineered by Agostinho A Leitáo, José J. Dos Santos and Joáo Alvino
Mannheim concert mixed by Gerd Rautenbach, assistant engineer Peter Brandt, introduced by Bernd Mohrhoff


This page includes a transcription of all of the live tracks which were released on disc 3 of the 'On Air' deluxe 6 CD boxed set, titled 'Live On Air'.
The set also included two discs containing all six BBC Sessions, and three discs of interviews, covering the periods 1976-1980, 1981-1986 and 1986-1992.


The Golder's Green concert is included as it was originally broadcast, therefore it loses 'See What A Fool I've Been' (performed before 'Ogre Battle') and only includes around a minute of 'Jailhouse Rock', which was originally the opening track in a 7 minute Rock 'n' Roll Medley, which also included 'Shake Rattle & Roll', 'Stupid Cupid', 'Be Bop A Lula', 'Big Spender' and 'Bama Lama Bama Loo'. The majority of the tracks were previously released on the 'Cry Argentina' and 'Rogues And Scandals' bootlegs, as part of the 'Top 100 Bootlegs' project.

The Morumbi concert was broadcast on Brazilian TV and radio on the Bandeirantes Network, and contains only 8 tracks, omitting the main part of 'Now I'm Here' but including Freddie's singalong section (titled 'Alright Alright') and it's reprise after 'Dragon Attack'. Three tracks had been released previously, as 'Love Of My Life' appears on the 'Rare Live' video (but loses the first verse), while 'Alright Alright' and 'Dragon Attack' (and a very small portion of 'Now I'm Here') were released on the 2011 iTunes LP reissue of 'The Game', titled as 'Vocal Improvisation & Dragon Attack', lasting 5:02. It is a real shame that the disc omits 'Play The Game', 'Somebody To Love' and 'Save Me', which were undoubted highlights from the tour, as well as 'Need Your Loving Tonight', which was rarely performed.

Finally, the Mannheim concert was originally broadcast on German channel SWF3, and includes 8 tracks, which were all previously released on the 'Done Under Pressure' bootleg, as part of the 'Top 100 Bootlegs' project. The Magic Tour has already been extensively released, with full shows available of both Wembley shows, Budapest, and highlights of Knebworth, so it is a pity that these were included when a show from another period could have been chosen instead, such as Kampuchea 1979.
---
---
---
---
---
---
---
---
Warden threw a party in the county jail
Prison band was there and they began to wail
Band was jumpin' and the joint began to swing
Should've heard them knocked out jailbirds sing
Let's rock, everybody let's rock at home and roll tonight
Everybody in the whole cell block
Dancing to the jailhouse rock

Spider Murphy played the tenor saxophone
Little Joe was blowing on his slide trombone
Drummer boy from Illinois went crash, boom, bang
Whole rhythm section was the purple gang
Let's rock, everybody let's rock at home and roll tonight
Everybody in the whole cell block
Dancing to the jailhouse rock
Bob Harris: And that's all from this week's concert programme. Radio One now joins Radio Two for the next two and a half hours
(Five beeps)
---
---
---
---
---
---
---
---
---
---
---
---
---
---
---
---
---