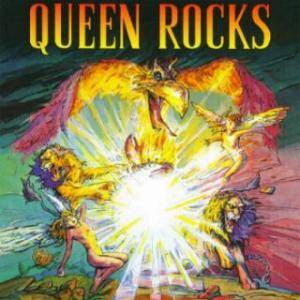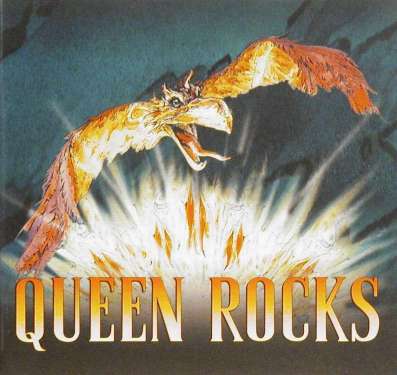 Released 3rd November 1997, reached no 7, on chart for 12 weeks, achieved Platinum status.
Album length 70:20.
Tracklisting:
1. We Will Rock You (album version)
2. Tie Your Mother Down (single version)
3. I Want It All (new remix)
4. Seven Seas Of Rhye (album version)
5. I Can't Live With You (1997 Rocks Retake)
6. Hammer To Fall (album version)
7. Stone Cold Crazy (album version)
8. Now I'm Here (album version)
9. Fat Bottomed Girls (album version)
10. Keep Yourself Alive (album version)
11. Tear It Up (album version)
12. One Vision (album version)
13. Sheer Heart Attack (album version)
14. I'm In Love With My Car (new remix)
15. Put Out The Fire (album version)
16. Headlong (album version)
17. It's Late (album version)
18. No-One But You (Only The Good Die Young) (album version)
Queen are: John Deacon, Brian May, Freddie Mercury and Roger Taylor
'No-One But You' is of course another story

Tracks 1, 13 and 17 produced by Queen, assisted by Mike Stone
Tracks 2 and 18 produced by Queen
Tracks 3, 5 and 16 produced by Queen and David Richards
Tracks 4, 7, 8, 9 and 14 produced by Queen and Roy Thomas Baker
Tracks 6, 11, 12 and 15 produced by Queen and Mack
Track 10 produced by Queen, John Anthony and Roy Thomas Baker

Management: Jim Beach
Studio equipment coordination: Martin Groves and Pete Malandrone
Sleeve design: Richard Gray and Queen
Illustration: Damien Rochford


As the name suggests this album collects together some of Queen's heavier rock tracks, aswell as one new track, 'No-One But You (Only The Good Die Young)', the first new Queen recording without Freddie. The album also features one re-recorded track, two newly mixed tracks, and one original single version, while the remaining 13 tracks are the original album versions. It features at least one track from every Queen album, with the exception of 'The Game', 'Flash Gordon' and 'Made In Heaven'. A video version of the album was also later released in 1998.
Singles:
---
---
---
---
---
---
---
---
---
---
---
---
---
---
---
---
---
---
---