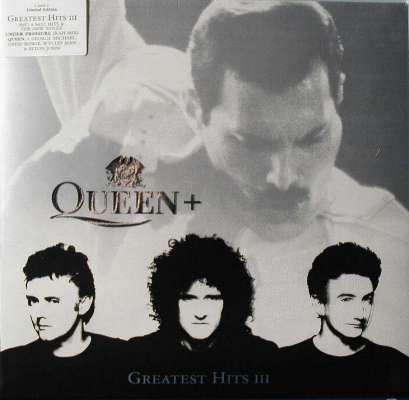 Released 8 November 1999, reached no 5, on chart for 19 weeks, achieved Platinum status.
Album length 73:41.
Tracklisting:
1. The Show Must Go On (live version with Elton John) (new track)
2. Under Pressure (Rah Remix) (new track, #14, December 1999)
3. Barcelona (single version) (#8, October 1987, and #2, July 1992)
4. Too Much Love Will Kill You (#15, February 1996)
5. Somebody To Love (live version with George Michael) (#1, April 1993)
6. You Don't Fool Me (#17, November 1996)
7. Heaven For Everyone (single version edit) (#2, October 1995)
8. Las Palabras De Amor (The Words Of Love) (#17, June 1982)
9. Driven By You (#6, November 1991)
10. Living On My Own (remix) (#1, July 1993)
11. Let Me Live (#9, June 1996)
12. The Great Pretender (#4, February 1987 and #29, January 1993)
13. Princes Of The Universe (USA/Japanese single, 1986)
14. Another One Bites The Dust (Small Soldiers Remix) (#5, November 1998)
15. No-One But You (Only The Good Die Young) (#13, January 1998)
16. These Are The Days Of Our Lives (AA-side single, #1, December 1991)
17. Thank God It's Christmas (#21, November 1984)
Track 2 produced by Queen and David Bowie.
Tracks 3 and 12 produced by Freddie Mercury, Mike Moran and David Richards.
Tracks 4, 6, 7 and 11 produced by Queen, David Richards, Justin Shirley-Smith and Joshua J. Macrae.
Track 5 produced by Queen and George Michael.
Tracks 8, 13, 14 and 17 produced by Queen and Mack
Track 9 produced by Brian May and Justin Shirley-Smith.
Track 10 produced by Freddie Mercury and Mack.
Track 15 produced by Queen.
Track 16 produced by Queen and David Richards.


Management: Jim Beach
Sleeve design: Peacock and Queen with additional design by Richard Gray
Crest Design: Angela Lumley
Sleeve notes: Andy Davis and Phil Symes
Photography: Simon Fowler, Peter Hince, Richard Gray, Suzi Gibbons (Redferns), London Features International, Richard Young and Neal Preston.


This album was released under the name 'Queen +', as it contains 9 Queen tracks (one without Freddie), 4 solo tracks, collaborations with Elton John, David Bowie, George Michael, and one remix by Wyclef Jean. It was also released as a companion video.

While the album collects together new tracks, and some 'missing' from the previous two 'Greatest Hits' albums, it still omits a number of hits, namely:
Body Language (#25, April 1982)
Back Chat (#40, August 1982)
Scandal (#25, October 1989)
A Winter's Tale (#6, December 1995)

Fourteen of the tracks on the album were released as singles in the UK, while one was released outside the UK, and one was released a single after the album release. The album contains three number one singles, seven top fives, nine top tens, fourteen top 20 singles, and one new track. 'Thank God It's Christmas' is the single with the worst chart performance, reaching no 21. In total, the singles on the album have spent 133 weeks (over 2 and a half years) in the charts. The average single on the album reached no. 9 and spent 9 weeks on chart. These statistics are very similar to those for the singles on 'Greatest Hits II' (though of course this album does include solo and new material).

The Japanese release features 'I Was Born To Love You' instead of 'Thank God It's Christmas'.
Singles:
---
---
---
---
---
---
---
---
---
---
---
---
---
---
---
---
---
---