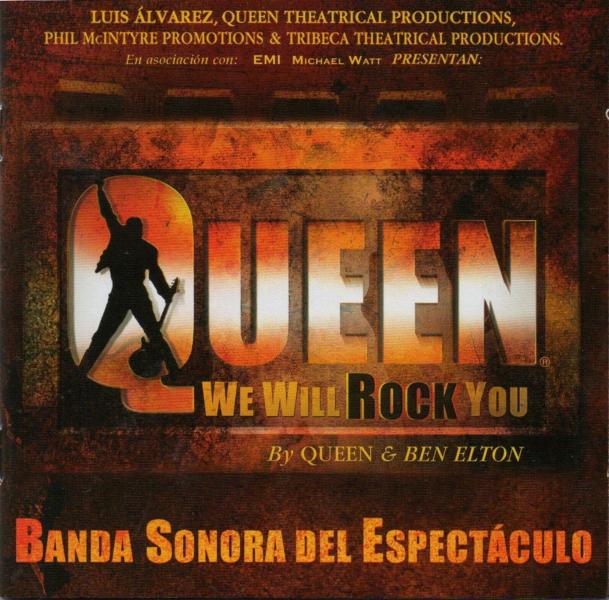 Released on 7 June 2004.
Album length 78:06.
Tracklisting:
1. Innuendo
2. Radio Ga Ga
3. I Want To Break Free (Yo quiero salir)
4. Somebody To Love (Un poco de amor)
5. Killer Queen
6. Play The Game
7. Under Pressure
8. A Kind Of Magic (Cuestion de magia)
9. I Want It All (Quiero algo mas)
10. Headlong (Sin control)
11. No-One But You (Solo por ti)
12. Crazy Little Thing Called Love (Algo loco es al amor)
13. Ogre Battle
14. One Vision
15. Who Wants To Live Forever (Por quien vivir por siempre)
16. Flash
17. Seven Seas Of Rhye (Nirvana)
18. Hammer To Fall (Ya se acabo)
19. Don't Stop Me Now
20. Another One Bites The Dust (El polvo tu morderas)
21. These Are The Days Of Our Lives (Los dulces dias de ayer)
22. We Will Rock You (slow version)
23. We Are The Champions
24. We Will Rock You (fast version) (Saludos)
25. Bohemian Rhapsody

Enhanced CD2 Tracks:
1. No-One But You (Solo por ti) (long version) (Queen + Eva Maria)
2. No-One But You (Solo por ti) (short version) (Queen + Eva Maria)
3. No-One But You (Solo por ti) (video version)
4. Bohemian Rhapsody (video version)
Musical Supervisors: Brian May, Roger Taylor, Mike Dixon
Executive Producer: Brian May
Produced and mixed by Simon Sayer, Carlos Martos and Arturo Soriano
Production consultant: Justin Shirley-Smith
Additional Protools: Kris Fredriksson
Recorded live at the Teatro Calderon de Madrid
Original script by Ben Elton. Spanish Script by Luis Alvarez
Translation of songs by Christine Bostrom and Juan Jose Rivero
Adaptation of songs by Alexandra Martin, Luis Alvarez, Jose Manuel Vergara, Juan Canovas, Brian May

Lead vocals sung by Gallileo (Momo Cortes & Miguel Fernandez), Scaramouche (Maria Blanco), Meat (Eva Maria Cortes), Brit (Angel Padilla), Killer Queen (Sheilah Cuffy), Khashoggi (Javier Navares) and Pop (Jose Maria Guzman, Juan Jose Pardo)

Music performed by Pablo Navarro Cebrian, Roberto Sanchez Carrillo, "Robertini", Luis Cruz Vivar, Josue Santos Bravo, Javier Saiz, Cesar Lopez Araque, Angel Crespo Duenas, and Loren Martin Vidal

The majority of the tracks are performed in Spanish (18 tracks), with six in English, and one instrumental. Lyrics are shown only for those tracks in English, while all dialogue is also omitted.
Singles:
No-One But You (Solo Por Ti) (Queen + Eva Maria) (Spanish only single, April 2004, reached the top 20)

[discography]
---
---
---
---
---
---
---
---
---
---
---
---
---
---
---
---
---
---
---
---
---
---
---
---
---
---