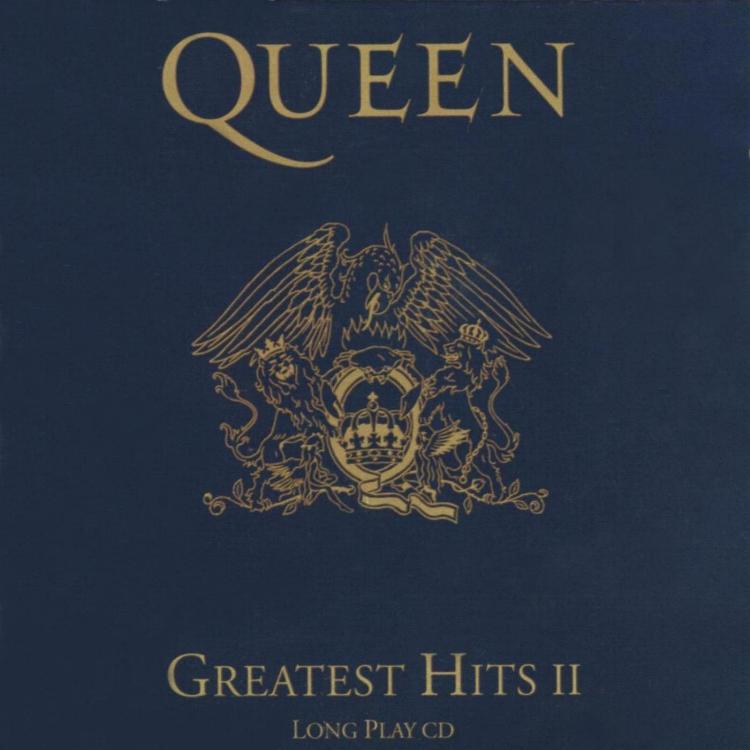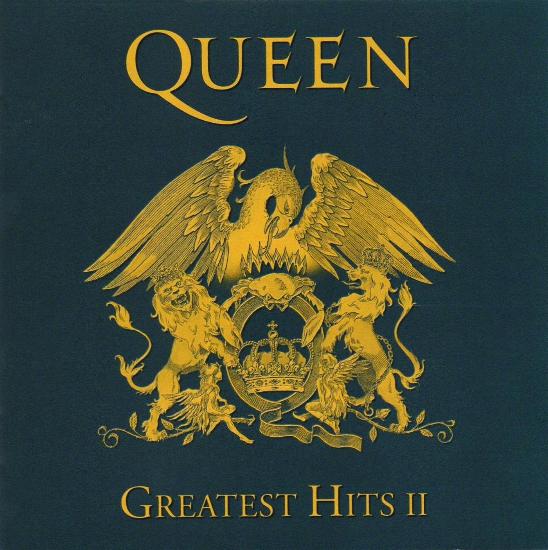 Current region: UK. Not all MP3's listed may be the correct versions. If no widget is shown, you may need to update Flash or your browser.
Released 28 October 1991, reached no 1, on chart for 112+ weeks, achieved 8+ times Platinum status.
Digitally remastered and reissued on CD in slightly different artwork on 3 January 2011, and on vinyl in the original artwork on 18 November 2016.
Album length 75:47.
Tracklisting:
1. A Kind Of Magic (slight edit) (#3, March 1986)
2. Under Pressure (new edit) (#1, October 1981)
3. Radio Ga Ga (slight edit) (#2, January 1984)
4. I Want It All (single version) (#3, May 1989)
5. I Want To Break Free (single version edit) (#3, April 1984)
6. Innuendo (#1, January 1991)
7. It's A Hard Life (#6, July 1984)
8. Breakthru' (#7, June 1989)
9. Who Wants To Live Forever (new edit) (#24, September 1986)
10. Headlong (edit) (#14, May 1991)
11. The Miracle (slight edit) (#21, November 1989)
12. I'm Going Slightly Mad (edit) (#22, March 1991)
13. The Invisible Man (#12, August 1989)
14. Hammer To Fall (single version) (#13, September 1984)
15. Friends Will Be Friends (#14, June 1986)
16. The Show Must Go On (new edit) (#16, October 1991)
17. One Vision (single version) (#7, November 1985)
Tracks 1, 4, 6, 8, 9, 10, 11, 12, 13 and 16 produced by Queen and David Richards.
Track 2 written, performed and produced by Queen and David Bowie.
Tracks 3, 5, 7, 14, 15 and 17 produced by Queen and Mack.

Management: Jim Beach
Sleeve design: Richard Gray
Sleeve notes: Jim Jenkins
Mastered at the Townhouse Studios by Kevin Metcalfe


This album contains 17 of the 22 singles released in the UK between 1981 and 1991, with the exception of:
Body Language (#25, April 1982)
Las Palabras De Amor (#17, June 1982)
Back Chat (#40, August 1982)
Scandal (#25, October 1989)
Thank God It's Christmas (#21, November 1984)

All of the tracks on the album were released as singles. The album contains two number one singles, six top fives, nine top tens, and fourteen top 20 singles. 'Who Wants To Live Forever' is the single with the worst chart performance, reaching no 24. In total, the singles on the album have spent 135 weeks (over 2 and a half years) in the charts. The average single on the album reached no. 10 and spent 8 weeks on chart.

There was only one track listing released worldwide, while the USA had a similar album titled 'Classic Queen' which featured other tracks from throughout Queen's career. A video version of the album, titled 'Greatest Flix II', was also released. The album was later reissued in 2011, with the Japanese release adding 'I Was Born To Love You' as a bonus track.

Two 'tracks' were produced to promote the album, namely 'Eight Good Reasons To Buy 'Greatest Hits II'' which features an eight song segue, and 'A Sample Of Magic', which features nine distinct excerpts.

As of 2016, 'Greatest Hits II' is the tenth best selling album of all time in the UK, with sales of over 3.9 million.
---
---
---
---
---
---
---
---
---
---
---
---
---
---
---
---
---
---