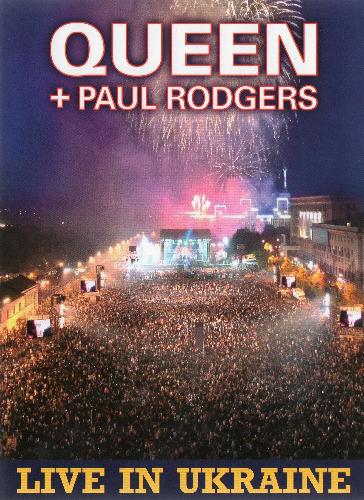 Released 15 June 2009.
Length 121 minutes.
Tracklisting:
1. Cosmos Rockin' (intro) / One Vision
2. Tie Your Mother Down
3. The Show Must Go On
4. Fat Bottomed Girls
5. Another One Bites The Dust
6. Hammer To Fall
7. I Want It All
8. I Want To Break Free
9. Seagull
10. Love Of My Life
11. '39
12. Drum Solo
13. I'm In Love With My Car
14. Say It's Not True
15. Shooting Star
16. Bad Company
17. Guitar Solo
18. Bijou
19. Last Horizon
20. Crazy Little Thing Called Love
21. C-lebrity
22. Feel Like Makin' Love
23. Bohemian Rhapsody
24. Cosmos Rockin'
25. All Right Now
26. We Will Rock You
27. We Are The Champions
28. God Save The Queen

iTunes Download Exclusive Bonus Track:
Radio Ga Ga

Amazon Download Exclusive Bonus Track:
A Kind Of Magic
Executive Producers - Jim Beach and Elena Branchuk
Produced by Rocky Oldham and Dione Orrom
Directed by David Mallet
DVD produced by Justin Shirley-Smith and Kris Fredriksson
Soundtrack produced and mixed by Justin Shirley-Smith, Joshua J. Macrae and Kris Fredriksson
Front of house audio by Trip Khalaf
Packaging design by Richard Gray

Recorded at the 'Life Must Go On' concert in Freedom Square, Kharkov, Ukraine, on 12 September 2008.


This DVD was released in three different packages, namely a single DVD, a DVD and double CD set, and a tin box which includes a T-Shirt and the DVD/2CD set. The CD is almost identical to the DVD, with tracks 1-14 on disc 1 and tracks 15-28 on disc 2. The only differences are that for a few songs, the track/chapter points are in slightly different places, which is mainly to accommodate introductory dialogue.

The CD content was also available to download, with 'Radio Ga Ga' (originally performed before 'Bohemian Rhapsody') added to the iTunes download, and 'A Kind Of Magic' (originally performed before 'Seagull') added to the Amazon download. The remaining track, 'Wishing Well', which was performed before 'Shooting Star', appears to be unreleased.

The menus all feature an animation of fireworks, with firework sound effects and audience noise, and allow you to play the entire concert, select a song, change audio setup, or change subtitle setup. The audio is available as stereo or 5.1 surround sound, which has the music and vocals more prominent through the front speakers than the rear, but there do not seem to be any other changes. The subtitles are available in English, Dutch, French, German, Hungarian, Italian, Polish, Portuguese, Russian, Spanish and Ukrainian.

'Bohemian Rhapsody' features footage of Freddie from 'Queen Rock Montreal'. Although some of the footage is the same, here it concentrates exclusively on Freddie, so shots of the audience, Brian and Roger are not present.

An hour long edited version was shown in 2009 on the Sky Arts 1 satellite channel, which lost unknown tracks. The entire concert was later streamed on Youtube on 19 March 2022, to raise funds for the UNHCR, the UN Refugee Agency, following the Russian invasion of Ukraine.
---
---
---
---
---
---
---
---
---
---
---
---
---
---
---
---
---
---
---
---
---
---
---
---
---
---
---
---
---
---
---