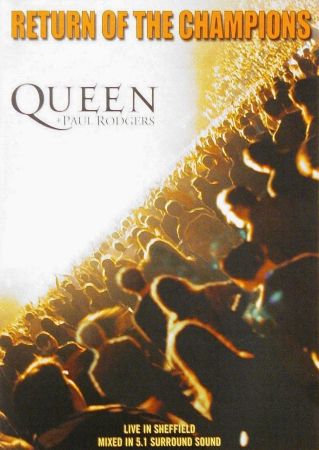 Released 31 October 2005. Reissued on 7 May 2012 on the Universal label.
Length 140 minutes.
Tracklisting:
1. Reaching Out
2. Tie Your Mother Down
3. I Want To Break Free
4. Fat Bottomed Girls
5. Wishing Well
6. Another One Bites The Dust
7. Crazy Little Thing Called Love
8. Say It's Not True
9. '39
10. Love Of My Life
11. Hammer To Fall
12. Feel Like Makin' Love
13. Let There Be Drums
14. I'm In Love With My Car
15. Guitar Solo
16. Last Horizon
17. These Are The Days Of Our Lives
18. Radio Ga Ga
19. Can't Get Enough
20. A Kind Of Magic
21. I Want It All
22. Bohemian Rhapsody
23. The Show Must Go On
24. All Right Now
25. We Will Rock You
26. We Are The Champions
27. God Save The Queen
28. It's A Beautiful Day (credits)
29. Imagine (bonus track)
Executive Producers: Brian May, Roger Taylor and Paul Rodgers
DVD Producers: Simon Lupton and Rhys Thomas
Directed by David Mallet (Sheffield) and Aubrey 'Po' Powell (Hyde Park)
Sheffield Producers: Jim Beach and Rocky Oldham
Audio produced for DVD by Justin Shirley-Smith and Joshua J. Macrae

Recorded live at the Hallam FM Arena, Sheffield, on 9th May 2005.


This concert is also available as a double album, and the full lyrics are available on the album page. The DVD content is virtually identical, but the DVD adds two bonus tracks, and the amount of audience noise between songs differs (most noticeably before and after 'Say It's Not True'). The two extra tracks are 'It's A Beautiful Day' which initially opened the concert but now appears over the end credits, with short highlights from the concert, and 'Imagine', which is a separate feature and was recorded in Hyde Park, London, on 15 July 2005. The opening titles of the DVD appear over the first verse of 'Reaching Out'.

The main menu features an edit of 'It's A Beautiful Day', and allows you to play the entire concert, select a song, use the Queen Jukebox (which allows you to select upto 5 tracks to play), play 'Imagine' or change audio. The Jukebox tracks are basically the same as the main concert tracks, but trim some audience noise and in some cases start at slightly different places, to accommodate introductory dialogue.

The audio is available as both stereo and 5.1 surround sound mixes. For the surround sound mix, the music and vocals are more prominent through the front speakers than the rear, but there do not seem to be any other changes.

'Bohemian Rhapsody' features footage of Freddie from 'Live At Wembley'. Although some of the footage is the same, here it concentrates exclusively on Freddie, so shots of the audience, Brian and Roger are not present.
---
Imagine
This track was performed at the Hyde Park show on 15 July 2005, as a tribute to the victims of the 7 July terrorist attacks. Length 3:25.
The first verse is sung by Brian, the second by Roger, and the rest by Paul.
Details of this cover version can be found on the Live Only Songs page.
Brian: I find myself kind of lost for words. Um, we've decided we'd like to do something special for this particular night, 'cos a lot of things have changed, a lot of stuff is happening, um, and rather than words, we would like to sing you a song written by probably the greatest rock star of all time, next to Freddie.
Imagine there's no heaven
It's easy if you try
No hell below us
Above us only sky
Imagine all the people
Living life for today, I-I

Imagine there's no countries
It isn't hard to do
Nothing to kill or die for
No religion too, yeah
Imagine all the people
Living life in peace, you-ooh

You may say that I'm a dreamer
But I am not the only one
I hope some day you'll join us
And the world will live as one

Imagine no possessions
I wonder if you can
No need for greed or hunger
Or brotherhood of man
Imagine all the people
Sharing all the world, you-ooh

You may say that I'm a dreamer
But I am not the only one
I hope some day you'll join us
And the world will live as one
---