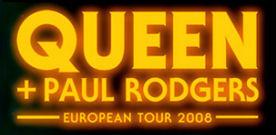 This page features full details of the official downloads from the Queen + Paul Rodgers 2008 European Tour. Details are arranged alphabetically by song title, then chronologically by performance date. The downloads are available from The Queen Online Store and are designed to be burnt to specially pre-printed blank CD's to create your own live album.

Of the 34 concerts on the tour, only one show had no downloads available (the Ukraine show, later released on DVD), all other shows had between one and four downloads each. Of all tracks performed, 'A Kind Of Magic', 'Another One Bites The Dust' and 'Surf's Up... School's Out!' had the most downloads, with four each. Of the tracks not released, 'Warboys' was the only one performed more than once.

In total 65 downloads were available, and these two pages include full details and lyrics of them all.


2005 Official Downloads (page 1)
2005 Official Downloads (page 2)
2008 Official Downloads (page 1)


Last Horizon (Hamburg)
Love Of My Life (Moscow 15/09, Madrid)
One Vision (Riga)
Radio Ga Ga (Milan, Sheffield)
Say It's Not True (Antwerp)
Seagull (Moscow 15/09, Barcelona)
Shooting Star (Moscow 15/09)
Surf's Up... School's Out! (Paris, Rotterdam, Birmingham, London 07/11)
Tavaszi Szel Vizet Araszt (Budapest)
The Show Must Go On (Moscow 16/09)
Tie Your Mother Down (Antwerp, Luxembourg, Glasgow)
Voodoo (London 07/11)
We Are The Champions / God Save The Queen (Nottingham, Cardiff, London 08/11)
We Believe (Liverpool, Budapest)
We Will Rock You (Riga, Zurich, London 08/11)
Wishing Well (Moscow 16/09)
Note: The Paris download of 'Surf's Up... School's Out!' also includes the 'Cosmos Rockin' backing tape intro, while the 'Tie Your Mother Down' Luxembourg intro includes both the 'Cosmos Rockin' and 'Surf's Up... School's Out!' intros. The 'One Vision' Riga download includes the 'Cosmos Rockin' backing tape intro (but not 'Surf's Up... School's Out!')
---
---
---
---
---
---
---
---
---
---
---
---
---
---
---
---
---
---
---
---
---
---
---
---
---
---
---
---
---
---