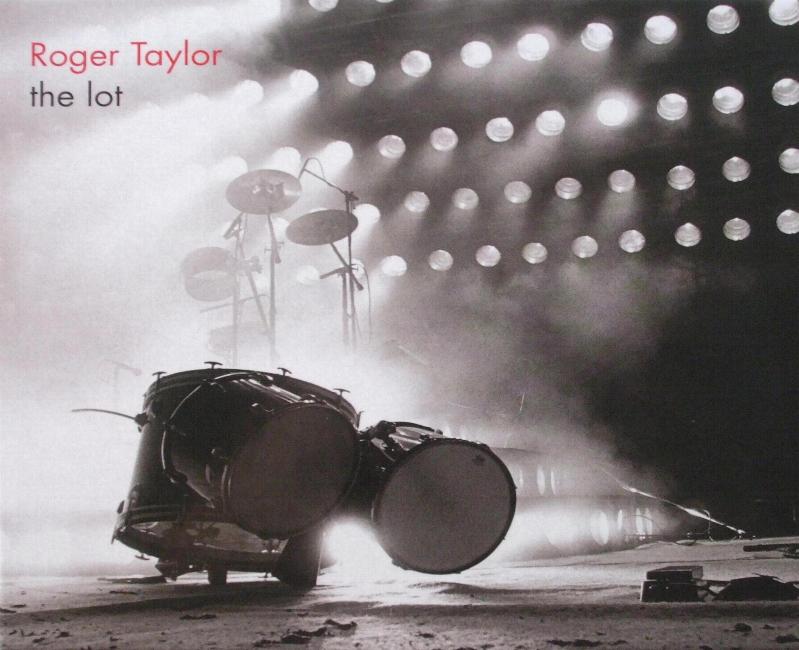 'The Lot' is a career-spanning compilation of Roger Taylor's solo work, both as an individual and as part of The Cross.

The set comprises a 29.5cm x 24cm x 2.5cm outer box, 12 CD albums, a DVD, and a 68 page book containing a biography, album and single sleeves, handwritten lyrics and pictures. The book has a number of extra thick pages at the end, with space to hold two discs per page.

The set contains all seven studio albums from 1981 through to 1998 (four by Roger, three by The Cross), each one newly remastered, with some changes. The eighth disc is the new album 'Fun On Earth' (released the same day) which has two bonus tracks on the CD version. The remaining CD discs are four compilation albums, containing non-album tracks, alternate versions and demos, while the last disc is a DVD containing promo videos, live footage and interviews.

The set was also released as a download, without the video content, while each disc was also available separately.

The set was initially released on 11 November, however there were a number of issues with the sets, containing incorrect mixes, textual errors, and some sets having missing or duplicate discs. As a result, the set was withdrawn and reissued on 9 December; the initial pressing has catalogue number 3753714, while the second pressing has 37568482. On the back of the box, the second pressing states the DVD contains 'Blue Rock - EPK' whereas the initial pressing just lists 'Blue Rock'.

Many of the tracks on the studio albums are slightly different to the originals, mainly through earlier or longer fade-outs, while the whole of the 'Fun In Space' album plays at a slightly slower speed compared to the previous CD release. In the tracklistings below, only significant differences are noted, but the exact details of each track can be found on the individual album pages.


01. Fun In Space (remastered studio album)
02. Strange Frontier (remastered studio album)
03. Shove It (remastered studio album)
04. Mad, Bad And Dangerous To Know (remastered studio album)
05. Blue Rock (remastered studio album)
06. Happiness? (remastered studio album)
07. Electric Fire (remastered studio album)
08. Fun On Earth (studio album) (the CD version adds two bonus tracks)
09. Solo Singles 1 (compilation)
10. Solo Singles 2 (compilation)
11. The Cross Singles 1 (compilation)
12. The Cross Singles 2 (compilation)
13. DVD

List Of Missing Tracks
List Of Previously Unreleased Tracks
List Of Tracks Previously Unavailable In The UK

Selected images of the set are shown below, however, full scans are available on the gallery page.
Outer Box Sleeves.....
.....and Book Sleeves
---
Executive producer Roger Taylor
Produced by Joshua J. Macrae

PA to Roger Taylor and project coordinator: Justine Ellis
Video coordinator and editor: Wills Spencer
Sleeve notes and archive consultants: Greg Brooks and Gary Taylor

Management: Jim Beach
PR: Dawbell and Phil Symes
Foreword: Rhys Thomas
Website: Emma Donoghue

Mastered by Kevin Metcalfe at The Sound Masters
Artwork conception by Roger Taylor and Richard Gray
Front cover photograph by Neal Preston
Additional photography by Richard Gray and Sabrina Potgieter
---
Disc One - Fun In Space
(All of the tracks on this disc run at a slower speed than the 1996 remaster)

1. No Violins
2. Laugh Or Cry
3. Future Management (You Don't Need Nobody Else)
4. Let's Get Crazy
5. My Country Parts I & II
6. Good Times Are Now
7. Magic Is Loose
8. Interlude In Constantinople
9. Airheads
10. Fun In Space

Disc Two - Strange Frontier
1. Strange Frontier
2. Beautiful Dreams
3. Man On Fire
4. Racing In The Street
5. Masters Of War
6. Killing Time
7. Abandonfire
8. Young Love
9. It's An Illusion
10. I Cry For You (Love, Hope And Confusion)

Disc Three - Shove It
1. Shove It
2. Cowboys And Indians
3. Contact
4. Heaven For Everyone (Freddie vocal) (also on disc 11)
5. Stand Up For Love
6. Love On A Tightrope (Like An Animal)
7. Love Lies Bleeding (She Was A Wicked, Wily Waitress)
8. Rough Justice
9. The Second Shelf Mix

Disc Four - Mad, Bad And Dangerous To Know
1. Top Of The World Ma
2. Liar
3. Closer To You
4. Breakdown
5. Penetration Guru
6. Power To Love
7. Sister Blue
8. Foxy Lady
9. Better Things
10. Passion For Trash
11. Old Men (Lay Down)
12. Final Destination

Disc Five - Blue Rock
1. Bad Attitude
2. New Dark Ages
3. Dirty Mind
4. Baby It's Alright
5. Ain't Put Nothin' Down
6. The Also Rans
7. Millionaire
8. Put It All Down To Love
9. Hand Of Fools
10. Life Changes (the first pressing had an error)

Disc Six - Happiness?
1. Nazis 1994
2. Happiness (longer outro)
3. Revelations (longer intro)
4. Touch The Sky
5. Foreign Sand
6. Freedom Train
7. 'You Had To Be There'
8. The Key
9. Everybody Hurts Sometime (longer outro)
10. Loneliness...
11. Dear Mr Murdoch (longer outro)
12. Old Friends

Disc Seven - Electric Fire
(Most of the tracks on this disc have different outros, as the tracks originally ran into each other but they now fade out fully. Only the major changes are listed here)

1. Pressure On (the first pressing had a slightly different version)
2. A Nation Of Haircuts
3. Believe In Yourself (longer outro)
4. Surrender
5. People On Streets
6. The Whisperers
7. Is It Me?
8. No More Fun (longer outro)
9. Tonight
10. Where Are You Now?
11. Working Class Hero
12. London Town - C'mon Down

Disc Eight - Fun On Earth
1. One Night Stand
2. Fight Club
3. Be With You
4. Quality Street
5. I Don't Care
6. Sunny Day
7. Be My Gal (My Brightest Spark)
8. I Am The Drummer (In A Rock 'n' Roll Band)
9. Small
10. Say It's Not True
11. The Unblinking Eye
12. Up
13. Smile
CD Bonus Tracks:
14. Whole House Rockin' (new track)
15. Dear Mr Murdoch (Nude Mix) (also on disc 10 as the 2011 version)

Disc Nine - Solo Singles 1
1. I Wanna Testify (non-album track)
2. Turn On The TV (non-album track)
3. My Country (single version)
4. Man On Fire (extended version)
5. I Cry For You (Love, Hope And Confusion) (single version)
6. Strange Frontier (extended version)
7. I Cry For You (Love, Hope And Confusion) (extended version)
8. Two Sharp Pencils (Get Bad) (non-album track)
9. Nazis 1994 (radio mix)
10. Nazis 1994 (Kick mix)
11. Nazis 1994 (Schindler's mix extended)
12. Nazis 1994 (Makita mix extended)
13. Nazis 1994 (Big Science mix)
14. Foreign Sand (single version)
15. Final Destination (non-album track)
16. Everybody Hurts Sometime (live at Shepherd's Bush 1994)
17. Old Friends (live at Shepherd's Bush 1994)

Disc Ten - Solo Singles 2
1. Pressure On (single version)
2. People On Streets (Mashed)
3. Tonight (Dub Sangria)
4. Keep A Knockin' (non-album track)
5. Surrender (Radio mix)
6. A Nation Of Haircuts (Club Cut)
7. London Town - C'mon Down (single version)
8. Surrender (live at the Cyberbarn)
9. No More Fun (live at the Cyberbarn)
10. Tonight (live at the Cyberbarn)
11. One Night Stand (download track)
12. Woman, You're So Beautiful (But Still A Pain In The Ass) (Main Mix)
13. Woman, You're So Beautiful (But Still A Pain In The Ass) (Mad Mix)
14. Woman, You're So Beautiful (But Still A Pain In The Ass) (Dance Hall Mix)
15. The Unblinking Eye (single version)
16. The Unblinking Eye (Almost Nude mix)
17. Dear Mr Murdoch (2011 version) (also on disc 8 as the 'Nude Mix')

Disc Eleven - The Cross Singles 1
1. Cowboys And Indians (single version)
2. Love Lies Bleeding (She Was A Wicked, Wily Waitress) (single version)
3. Feel The Force (US only track)
4. The Second Shelf Mix (it should be the extended version of 'Shove It')
5. Shove It (Metropolix mix)
6. Shove It (Denniz Pop Remix)
7. Heaven For Everyone (Roger vocal)
8. Heaven For Everyone (Freddie vocal) (also on disc 3)
9. Manipulator (extended version)
10. Manipulator (single version)
11. Power To Love (extended version)
12. Power To Love (single version)
13. In Charge Of My Heart (single version)
14. Liar (extended version)
15. In Charge Of My Heart (extended version)
16. Liar (single version)

Disc Twelve - The Cross Singles 2
1. New Dark Ages (single version)
2. Ain't Put Nothin' Down (long version edit)
3. Man On Fire (live version)
4. Life Changes (single version)
5. Heartland (non-album track)
6. Celebration (Jam Studios Session demo)
7. I Can Take You Higher (Jam Studios Session demo)
8. I Can't Get You Out Of My Head (Jam Studios Session demo)
9. Passion for Trash (Jam Studios Session demo)
10. Top Of The World Ma (extended version)
11. Shove It (US single version)

DVD
1. Strange Frontier
2. Man On Fire
3. Happiness
4. Foreign Sand
5. Surrender
6. Nazis 1994
7. The Unblinking Eye
8. Dear Mr Murdoch (2011)
9. Old Friends (live at the Gosport Festival, 1994)
10. Man On Fire (live at Truro City Hall, 1994)
11. Happiness (live at Truro City Hall, 1994)
12. Everybody Hurts Sometime (live at Truro City Hall, 1994)
13. Cowboys And Indians
14. Cowboys And Indians (2 drummers)
15. Shove It
16. Heaven For Everyone
17. Power To Love
18. Liar
19. New Dark Ages
20. Blue Rock EPK
21. Happiness? EPK
22. Electric Fire EPK
23. Interview for Parlophone

Full details of the DVD can be found here.

List Of Missing Tracks
Actual songs:
I Wanna Take You Higher (Roger demo)
Keep On Running (demo)
Olympic Theme
The Shores Of Formentera
When We Were Young

Versions of songs:
All fifteen tracks on the 'Bootleg' semi-official fan-club album
All ten tracks on the 'Live In Germany' semi-official fan-club album
Cowboys And Indians (the 7" single has a slightly different single version, which runs faster than the included version)
Happiness (single version; a straight edit of the album version)
Is It Me? (original acetate version)
Man On Fire (The Cross live version; a straight edit of the included version)
Nazis 1994 (banned version)
Put It All Down To Love (single version; a straight edit of the album version)
Rough Justice (US album version; includes a reprise of 'Shove It', which is included but as part of 'The Second Shelf Mix')
Shove It (extended version; not included as such, but it does form part of 'The Second Shelf Mix')
Surrender (original acetate version)

(Live versions of 'I Want To Break Free' and 'Ride The Wild Wind' from Shepherd's Bush 1994 are also missing, but this was deliberate as the boxed set focuses on Roger's solo work, so intentionally excludes Queen material)

Videos:
Future Management ('Top Of The Pops' performance)
I Wanna Testify ('Marc' TV show performance)
Liar (single version video)
Man On Fire (alternate video)
Nazis 1994 (original video)
Power To Love (alternate video)
Sunny Day
Surrender (live video from the CD single)

List Of Previously Unreleased Tracks
Celebration (Jam Studios Session demo)
I Can Take You Higher (Jam Studios Session demo)
I Can't Get You Out Of My Head (Jam Studios Session demo)
Passion for Trash (Jam Studios Session demo)
Top Of The World Ma (extended version)
Whole House Rockin' (new track on the CD version only)

List Of Tracks Previously Unavailable In The UK
All ten tracks on the Blue Rock album and their alternate versions.
All DVD content except 'The Unblinking Eye'.

Feel The Force
Heartland
In Charge Of My Heart (single and extended versions)
Liar (single and extended versions)
Man On Fire (live version)
Shove It (Denniz Pop Remix and US single version)
---