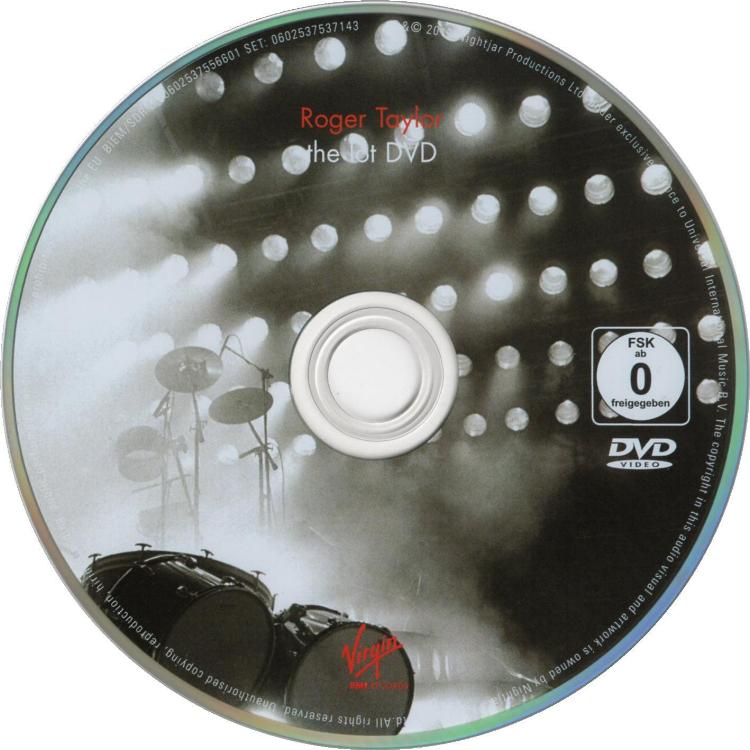 Released on 11 November 2013, as part of the boxed set 'The Lot' only.
Length 133 minutes.
Tracklisting:
Roger Taylor Solo:
1. Strange Frontier
2. Man On Fire
3. Happiness
4. Foreign Sand
5. Surrender
6. Nazis 1994
7. The Unblinking Eye
8. Dear Mr Murdoch (2011)

Live:
9. Old Friends (live at the Gosport Festival, 1994)
10. Man On Fire (live at Truro City Hall, 1994)
11. Happiness (live at Truro City Hall, 1994)
12. Everybody Hurts Sometime (live at Truro City Hall, 1994)

The Cross:
13. Cowboys And Indians
14. Cowboys And Indians (2 drummers)
15. Shove It
16. Heaven For Everyone
17. Power To Love
18. Liar
19. New Dark Ages
20. Blue Rock EPK

Interviews & Electronic Press Kits:
21. Happiness? EPK
22. Electric Fire EPK
23. Interview for Parlophone
This is a fairly basic DVD, divided into four sections. The main menu has options to play all tracks (title 1, 133 minutes), or open sub-menus to select the tracks in each section, and plays an excerpt of 'The Whisperers', with much shorter excerpts played when you select each option. The DVD does not feature subtitles or sound options, with all tracks presented in standard stereo.

Title 2 contains 'Roger Taylor Solo', lasting 34 minutes, and features 8 promo videos. Each video begins with the front sleeve of the single release, and finishes with the back sleeve. Only 'The Unblinking Eye' has been officially released before.

Title 3 contains 'Live', lasting 16 minutes, and features 4 live tracks recorded in 1994, one at the Gosport Festival and three at Truro City Hall. Each track features a simple caption in white text at the start, and they are all previously unreleased.

Title 4 contains 'The Cross', lasting 40 minutes, and features 7 promo videos and an electronic press kit. As with 'Roger Taylor Solo', each video begins and ends with the single artwork (apart from 'Power To Love', which features the 'Mad, Bad And Dangerous To Know' album sleeves). All of the promo videos are previously unreleased. The final track in the section is an EPK for 'Blue Rock', which features clips from the 'New Dark Ages' video, excerpts of 'Life Changes' and 'Millionaire', live footage from the Festival For Life concert in Switzerland on 1 April 1990, and interviews with the individual band members about naming the album, favourite tracks, producing, co-writing, influences and touring.

Title 5 contains 'Interviews & Electronic Press Kits', lasting 43 minutes, and contains three features as follows, all previously unreleased. Each feature begins with the relevant album's front sleeve and ends with the back sleeve.

'Happiness? EPK' (21 minutes):
Directed by Rudi Dolezal and Hannes Rossacher and produced in August 1994, this features excerpts of 'Touch The Sky' and 'Dear Mr Murdoch', footage from the 'Happiness', 'Nazis 1994' and 'Foreign Sand' promo videos, backstage footage of the 'Happiness' video shoot, and live footage from the Gosport Festival and Japanese Great Music Experience of 'Old Friends', 'The Key' and 'Radio Ga Ga'. It also features footage of Roger's Cosford Mill studio, and footage of Roger and Joshua J. Macrae working on tracks, with interviews covering writing, the album title, artwork, recording, individual songs, and touring.

'Electric Fire' EPK (9 minutes):
This features an excerpt of 'Where Are You Now?' and live footage of 'We Will Rock You', 'Believe In Yourself', 'No More Fun', 'Pressure On' and 'These Are The Days Of Our Lives', all recorded at the Cyberbarn concert. It features footage of Roger's house and gardens, and interviews about the album title, artwork, recording, the internet, and touring. Much of the footage comes from the 'Live At The Cyberbarn' video.

Interview with Parlophone (14 minutes):
Issued to promote the 'Surrender' single, this is straight interview, with Roger talking about the track, domestic violence, living in the country, the Cyberbarn concert and the 'Electric Fire' tour.
---