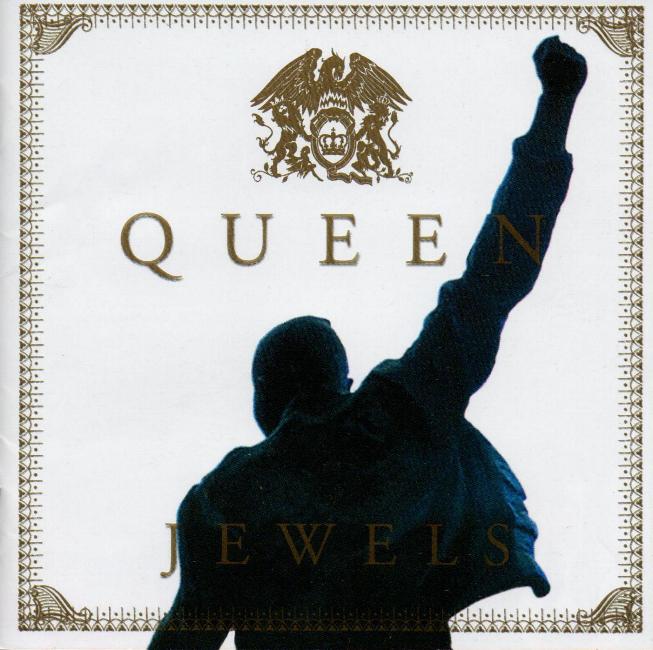 Released in Japan (as 'Jewels') and Taiwan (as 'Jewels - The Very Best Of Queen'), on 28 January 2004, and reached no. 1 in the Japanese charts.
Album length 62:36.
Tracklisting:
01. I Was Born To Love You
02. We Will Rock You
03. We Are The Champions
04. Don't Stop Me Now
05. Too Much Love Will Kill You
06. Let Me Live
07. You're My Best Friend
08. Under Pressure ('Greatest Hits II' edit)
09. Radio Ga Ga
10. Somebody To Love
11. Killer Queen
12. Another One Bites The Dust
13. Crazy Little Thing Called Love
14. Flash (single version)
15. The Show Must Go On
16. Bohemian Rhapsody

Reissue Bonus Tracks:
17. It's A Beautiful Day (single version, presumably)
18. Flash's Theme (High Octane Mix)
Tracks 1, 5, 6, 15 and bonus track 17 produced by Queen and David Richards
Tracks 2 and 3 produced by Queen, assisted by Mike Stone
Tracks 4, 7, 11 and 16 produced by Queen and Roy Thomas Baker
Track 8 produced by Queen and David Bowie
Tracks 9, 12 and 13 produced by Queen and Mack
Track 10 produced by Queen
Track 14 and bonus track 18 produced by Brian May and Mack

Unless noted above, all tracks are the normal album versions.

This album was also released as a DVD, and was re-released in 2008 with two bonus tracks, namely 'It's A Beautiful Day' (presumably the single version) and the 'High Octane' mix of 'Flash's Theme'. It was reissued again in Japan without the bonus tracks on 4 December 2013 on the SHM-CD format. It was also released in China in 2007 or 2008, omitting both 'Don't Stop Me Now' and 'Bohemian Rhapsody', due to censorship.

After the album's success, a second volume, titled 'Jewels II', was released in 2005. Both volumes were then released together as a limited edition boxed set on 30 September 2005, titled 'Queen Jewels I & II - Japan Tour Special Edition', to coincide with the Queen + Paul Rodgers tour.
---