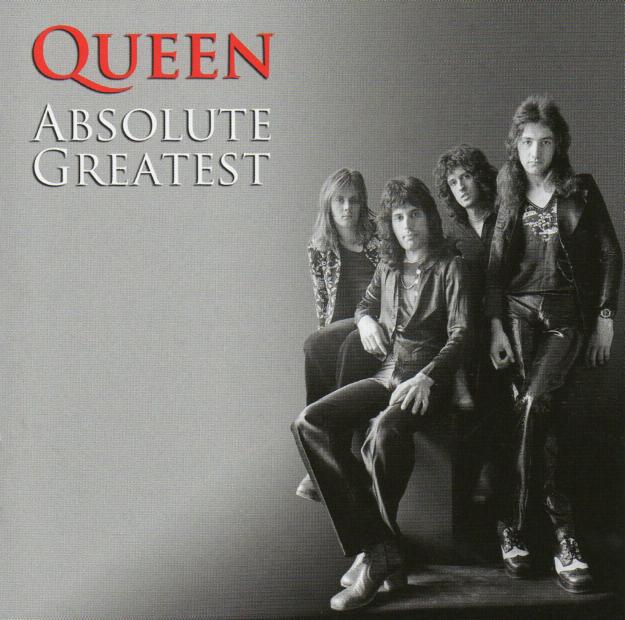 Released 16 November 2009, reached no 3, on chart for 39 weeks, and achieved 2x Platinum status.
Length 79:33.
Tracklisting:
1. We Will Rock You (B-side to 'We Are The Champions', #2, October 1977)
2. We Are The Champions (#2, October 1977)
3. Radio Ga Ga (#2, January 1984)
4. Another One Bites The Dust (#7, August 1980)
5. I Want It All (single version) (#3, May 1989)
6. Crazy Little Thing Called Love (#2, October 1979)
7. A Kind Of Magic (#3, March 1986)
8. Under Pressure (#1, October 1981)
9. One Vision (single version) (#7, November 1985)
10. You're My Best Friend (#7, June 1976)
11. Don't Stop Me Now (#9, January 1979)
12. Killer Queen (#2, October 1974)
13. These Are The Days Of Our Lives (AA-side single, #1, December 1991)
14. Who Wants To Live Forever (edit) (#24, September 1986)
15. Seven Seas Of Rhye (#10, February 1974)
16. Heaven For Everyone (single version) (#2, October 1995)
17. Somebody To Love (#2, November 1976)
18. I Want To Break Free (single version edit) (#3, April 1984)
19. The Show Must Go On (#16, October 1991)
20. Bohemian Rhapsody (#1, October 1975)
Tracks 1 and 2 produced by Queen, assisted by Mike Stone.
Tracks 3, 4, 6, 9 and 18 produced by Queen and Mack
Tracks 5, 7, 13, 14, 16 and 19 produced by Queen and David Richards
Track 8 produced by Queen and David Bowie
Tracks 10, 11, 12, 15 and 20 produced by Queen and Roy Thomas-Baker
Track 17 produced by Queen


This album features Queen's 20 greatest tracks, and was available as a single CD, double CD, double CD book, and triple LP set. It was re-released in Germany in 2016 on CD and as a double white vinyl LP, in slightly different artwork, which was exclusive to the coffee company Tchibo. It was reissued in Germany again in 2019, this time on double silver vinyl, again exclusive to the Tchibo website.

The double CD and book releases feature a second disc titled 'Absolute Narrative', lasting 42:06, which features commentary by Brian May and Roger Taylor about each track. For this, each track has been edited, and the details are listed next to each track below.

The book and LP editions included a unique code which could be used on the QueenOnline website to give access to online streams of 18 live performances, several of them exclusive to the release. Full details of the tracks can be found on the 'Absolute Greatest' video page.

The only track included on this release not to be a single is 'We Will Rock You', which was only released as the B-Side to 'We Are The Champions'. For the remaining 19 tracks, there are three number ones, nine top twos, twelve top threes, and seventeen top 10's. The singles which fared worst are 'The Show Must Go On' (no 16) and 'Who Wants To Live Forever' (no 24). The average single reached no 5 in the charts and spent 11 weeks on chart. In total the singles have spent 206 weeks (just under 4 years) in the charts.

The most successful tracks not to be included are 'Innuendo' (no 1), 'It's A Hard Life' (no 6), 'A Winter's Tale' (no 6), 'Breakthru' (no 7), 'Let Me Live' (no 9) and 'Flash' (no 10). 'Flash' is the most surprising omission, as it is one of Queen's best known tracks.
---
---
---
---
---
---
---
---
---
---
---
---
---
---
---
---
---
---
---
---
---