'We Will Rock You' Introduction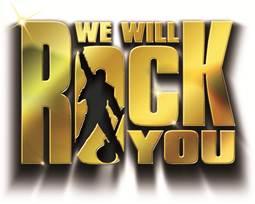 The 'We Will Rock You' musical was written by Ben Elton and is set to the music of Queen, with many lyrics being changed to reflect the characters and plot. The music is performed live each night by a band, hidden behind scaffolding at the sides of the stage. It was produced jointly by Queen Theatrical Productions, Phil McIntyre, and Tribeca Theatrical Productions (co-owned by the actor Robert De Niro).

The musical first opened on 24 April 2002, at the Dominion Theatre, Tottenham Court Road, London. The world premiere was held on 14 May 2002, and a live cast recording was released on 11 November 2002. The first anniversary show was held on 18th June 2003, attended by Brian and Roger and many other celebrities, which also marked the official opening of the Freddie Mercury Photographic Exhibition and the unveiling of an 8 metre high statue of Freddie on the canopy of the theatre. By September 2013, the production had been seen by over 15 million people in 17 countries, with 6.5 million in the UK alone.

The musical closed at the Dominion, to allow the theatre to be renovated, on 31 May 2014, after twelve years and 4,600 performances, with Brian and Roger perfoming at both the afternoon and evening shows. It was the theatre's longest running musical, and the ninth longest running in the West End.

Brian and Roger have made many appearances at the various worldwide productions, and a full list of all performances is available on the Queen Concertography 1992-2006 and Queen Concertography 2007-2022 pages, while a full list of all tracks recorded with the various casts and individual members can be found on the We Will Rock You - The Music page.

Some footage of the original London musical can be found as a bonus feature on the 2003 'Made In Heaven - The Films' DVD reissue, while a few very short clips were also included on the Dutch 2002 Heineken 'Queen's Day' CD-Rom.
---
To date, the musical has been performed in the following countries: (dates of performances are shown in brackets, where known)
Australia (Melbourne, 7 August 2003; touring in Perth, Brisbane and Sydney in 2004; further touring productions in Sydney, Brisbane, Melbourne, Perth and Adelaide, from April 2016 - January 2017; and touring throughout from May - November 2018)

Austria (Vienna, 24 January 2008, with further shows in 2015 and 2022)

Belgium (Antwerp, 1 September - October 2011)

Brazil (Sao Paulo, 24 March 2016)

Canada (Toronto, 14 March 2007 - 28 June 2009; further shows throughout 2018 and 2019)

Denmark (Copenhagen, 23 February 2011 onwards; Copenhagen, 19 April - 7 May 2017, and Herning, 18-21 May 2017)

France (Paris, 8 February - 10 March 2019)

Germany (Cologne, 12 December 2004-30 September 2008; later productions in Stuttgart (2008-10), Berlin (2010-11), Essen (2013-14), Munich (2014), Frankfurt (2014-5), Hamburg (March 2015) and Cologne (July 2015), and a touring production scheduled for October 2020 to April 2021 but delayed due to the Covid-19 pandemic until 2022)

Hungary (Budapest, 24 November 2017 and further shows in 2018 and 2019)

Hong Kong (16 May - 22 June 2008)

Italy (Milan, 4 December 2009, touring in 2010-2011, and again in 2018 and 2019)

Japan (Tokyo, 14 November 2006 to January 2007)

Netherlands (2011, with a tour in 2019, which included Anastacia as The Killer Queen)

New Zealand (Auckland, 27 October 2007, closed sometime between October 2007 and February 2008; further shows in 2019 and 2020)

Norway (Oslo, 27 January - 16 April 2011)

Russia (Moscow, 17 October 2004)

Singapore (29 March 2008)

South Africa (Johannesburg, 9 May 2006; touring in Cape Town and Durban, until 29 October 2006)

South Korea (Seoul, 2 February - 24 February 2008)

Spain (Madrid, 3 November 2003; touring in Barcelona, Bilbao and Valencia in 2004-5, then reopened in Madrid in 2007 and further touring)

Sweden (Stockholm, 12 September - 18 December 2010)

Switzerland (Zurich, December 2006; with a later productions in Basel in 2012 and 2022)

Thailand (Bangkok, 12 July - 27 July 2008)

UK (London, 14 May 2002 - 31 May 2014)

UK 2009-10 Touring Production (Manchester, Sunderland, Birmingham, Bristol, Edinburgh, Dublin, from 21 March 2009 to 31 January 2010)

UK 2010-12 Touring Production (Manchester, Glasgow, Cardiff, Southampton, Aberdeen, Birmingham, Liverpool, Sunderland, Bristol, Leeds and Edinburgh, from 3 December 2010 to 7 January 2012)

UK 2019-20 Touring Production (Bromley, Ipswich, Sheffield, Edinburgh, Newcastle, Derry, Dublin, Southend, Leeds, Nottingham, Plymouth, Glasgow, Blackpool, Hull, Manchester, Aberdeen, Bradford, Canterbury, Oxford, Llandudno, Bristol, Milton Keynes, Liverpool, Cardiff, Birmingham, Norwich, Northampton, Bournemouth, Stoke, Reading, October 2019 to July 2020 but some dates cancelled due to the Covid-19 pandemic; it was rescheduled to January to June 2021 but this was also cancelled; it is currently scheduled for February to September 2022)

USA (Las Vegas, 8 September 2004)

USA Touring Production (26 cities, from October 2013 to August 2014; further shows in 2018 and 2019)
The show also toured arenas from 25 February to 15 June 2013, visiting Finland, Denmark, England, Ireland, Netherlands, Luxembourg, Czech Republic, Turkey, Bulgaria, Croatia and Northern Ireland. Further dates were expected in Japan, South Africa, New Zealand and Australia.

A tour of South Africa, the Philippines, Singapore, Hong Kong and Israel was due to be staged from August 2020 to September 2021, but this was cancelled due to the Covid-19 pandemic.

Worldwide productions have the same plot and generally have the same setlist, though there are occasional differences. One other change is character names, these include Britney changing to Paris (Hilton), (Hilary) Duff, Vic (Victoria Beckham), or JB (Jeanette Biedermann), Meat changing to Ozzy or Oz (Osbourne), and Pop changing to Polo, Bap or DJ. The names of the other Bohemians also change to reflect current or local celebrities.

Please note that performances in some countries were not full productions but part of a tour, hence the shorter performance times. These included a tour of Sweden, Norway and Denmark, and one of New Zealand, South Korea, Singapore, Hong Kong and Thailand. Other planned productions include Portugal, Chile and Argentina, plus countless others.
---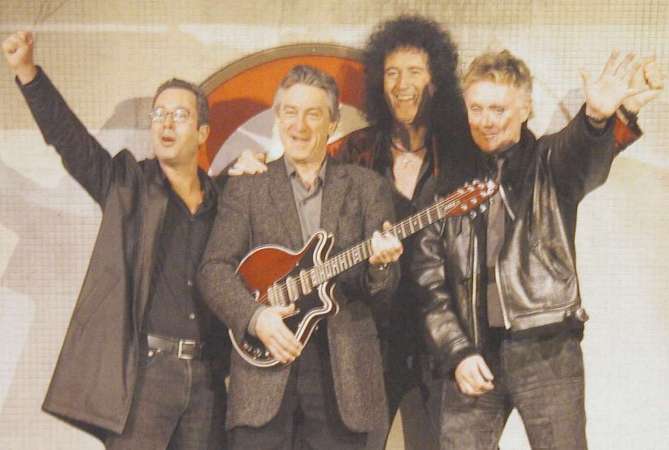 Ben Elton (writer), Robert De Niro (producer), Brian May and Roger Taylor (Musical supervisors/producers) at the 'We Will Rock You' press conference, between March and May 2002.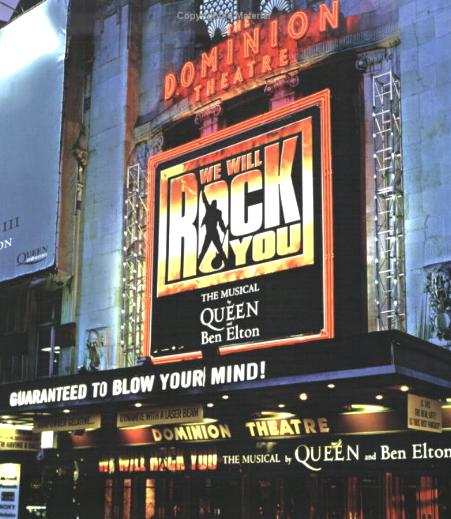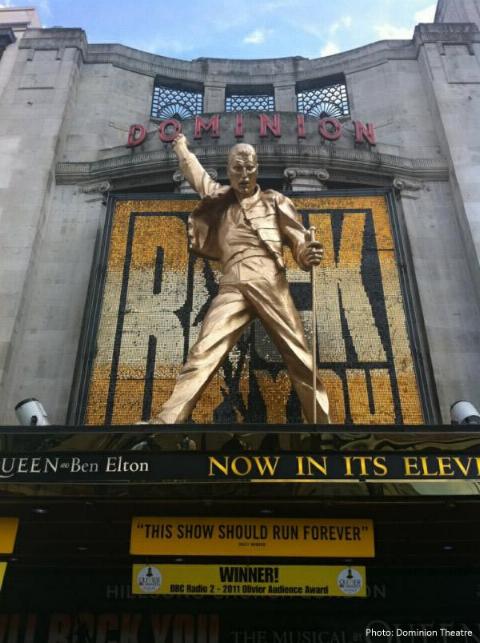 The Dominion Theatre, Tottenham Court Road, London, home of the London production, with Freddie's statue on the canopy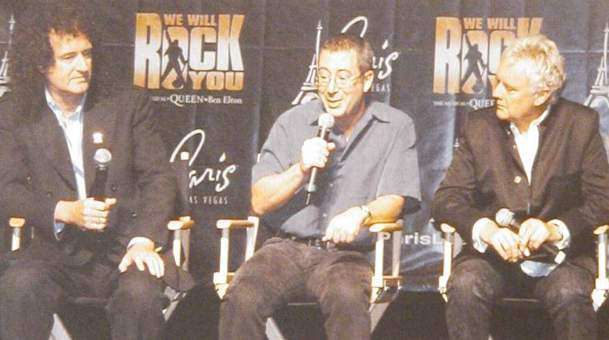 Brian, Roger and Ben Elton at a press conference at the Paris Theatre, Las Vegas, USA, in 2004.
---