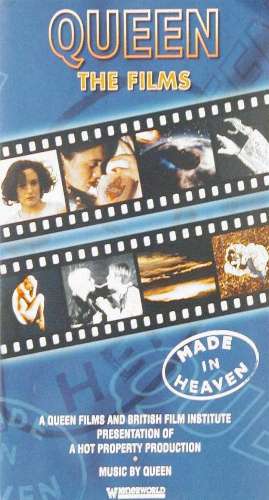 Released on VHS on 11 November 1996, and reissued on DVD on 24 March 2003.
Length 43 minutes.
Tracklisting:
1. I Was Born To Love You
2. Heaven For Everyone
3. Too Much Love Will Kill You
4. My Life Has Been Saved
5. You Don't Fool Me
6. A Winter's Tale
7. Let Me Live
8. Mother Love
9. Made In Heaven (titles)
Executive producers Jim Beach and Ben Gibson


This video release is a companion to the 1995 album 'Made In Heaven', and features the numerous British Film Institute produced videos, which were used to promote tracks from the album instead of familiar promo videos. As a result, none of the videos feature Queen at all. The videos for 'Too Much Love Will Kill You' and 'A Winter's Tale' later appeared on the 'Made In Heaven' 2011 iTunes LP.

The video was reissued on DVD in 2003, and adds a featurette titled 'The Making Of We Will Rock You'. It also adds a menu (which plays the full length version of 'Made In Heaven'), and a song selection screen. This screen displays the songs on the DVD, and when selected, a 29 second excerpt is played and the video is shown at high speed. Details of these excerpts can be found on the 'Made In Heaven' album page.

'The Making Of We Will Rock You' is an 8 minute featurette about the musical, featuring comments from people attending the premiere, and interviews with Roger Taylor, Brian May, Ted Irwin (production manager) and Tony Vincent (Gallileo). It also features footage from the musical of 'One Vision', 'Radio Ga Ga', 'A Kind Of Magic', 'Play The Game', 'Seven Seas Of Rhye' and 'One Vision' again. To date, it is the only official release of footage from the musical.
---