'We Will Rock You' Credits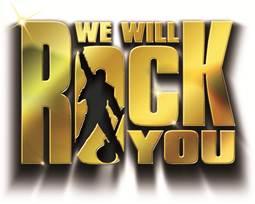 This page includes brief credits of the musical, listing some of the main people involved in it's development, production and performance. Unless specified, the details refer to the original London production from 2002 onwards. Unfortunately, cast changes don't seem to be publicised often, so the details here are far from complete.
Main Credits
Production Credits
The Band
The Cast
---
Main Credits
Music and lyrics by Queen
Story and script by Ben Elton
Musical supervisors: Mike Dixon, Brian May and Roger Taylor
Vocal Harmony Arrangements: Brian May and Mike Dixon
Directed by Christopher Renshaw
---
Production Credits
Orchestrator: Steve Sidwell
Production Designer: Mark Fisher
Lighting Designer: Willie Williams
Sound Designer: Bobby Aitken
Costume Designer: Tim Goodchild
Video Directors: Mark Fisher & Willie Williams
Fight Director: Gordon Alexander
Casting Director: Pippa Ailion
US Casting: Bernard Telsey Casting
Musical Staging & Choreography: Arlene Phillips
---
The Band
All songs in the musical are performed live by the band, who are situated to the left and right of the stage in the scaffolding backdrop (the orchestra pit is used for special effects).
Original London Band:
Piano: Mike Dixon
Keyboards: Spike Edney and Andy Smith
Keyboard and Synthesiser Programming: Jeff Leach
Guitars: Laurie Wisefield and Alan Darby
Bass: Neil Murray
Drums: Tony Bourke
Percussion: Julian Poole
Orchestrator: Steve Sidwell

Touring Band, 2009:
Musical Director: David Beer
Assistant Musical Director: Jim Henson
Keyboards: Irvin Duguid
Guitars: Simon Croft and James Barber
Bass: Nathan Welch
Drums: Rufus Taylor (Roger's son)
Percussion: Matt McLaughlin

USA Touring Band, 2013:
Musical Director: Rick Hip-Flores
Assistant Conductor and Keyboards: Brandon Ethridge
Keyboards: Emily Marshall
Guitars: Tristan Avakian and Bob Wegner
Bass: Mike Cohen
Drums: Danny Young
Percussion: David Stevens

Touring Band, 2019/2020:
Musical Director: Bob Broad
Guitars: Simon Croft and James Barber
Bass: Neil Murray
Drums: David Cottrell
---
The Cast
The years given in brackets are the dates that each actor first performed, or resumed, the role:

London Cast:
Galileo - Tony Vincent (2002), Mig Ayesa (2003), Peter Johansson (2005), Ricardo Alfonso (2007), Peter Murphy (2009), Ricardo Alfonso (2010), Alex Gaumond (2011), Noel Sullivan (2012), Oliver Tompsett (2012)
Scaramouche - Hannah Jane Fox (2002), Jenna Lee-James (2006), Sabrina Aloueche (2007), Sarah French (2010), Sabrina Aloueche (2011), Lauren Samuels (2012), Rachel Wooding (2012)
Killer Queen - Sharon D. Clarke (2002), Mazz Murray (2004), Brenda Edwards (2010), Lucy Tapp (2010), Hanna Levane (2010), Tricia Adele Turner (2010), Brenda Edwards (2010), Mazz Murray (2011), Brenda Edwards (2011)
Khashoggi - Alexander Hanson (2002), Clive Carter (2002), Alex Bourne (2005), Alasdair Harvey (2012)
Pop - Nigel Planer (2002), Mark Arden (2004), Jeff Shankley (2005), Julia Littman (2007), Garry Lake (2008), Kevin Kennedy (2010)
Brit - Nigel Clauzel (2002), Colin Charles (2005), Lain Gray (2007), Ian Carlyle (2008), Wayne Robinson (2012), Rolan Bell (2013)
Meat - Kerry Ellis (2002), Jenna Lee-James (2004), Rachel Wooding (2006), Lucy Sinclair (2007), Rachel Tucker (2008), Louise Bowden (2009), Amanda Coutts (2010), Lauren Varnham (2010), Rachel John (2010), Amanda Coutts (2013)

UK 2009/2010 Touring Cast:
Galileo - Alex Gaumond (2009), Michael Falzon (2009), Noel Sullivan (2010)
Scaramouche - Sarah French-Ellis (2009), Amanda Coutts (2010)
Killer Queen - Brenda Edwards (2009), Tiffany Graves (2010), Ashley J Russell (unknown year)
Khashoggi - Jonathan Wilkes (2009 and 2011 Glasgow), Darren Day (2009 Edinburgh), Rhydian Roberts (2011 Birmingham and Cardiff), Earl Carpenter (2011 Manchester)
Pop - Kevin Kennedy (2009), Ian Reddington (2010)
Brit - Wayne Robinson (2009), Leon Lopez (2010)
Meat - Georgina Hagen (2009), Jenny Douglas (2010)

2013 Arena Tour Cast:
Galileo - Mig Ayesa
Scaramouche - Lauren Samuels
Killer Queen - Brenda Edwards (UK dates only), Jenna Lee James
Khashoggi - Sean Kingsley
Pop - Kevin Kennedy (UK dates only), Rob Castell
Brit - Rolan Bell
Meat - Lucie Jones

USA 2013 Touring Cast:
Galileo - Brian Justin Crum
Scaramouche - Ruby Lewis
Killer Queen - Jacqueline Arnold
Khashoggi - P.J. Griffith
Pop - Ryan Knowles
Brit - Jared Zirilli
Meat (renamed as Oz) - Erica Peck

UK 2019/2020 Touring Cast:
Galileo - Ian McIntosh
Scaramouche - Elena Skye
Killer Queen - Jennifer O'Leary
Khashoggi - Adam Strong
Pop (renamed as Buddy) - Michael McKell
Brit - David-Michael Johnson
Meat (renamed as Oz) - Amy Di Bartolomeo
---