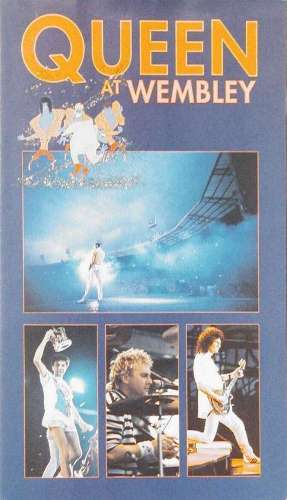 Released 3 December 1990.
Length 77 minutes.
Tracklisting:
1. Brighton Rock (studio edit)
2. One Vision
3. Tie Your Mother Down
4. In The Lap Of The Gods.... Revisited
5. Seven Seas Of Rhye
6. A Kind Of Magic
7. Freddie Singalong
8. Under Pressure
9. Another One Bites The Dust
10. Who Wants To Live Forever
11. I Want To Break Free
12. Is This The World We Created?
13. Tutti Frutti
14. Bohemian Rhapsody
15. Hammer To Fall
16. Crazy Little Thing Called Love
17. Radio Ga Ga
18. We Will Rock You
19. Friends Will Be Friends
20. We Are The Champions
21. God Save The Queen
Directed and Produced by Gavin Taylor
Executive Producer - Jim Beach
Concert sound by James 'Trip' Khalaf
Mixed by Mack
Additional Keyboards and Guitars - Spike Edney

Recorded at Wembley Stadium, London, on 12 July 1986.


This concert was later released, in full, as the 1992 double album 'Live At Wembley 1986' and 2003 reissue 'Live At Wembley Stadium', and as the 'Live At Wembley Stadium' 2003 DVD and 2011 DVD, with most of the tracks identical across each release. However, the video loses nine tracks, namely 'Tear It Up', 'Impromptu', 'Guitar Solo', 'Now I'm Here', 'Love Of My Life', '(You're So Square) Baby I Don't Care', 'Hello Mary Lou (Goodbye Heart)', 'Gimme Some Lovin' and 'Big Spender', while several tracks are different. Also, the video loses a lot of audience noise between tracks.

The video begins with a special edit of 'Brighton Rock', with video footage of the stage being built and the audience arriving, using time-lapse photography, which is intercut with clips of Queen and some backstage footage. It also features an animated 'magic' title sequence, featuring the characters from the 'A Kind Of Magic' album sleeve, while further footage appears over the backing tape at the start of 'One Vision'.


An edited version has also been broadcast on TV, the first known broadcast was on Channel 5 on 13th March 2000, as part of 'Queen For A Day'. The running time was approximately 60 minutes (including advertisement breaks), losing 'In The Lap Of The Gods.... Revisited', 'Freddie Singalong', 'Who Wants To Live Forever', 'Is This The World We Created?' and 'Tutti Frutti'. Some tracks were also edited, such as the intro to 'A Kind Of Magic'.
---