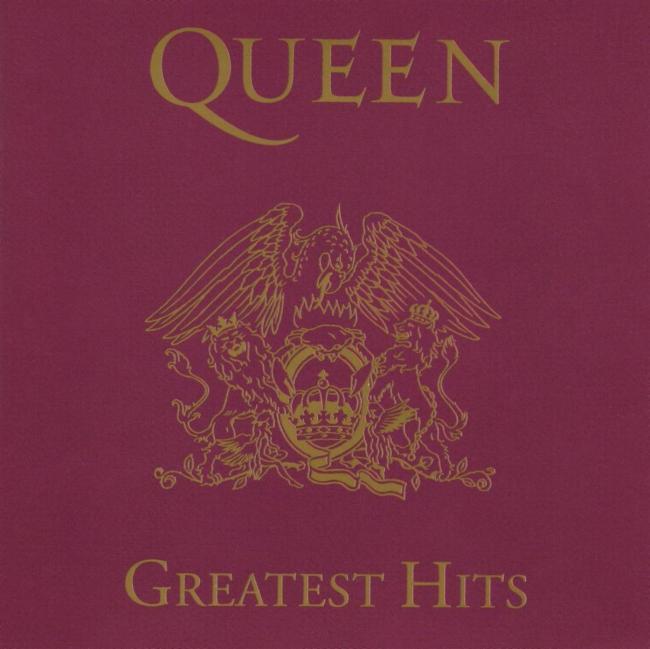 Released in the USA and Canada on 15 September 1992, reached no 11, on chart for 156 weeks.
Album length 58:43.
Tracklisting:
01. We Will Rock You (album version)
02. We Are The Champions (album version)
03. Another One Bites The Dust (album version)
04. Killer Queen (album version)
05. Somebody To Love (album version)
06. Fat Bottomed Girls (album version)
07. Bicycle Race (album version)
08. You're My Best Friend (album version)
09. Crazy Little Thing Called Love (album version)
10. Now I'm Here (album version)
11. Play The Game (album version)
12. Seven Seas Of Rhye (album version)
13. Body Language (album version)
14. Save Me (album version)
15. Don't Stop Me Now (album version)
16. Good Old Fashioned Loverboy (album version)
17. I Want To Break Free (single version edit)
Tracks 1 and 2 produced by Queen, assisted by Mike Stone.
Tracks 3, 9, 11, 13, 14 and 17 produced by Queen and Mack.
Tracks 4, 6, 7, 8, 10, 12 and 15 produced by Queen and Roy Thomas Baker.
Tracks 5 and 16 produced by Queen.


This album is based on the 1981 UK album of the same name, losing 'Bohemian Rhapsody' and 'Flash', but adding 'Body Language' and 'I Want To Break Free'. It is a companion to the 'Classic Queen' album and was also released as a video.

Altogether this is a reasonable compilation, but an odd choice of tracks, as it includes 'Seven Seas Of Rhye' which did not chart, and 'Now I'm Here', 'Good Old Fashioned Loverboy' and 'Save Me', all of which were not released as singles in America. It also includes 'Don't Stop Me Now' which only reached no. 86 in the chart - but omits 'Flash' (#42), 'Need Your Loving Tonight' (#44) and 'Calling All Girls' (#60), so I am not sure if it really deserves to be called 'Greatest Hits'. It is also an odd choice of title, given that the standard 1981 'Greatest Hits' album was released in North America, and is globally much more successful.
---