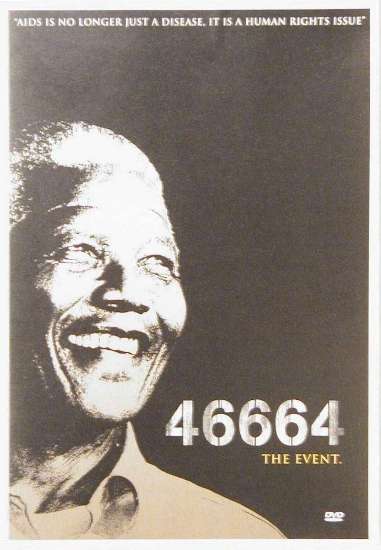 Released 5 April 2004.


46664 inspired by Nelson Mandela and carried forward by Dave Stewart
Artistic and Music Directors: Brian May, Dave Stewart and Roger Taylor
Musical Director: Spike Edney
Directed by David Mallet
Associate Producer: Simon Lupton
Produced by Jim Beach and Jean Francois Cecillon

Recorded by Justin Shirley-Smith and Toby Alington at Green Point Stadium, Cape Town, South Africa, 29 November 2003.
Mixed by David Richards and Joshua J. Macrae at Mountain Studios, Montreux, Switzerland, and The Priory, Surrey, England.
---
The majority of the content on the DVD's is not related to Queen, and so only brief details appear on this page. Full details of the tracks featuring Queen can be found on the 46664 Songs page.
DVD 1
Part One of the 46664 Concert
Beyonce - Crazy in Love (46664 version)

Bob Geldof - Speech

Bob Geldof - Redemption Song

Queen and David A Stewart - Say It's Not True

Paul Oakenfold, Shifty Shellshock and TC - Starry Eyed Surprise

Paul Oakenfold, Shifty Shellshock and TC with Amampondo Drummers - Ready Steady Go

Baaba Maal - Baayo

Baaba Maal - Njilou

Youssou n'Dour -Africa Dream Again

Yusuf Islam and Peter Gabriel - Wild World

Peter Gabriel, Youssou n'Dour and Angelique Kidjo - In Your Eyes

Peter Gabriel and Youssou n Dour - Biko

Bono, The Edge, Beyonce and David A Stewart - American Prayer

Bono, The Edge, David A Stewart, Youssou n' Dour and Abdel Wright - 46664 (Long Walk to Freedom)

Nelson Mandela - Speech

Queen - Invincible Hope
Queen - 46664 - The Call
Queen - The Show Must Go On

Angelique Kidjo - Afrika

Yvonne Chaka Chaka - Umquombothi

Bongo Maffin - The Way

Johnny Clegg and guests - Asimbonanga

Johnny Clegg and Jimmy Cliff - People

Jimmy Cliff - Many Rivers To Cross

Jimmy Cliff - I Can See Clearly Now
46664 Press Conference : including short excerpts of Brian and Roger

Behind The Concert : including rehearsals of 'Toss The Feathers', 'Amandla', 'Bohemian Rhapsody' and 'We Are The Champions', some interviews and footage of Queen

Interviews : featuring interview excerpts with Dave Stewart, Queen, Peter Gabriel, and others

Fighting AIDS : a feature AIDS related projects

Credits
DVD 2
Part Two of the 46664 Concert:
The Corrs - Breathless

The Corrs and Roger Taylor - Toss The Feathers

Ladysmith Black Mambazo, The Corrs - Leliungelo Elakho

Ladysmith Black Mambazo - Homeless

Andrea Corr and Brian May - Is This The World We Created?

Abdel Wright - Loose Me Now

Danny K - Hurts So Bad

Watershed - Indigo Girl

Bob Geldof - The Great Song Of Indifference

Bob Geldof - (What So Funny 'bout) Peace, Love and Understanding

Queen and Zucchero - Everybody's Got To Learn Sometime

Eurythmics - Here Comes The Rain Again

Eurythmics and Youssou n'Dour - 7 Seconds

Eurythmics - Sweet Dreams (Are Made of This)

Ms Dynamite - Don't Throw Your Life Away

Bono and The Edge - One

Bono and The Edge - Unchained Melody

Anastacia, Bono, The Edge, David A Stewart and Queen - Amandla
Queen and Soweto Gospel Choir - Bohemian Rhapsody
Queen and Zucchero - I Want It All
Queen and Thandiswa Mazwai - I Want To Break Free
Queen - Radio Ga Ga
Queen and Anastacia - We Will Rock You
Queen and Anastacia - We Are The Champions

Soweto Gospel Choir and Cast - 46664 Chant
The Spirit Of Africa : documentary about life in Africa

Interviews, including excerpts with Brian and Roger

Photo Gallery

A Minute Of Art - artist impressions of their feelings towards AIDS
---