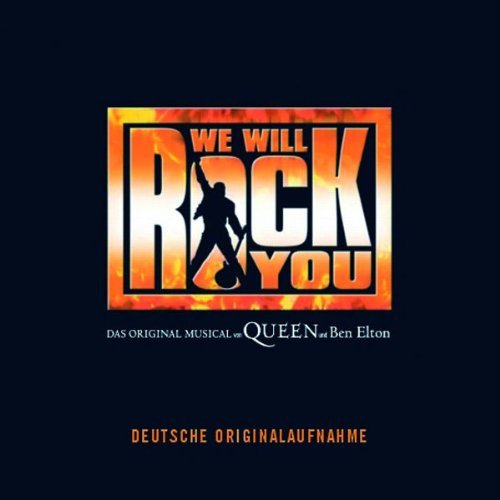 Released on 30 May 2005.
Album length 79:40.
Tracklisting:
1. Innuendo
2. Radio Ga Ga (Deutsche version)
3. I Want To Break Free
4. Somebody To Love
5. Killer Queen (Deutsche version)
6. Play The Game (Deutsche version)
7. Under Pressure
8. A Kind Of Magic
9. I Want It All
10. Headlong
11. No-One But You (Deutsche version)
12. Crazy Little Thing Called Love
13. Ogre Battle
14. One Vision (Deutsche version)
15. Who Wants To Live Forever
16. Flash
17. Seven Seas Of Rhye
18. Fat Bottomed Girls
19. Another One Bites The Dust
20. Hammer To Fall
21. These Are The Days Of Our Lives
22. We Will Rock You (slow version)
23. We Are The Champions
24. We Will Rock You (fast version)
25. Bohemian Rhapsody
Executive music producers and arrangers: Brian May and Roger Taylor
Executive Producer: Brian May
Produced by Simon Sayer, mixed by Simon Sayer and James Loughrey
Recorded live at the Musical Dome, Cologne, Germany
Original script by Ben Elton


Lead vocals sung by Bap (equivalent of Pop) (James Sbano), Khashoggi (Martin Berger), Gallileo (Alex Melcher), Scaramouche (Vera Bolten), Killer Queen (Brigitte Oelke), J.B (equvalent of Britney) (DMJ), and Ozzy (equivalent of Meat) (Michaela Kovarikova)

Music performed by Ethan Popp (musical director, conductor, keyboards), Brandon Ethridge (assistant musical director, keyboards), Yi Zhou (keyboards), Matthias Simoner (guitar), Frank Rohles (guitar), Boris Ehlers (drums), Oliver Poschmann (bass) and Martin Esser (percussion)

Although this is a German cast album, the majority of the tracks are performed in English. Lyrics are shown only for those tracks in English, with the exception of 'No-One But You', while all dialogue is also omitted.
---
---
---
---
---
---
---
---
---
---
---
---
---
---
---
---
---
---
---
---
---
---
---
---
---
---