Star Licks Master Series
(later retitled 'Brian May Master Session')
[discography | gallery]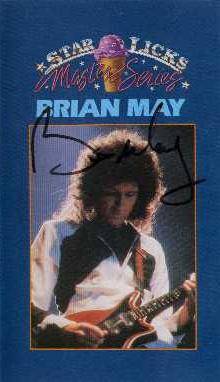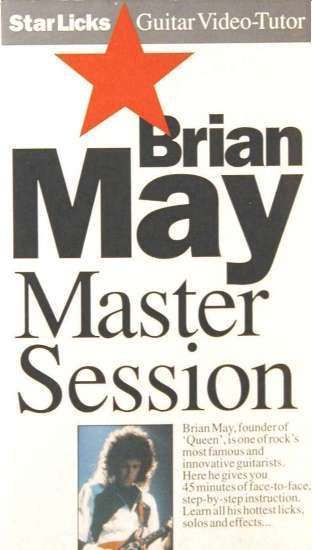 Originally released in 1983 and later reissued in 1993/4.
Length 39 minutes.

Produced and directed by Mark Freed and Robert Decker
Recorded at Sarm West, London, England
---
In this video, Brian discusses his equipment and techniques, and demonstrates using a number of his guitar solos. The video comes with a booklet containing the guitar tablatures for each solo, and the content is as follows:
Firstly, Brian performs a short guitar solo (30 seconds), and introduces the video.

He then discusses, and demonstrates using short solos:

The 'Red Special' guitar, and pick-up settings (3 solos, similar to the start of 'It's Late')

Treble boosters and Amplifiers (with 4 solos to demonstrate the effect with and without the booster)

Boss Pedal (2 solos, similar to the start of 'It's Late')

Delay boxes (with a 'Brighton Rock' style heavy solo)

Brian then plays each string to allow the viewer to tune up properly

The video then concentrates on some of Brian's guitar solos. Firstly, we hear the album version (with album front sleeve), then Brian discusses it and plays the solo twice, once at normal speed and once much slower. The solos are from:

Liar (solo from 4:06 to 4:16)

Modern Times Rock 'n' Roll (solo from 1:13 to 1:22)

Jesus (solo from 3:07 to 3:12)

Father To Son (solo from 4:58 to 5:07)

The March Of The Black Queen (solo I) (solo from 1:33 to 1:49)

The March Of The Black Queen (solo II) (solo from 5:05 to 5:19)

Brighton Rock (solo from 1:52 to 2:00)

Bohemian Rhapsody (solo from 2:32 to 2:54)

Tie Your Mother Down (solo from 2:56 to 3:14)

Somebody To Love (solo from 1:59 to 2:22)

It's Late (solo from 3:38 to 3:49)

Dead On Time (solo I) (solo from 1:47 to 1:58)

Dead On Time (solo II) (solo from 1:57 to 2:03)

Dragon Attack (solo from 3:30 to 3:36)

Put Out The Fire (solo from 2:08 to 2:21)

It's A Hard Life (this is Brian's preferred solo, which doesn't appear on the record) (solo from 3:06 to 3:14)

Starfleet (Eddie Van Halen's guitar solo) (solo from 3:56 to 4:09) (Brian plays the chromatic run twice, then some harder guitar from the track)

Love Of My Life (this is the 'acoustic' version (played on the Red Special), length approx 1:13; this is played once only, at normal speed)

Keep Yourself Alive (guitar intro) (solo from 0:22 to 0:37)

Crazy Little Thing Called Love (solo from 1:19 to 1:35)

Brian then finishes by demonstrating Harmonies by playing part of 'Brighton Rock' with no repeat, one repeat then two repeats. For two repeats, Brian plays a much more complicated solo, lasting 1:31.

The title credits are then shown, over an edit of 'Starfleet' (0:58 in length, containing the approximate sections from 0:32 to 1:12 and then 1:47 to 2:06)
Most of the solos are only very short, so are not included on the songs pages. The only exception is 'Love Of My Life'.

The video was uploaded, in it's entirety, to Brian's Official Youtube Channel in May 2015, while the various solos were also uploaded individually.
---