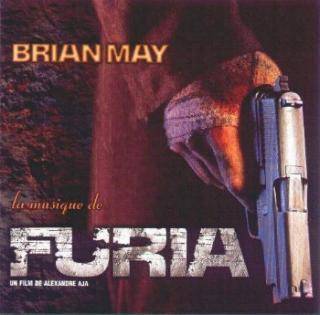 Released 20 November 2000, and did not chart.
Album length 46:05.
Tracklisting:
1. Furia Theme (Opening Titles)
2. First Glance (Solo Flute)
3. Landscape
4. Tango: 'Cuesta Abajo'
5. The Meeting (Solo Guitar)
6. First Kiss
7. Storm
8. Phone
9. Pursuit
10. Diner
11. Apparition
12. Arrest
13. Father And Son
14. Aaron
15. Fire
16. Gun (Solo Violin)
17. Reggae: 'Bird In Hand'
18. Killing
19. Escape
20. Go On
21. Dream Of Thee
22. Alternative Gun
Written and Arranged by Brian May
Produced by Brian May and Justin Shirley-Smith
Engineered by Justin Shirley-Smith

Vocals, Guitars and Keyboard Programming by Brian May
Orchestrations by Michael Reed, performed by The London Musicians Orchestra, conducted by Michael Reed
Solo Horn by Dave Lee
Recorded at Allerton Hill, and CTS Studios, Wembley, London, January-March 1999
Mastered by Kevin Metcalfe and Gordon Vicary at The Soundmasters, London

Management by Jim Beach and Julie Glover
Sleeve design by Richard Gray and Brian May
Artwork by Richard Gray
Front cover illustration by Jerome Trebois

To Anita, my eternal inspiration


This album is the soundtrack to the French film 'Furia'. It has dialogue from the film, mostly in French, and there is only one song on the album, 'Dream Of Thee'. Two tracks were neither written or performed by Brian, these are 'Tango: Cuesta Abajo' and 'Reggae: Bird In Hand'.
---
---
---
---
---
---
---
---
---
---
---
---
---
---
---
---
---
---
---
---
---
---
---