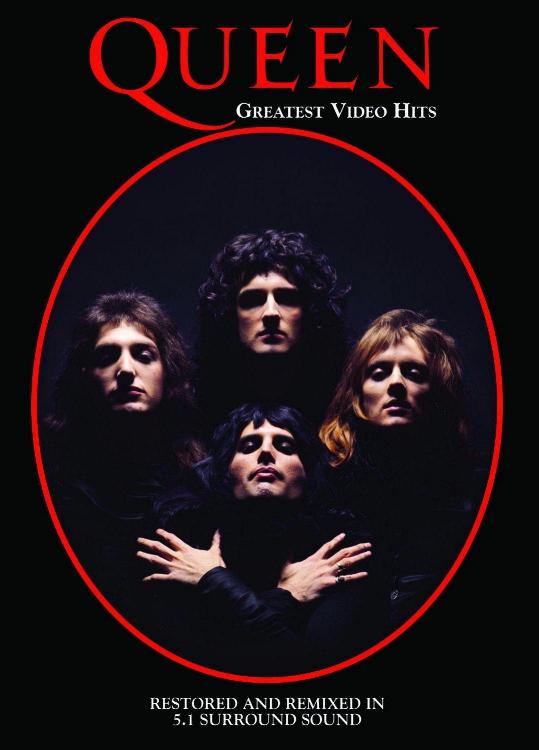 Released 28 August 2012 in the USA and Canada only.
Length 58 minutes (disc one) and 81 minutes (disc two).
Disc 1:
1. Bohemian Rhapsody
2. Another One Bites The Dust
3. Killer Queen
4. Fat Bottomed Girls
5. Bicycle Race
6. You're My Best Friend
7. Don't Stop Me Now
8. Save Me
9. Crazy Little Thing Called Love
10. Somebody To Love
11. Spread Your Wings
12. Play The Game
13. Flash
14. Tie Your Mother Down
15. We Will Rock You (slow studio version)
16. We Are The Champions

Disc 2:
1. A Kind Of Magic
2. I Want It All
3. Radio Ga Ga
4. I Want To Break Free
5. Breakthru'
6. Under Pressure
7. Scandal
8. Who Wants To Live Forever
9. The Miracle
10. It's A Hard Life
11. The Invisible Man
12. Las Palabras De Amor (The Words Of Love)
13. Friends Will Be Friends
14. Body Language
15. Hammer To Fall
16. Princes Of The Universe
17. One Vision
This is a double DVD set which contains the first discs from the 'Greatest Video Hits I' and 'Greatest Video Hits II' releases. Presumably there are also some changes to the menus so that they match, and that references to the original DVD titles are removed.
---