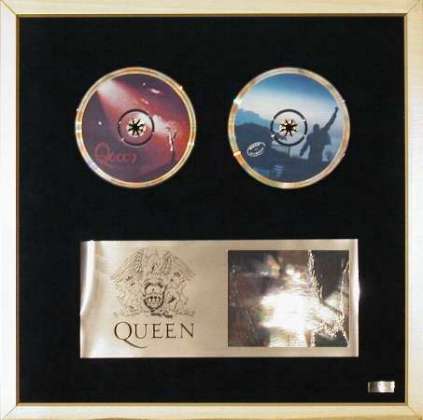 'Ultimate Queen' is the name of a 26" square, wall mountable cabinet which includes 20 CD's, featuring all 18 studio and live albums released up to that point, excluding the two 'Greatest Hits' albums, and 'Queen At The Beeb'. The set has the catalogue number QUEENBOX20.

The set was released on 13 November 1995, one week after the 'Made In Heaven' album, and was limited to just 15,000 sets worldwide. 3000 sets were available in the UK, 1850 in Germany, 1200 in Australia, 1200 in Benelux countries, 1000 in Brazil, 900 in Japan, and it was also released in the USA. The set retailed in the UK at around £300, although prices in some shops greatly exceeded that.

The front door of the set has Royal blue felt, including placeholders for two CD's, the Queen crest, moving Freddie Mercury hologram (from Live At Wembley 1986). and the limited edition number. The inside features placeholders for the remaining 18 CD's on maroon felt, a booklet, and a Queen crest buckle to hold it in place.

The 12 page, 12" square booklet features a gold sleeve with the Queen crest, and features full details and covers of each album.

Each album is pressed as a special picture CD, identifiable by a gold ring around the outside. The discs included are:

1. Queen
2. Queen II
3. Sheer Heart Attack
4. A Night At The Opera
5. A Day At The Races
6. News Of The World
7. Jazz
8/9. Live Killers (double album)
10. The Game
11. Flash Gordon
12. Hot Space
13. The Works
14. A Kind Of Magic
15. Live Magic
16. The Miracle
17. Innuendo
18/19. Live At Wembley 1986 (double album)
20. Made In Heaven

The set also came with an A4 sized wall-mounting kit and instructions, and came in it's own customized cardboard box, which features the Queen crest on the front, and a sticker which has the limited edition number on. The cabinet itself was housed in a polystyrene surround, which also had placeholders for the 20 CD's in card sleeves.

Selected images of the set are shown below, however full photographs of the contents are available in the gallery.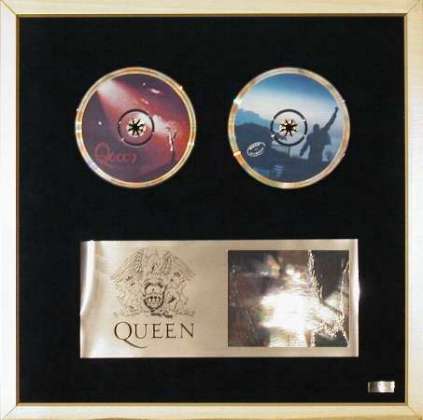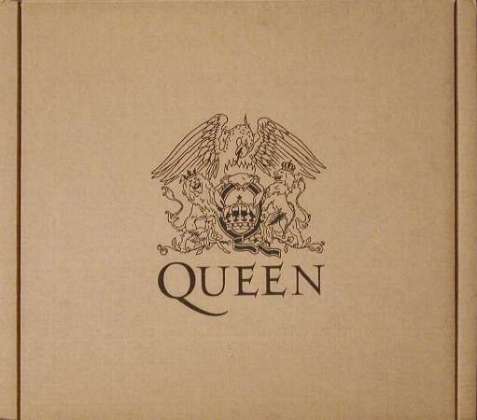 Front door, and cardboard box....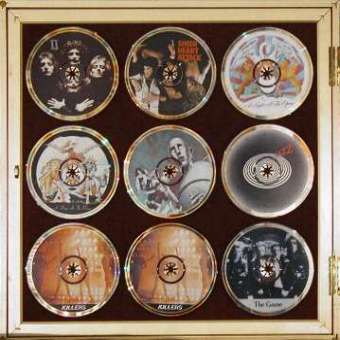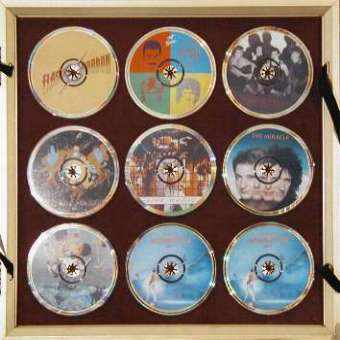 ....Inside of box....
....and opened box with Booklets and Buckle in place
---