'The Studio Collection' was the first boxed set to include all of Queen's studio albums on vinyl, and the first UK vinyl boxed set since 'The Complete Works' in 1985. It was released on 25 September 2015, and features the Bob Ludwig remasters, originally produced for the band's 40th anniversary in 2011. It was later reissued on 28 June 2019, 17 July 2020 and 12 November 2021.

The set comes with a black card slipcase which surrounds the box. The box itself is gold and textured, and designed like a standard LP box, with a hinged lid. Inside, there are all fifteen studio albums, on coloured vinyl, a 108 page 12" x 12" hardback book, featuring artwork, pictures, handwritten lyrics and a discography, and a voucher code to download 320 kbps MP3 versions of each album.

The set features 18 discs in total - 12 single disc albums, and three double disc albums ('Queen II', 'Innuendo' and 'Made In Heaven'). It contains fifteen coloured vinyls, one black vinyl (for 'A Day At The Races'), and two one sided etched discs (for 'Queen II'; one white vinyl, one black vinyl). Each disc is a half-speed lacquer, pressed onto 180 gram heavyweight vinyl. It features the original artwork for all albums, including the posters for 'Jazz' and 'Made In Heaven'. However, there are some minor changes.

As well as the boxed set, each album was also available individually on black vinyl, as 13 single disc albums and two double disc albums. 'Innuendo' and 'Made In Heaven' remained as double disc albums, due to their running times, but 'Queen II' reverted to a single disc. The album is a double disc in the boxed set to recreate the 'Side White' and 'Side Black' from the original album pressing, rather than length constraints.

The first thirteen albums retain their original tracklistings. 'Innuendo' is now split over two discs, and has two changes compared to the original LP. Firstly, 'Don't Try So Hard' was originally track 4 on side B, but was moved to track 5 on side A for the CD release. The 'Studio Collection' vinyls retain this change, but also swap 'I Can't Live With You' (track 4 on side A) with 'These Are The Days Of Our Lives' (track 2 on side B). This second change seems to be for no particular reason, as it only makes a difference of 18 seconds to the respective sides, changing side B from 12:55 to 12:36 and side C from 12:11 to 12:29. Side A has a running time of over 15 minutes, so length cannot be an issue. The final album, 'Made In Heaven', is also split over two discs, and adds "Track 13" as the single track on side D, which is the first time it has ever been released on vinyl, and the first time it has been mentioned on the album sleeve.

This page lists the major differences between the boxed set pressings and their original counterparts. However, unavoidable differences, such as record company information and catalogue numbers, are not listed.

Full scans of the boxed set are available in the gallery.
---
Front and Back of the Card Slipcase....
....the Front and Opened Inner Box....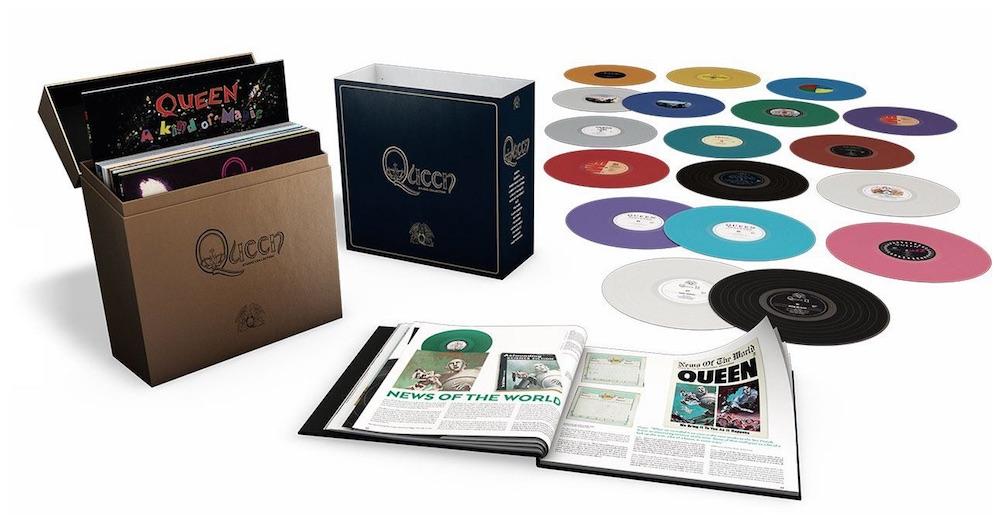 ....and a Promotional Shot
---
Queen


Boxed Set LP : 602547202642 (purple vinyl)
Individual LP : same catalogue number (black vinyl)

The front sleeve is slightly darker
An inner sleeve with lyrics has been added
The record labels are a similar design, but lighter colour



Queen II


Boxed Set LP : 602547288659 (album sleeve)
Boxed Set LP : 602547288666 (disc 1, white etched vinyl)
Boxed Set LP : 602547288673 (disc 2, black etched vinyl)
Individual LP : 602547288240 (black vinyl)

The boxed set LP is now spread over two discs: a white vinyl LP for side 1, and a black vinyl LP for side 2 (corresponding to "side white" and "side black" on the original release)
Each disc is one sided, with an etching on the reverse showing the "Queen II" lettering and crest. It also includes two inner sleeves
The individual LP remains a single, black vinyl LP. Presumably it features a single inner sleeve
The discs now feature completely different labels

Sheer Heart Attack


Boxed Set LP : 602547202680 (translucent red vinyl)
Individual LP : same catalogue number (black vinyl)

The inner sleeve has the lyrics and credits in slightly different places, while the corners are now square, rather than angled

A Night At The Opera


Boxed Set LP : 602547202697 (white vinyl)
Individual LP : same catalogue number (black vinyl)

The inner sleeve now has square corners, rather than angled

A Day At The Races


Boxed Set LP : 602547202703 (black vinyl)
Individual LP : same catalogue number (black vinyl)

The gatefold sleeve features slightly different fonts, with the credits repositioned
The inner sleeve is a slightly richer colour

News Of The World


Boxed Set LP : 602547202727 (translucent green vinyl)
Individual LP : same catalogue number (black vinyl)

The inner sleeve lyrics are a slightly smaller font, while one side now has a picture of the album cover robot (the original was either solid red, or had a hole cut out for the LP label, depending on the pressing)

Jazz


Boxed Set LP : 602547202741 (translucent pink vinyl)
Individual LP : same catalogue number (black vinyl)

The gatefold sleeve has a wider photograph and the text is slightly repositioned
The inner sleeve now has square corners, rather than rounded
The poster is similar, but is actually a different photograph. The reverse of the poster now includes full album lyrics

The Game


Boxed Set LP : 602547202758 (grey vinyl)
Individual LP : same catalogue number (black vinyl)

The text on the rear sleeve is a slightly smaller font

Flash Gordon


Boxed Set LP : 602547202765 (yellow vinyl)
Individual LP : same catalogue number (black vinyl)

No differences

Hot Space


Boxed Set LP : 602547202772 (cyan vinyl)
Individual LP : same catalogue number (black vinyl)

The inner sleeve now has square corners, rather than rounded
Full copyright and publisher details have been removed from the label

The Works


Boxed Set LP : 602547202789 (red vinyl)
Individual LP : same catalogue number (black vinyl)

The record labels have a new design

A Kind Of Magic


Boxed Set LP : 602547202796 (translucent orange vinyl)
Individual LP : same catalogue number (black vinyl)

The illustration on the gatefold sleeve is slightly zoomed in
The record labels have a new design

The Miracle


Boxed Set LP : 602547202802 (translucent green vinyl)
Individual LP : same catalogue number (black vinyl)

No differences

Innuendo


Boxed Set LP : 602547202819 (album sleeve)
Boxed Set LP : 602547202826 (disc 1, turquoise vinyl)
Boxed Set LP : 602547202840 (disc 2, purple vinyl)
Individual LP : 602547202819 (double black vinyl)

The album is now spread over two discs, and so has a gatefold sleeve, and two inner sleeves
The album features a slightly different tracklisting, with 'Don't Try So Hard' in a different position (the same as the CD), and 'I Can't Live With You' swapped with 'These Are The Days Of Our Lives'

Made In Heaven


Boxed Set LP : 602547202857 (album sleeve; sunrise front cover)
Boxed Set LP : 602547202864 (disc 1, translucent blue vinyl)
Boxed Set LP : 602547202871 (disc 2, clear vinyl)
Individual LP : 602547288271 (black vinyl; sunset front cover)

The album is now spread over two discs, and so has two inner sleeves
The album adds "Track 13" which was previously a CD only hidden track
The individual LP retains the sunset photograph on the front cover, however the boxed set LP features the sunrise photograph, for the first time on an LP
The inner sleeves add full lyrics to 'Heaven For Everyone' and 'It's A Beautiful Day (Reprise)'
The three posters originally had 'Queen Productions' in small font, but this has been removed. The photographs are very slightly zoomed in
---