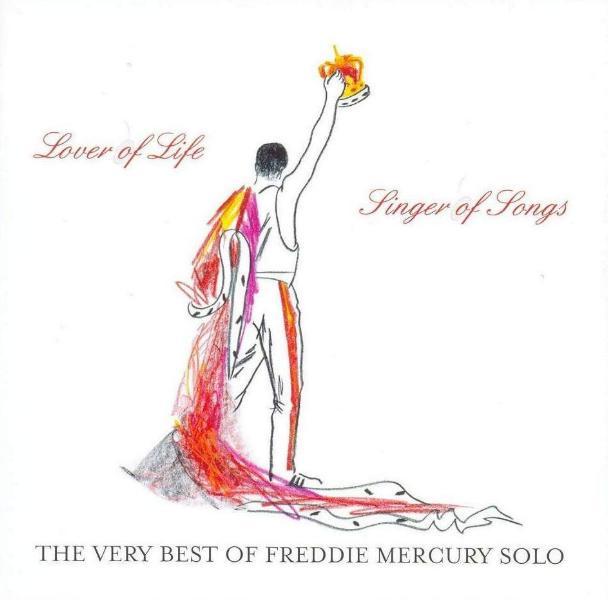 Current region: UK. Not all MP3's listed may be the correct versions. If no widget is shown, you may need to update Flash or your browser.
Released 4 September 2006, reached no 6, on chart for 6 weeks, achieved Gold status. Released in the USA on 21 November 2006.
Available as a single or double CD set.
Disc One length 79:01, Disc Two length 75:06.
Disc One Tracklisting:
1. In My Defence (2000 Remix)
2. The Great Pretender
3. Living On My Own (1993 Radio Remix)
4. Made In Heaven
5. Love Kills
6. There Must Be More To Life Than This
7. Guide Me Home
8. How Can I Go On
9. Foolin' Around (1992 Remix)
10. Time (original single version)
11. Barcelona (album version)
12. Love Me Like There's No Tomorrow
13. I Was Born To Love You
14. The Golden Boy
15. Mr Bad Guy
16. The Great Pretender (Malouf Mix)
17. Love Kills (Star Rider Remix)
18. I Can Hear Music
19. Going Back
20. Guide Me Home (piano version by Thierry Lang)

Disc Two Tracklisting:
1. Love Kills (Sunshine People Radio Mix)
2. Made In Heaven (Extended Version)
3. Living On My Own (The Egg Remix)
4. Love Kills (Rank 1 Remix)
5. Mr Bad Guy (Bad Circulation Version)
6. I Was Born To Love You (George Demure Almost Vocal Mix)
7. My Love Is Dangerous (Extended Version)
8. Love Makin' Love (Demo)
9. Love Kills (Pixel '82 Remix)
10. I Was Born To Love You (Extended Version)
11. Foolin' Around (Early Version)
12. Living On My Own (No More Brothers Extended Mix)
13. Love Kills (More Older Rework by The Glimmers)
14. Your Kind Of Lover (Vocal & Piano Version)
15. Let's Turn It On (A-Capella Version)
Disc 1 tracks 1 and 10 produced by Dave Clark and Freddie Mercury
Disc 1 tracks 2, 7, 8, 11, 14 and 16 produced by Freddie Mercury, Mike Moran and David Richards.
Disc 1 tracks 3, 4, 6, 9, 12, 13 and 15, and Disc 2 tracks 2, 3, 5, 6, 7, 8, 10, 11, 12, 14 and 15 produced by Freddie Mercury and Mack.
Disc 1 tracks 5 and 17, and Disc 2 tracks 1, 4, 9 and 13 produced by Freddie Mercury, Georgio Moroder and Mack.
Disc 1 tracks 18 and 19 produced by Robin Cable.

Management by Jim Beach
Audio co-ordinated and compiled by Justin Shirley-Smith and Kris Fredriksson
Cover image courtesy of the Mercury Phoenix Trust, based on a photograph by Neal Preston
Cover design: Outside Line
Booklet Design: Richard Gray
Photography by Simon Fowler, Peter Hince, A Sawa and Peter Sinclair

Dedicated to Freddie Mercury: Lover of Life, Singer of Songs


Disc one contains nineteen tracks from Freddie's solo career, containing a much more representative selection than 'The Freddie Mercury Album', with 7 tracks from 'Mr Bad Guy', 4 from 'Barcelona', the two Larry Lurex tracks, 'Love Kills', 'The Great Pretender', 'Time' and 'In My Defence'. In most cases, the standard album or single versions are used, but it additionally includes a new remix of 'Love Kills', the Malouf mix of 'The Great Pretender' and a version of 'Guide Me Home' by pianist Thierry Lang.

Disc two features a mixture of new remixes (four good, two bad), extended versions, and studio rarities, most of which are taken from the 'Solo' 10CD/2DVD boxed set, with the exception of an exclusive early version of Mr Bad Guy (the Bad Circulation Version).

Overall, disc one is a very good compilation which highlights the varied range of Freddie's solo work, but disc two is spoilt by having so many remixes.

A DVD titled 'Lover Of Life, Singer Of Songs' was also released but this features completely different content to the album.
Singles:
Love Kills (various remixes) (Germany, Netherlands, Austria, Switzerland and Italy, 1 September 2006)

[discography]
---
---
---
---
---
---
---
---
---
---
---
---
You had to kill the conversation
You always had the upper hand
Got caught in love and stepped in sinking sand (sand, sand)
You had to go and ruin all our plans

Packed your bags and you're leaving home
Got a one way ticket and you're all set to go
But we have one more day together, so

Love me like there's no tomorrow
Hold me in your arms, tell me you mean it
This is our last goodbye and very soon it will be over
But today just love me like there's no tomorrow

I guess we drift alone in separate ways
I don't have all that far to go
God knows, I've learnt to play the lonely man
I've never felt so low in all my life

We were born to be just losers
So I guess there's a limit on how far we go
But we only have one more day together, so (oooh, ooh, oooh, ooooh)

Love me like there's no tomorrow
Hold me in your arms, tell me you mean it
This is our last goodbye and very soon it will be over
But today just love me like there's no tomorrow

Tomorrow - God knows just where I'll be
Tomorrow - who knows just what's in store for me
Anything can happen but we only have one more day together, yeah (oooohhh)
Just one more day forever, so (ooooh, ah, ah, ah, ahh)

Love me like there's no tomorrow
Hold me in your arms, tell me you mean it
This is our last goodbye and very soon it will be over
But today just love me like there's no tomorrow

So love me like there's no tomorrow
Hold me in your arms, tell me you mean it
This is our last goodbye and very soon it will be over
But today just love me like there's no tomorrow
---
---
---
---
---
---
---
---