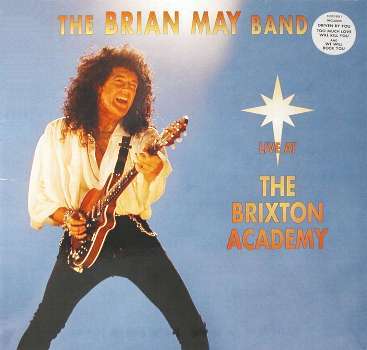 Released 7 February 1994, reached no 20, on chart for 3 weeks.
Album length 76:58.
Tracklisting:
1. The Dark / Back To The Light
2. Driven By You
3. Tie Your Mother Down
4. Love Token
5. Headlong / Love Token (reprise)
6. Love Of My Life
7. '39 / Let Your Heart Rule Your Head
8. Too Much Love Will Kill You
9. Since You've Been Gone
10. Now I'm Here
11. Guitar Extravagance
12. Resurrection (including drum solo and 'Bohemian Rhapsody')
13. Last Horizon
14. We Will Rock You
15. Hammer To Fall

Unreleased Songs:
God (The Dream Is Over)
Produced by Brian May and Justin Shirley-Smith, assisted by Noel Harris, Jamie Cullum
and Ruadhrl Cushan at Metropolis Studios
Recorded by Justin Shirley-Smith on the Manor Mobile
Mastered at The Townhouse Studios by Kevin Metcalfe

Management: Jim Beach and Julie Glover
Design by Richard Gray
Photography by Gene Kirkland, Richard Gray, Robert John and Stephen May

Recorded at the Brixton Academy, London, on 15th June 1993. The Brian May Band are:
Cozy Powell (drums), Spike Edney (keyboards), Jamie Moses (guitar), Neil Murray (bass), Catherine Porter and Shelley Preston (backing vocals)


The cassette release edits most songs by a few seconds, but these are very minor and not noticeable. The LP also edits some of the tracks by a few seconds, and it also moves 'Now I'm Here' to before 'Last Horizon' so that the tracks fit each side. The show was also released as a video, which features longer versions of several tracks, plus a Spike Edney keyboard solo and Band Introductions. Both releases still omit a colourful (staged) argument between Brian, Cathy Porter and Shelley Preston which takes place as part of 'Love Token', and also a second solo by Spike Edney after the 'false start' of 'Last Horizon'.

The majority of backing vocals are not included as these are often just the lead vocals repeated; the inclusion of these would greatly complicate this page.
---
---
---
---
---
---
---
---
---
---
---
---
---
---
---
---