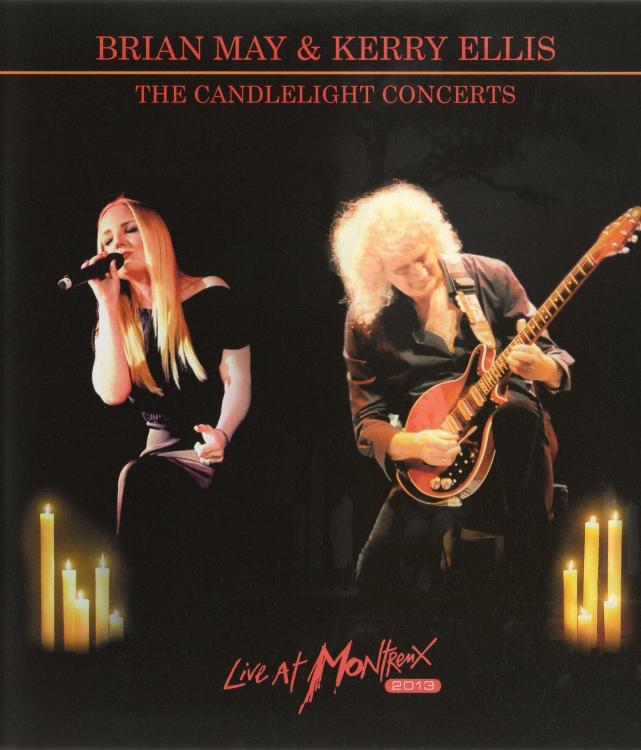 Released on 31 March 2014. Length 87 minutes.
Tracklisting
1. I Who Have Nothing
2. Dust In The Wind
3. Born Free
4. Somebody To Love
5. Nothing Really Has Changed
6. Life Is Real
7. The Way We Were
8. '39
9. Something
10. Last Horizon
11. Love Of My Life
12. The Kissing Me Song
13. Tie Your Mother Down
14. We Will Rock You
15. No-One But You (Only The Good Die Young)
16. Crazy Little Thing Called Love
Bonus Video:
Nothing Really Has Changed (live in Shamwari Game Reserve)
All tracks performed by Brian May (vocals, acoustic and electric guitar), Kerry Ellis (vocals, except 'Last Horizon'), and Jeff Leach (keyboards, except 'I Who Have Nothing', and percussion on '39' and 'We Will Rock You').

Recorded at the Montreux Jazz Festival at the Stravinski Auditorium, Montreux, Switzerland, on 19 July 2013.

Directed by Julian Nicole-Kay
Executive producers Geoff Kempin, Terry Shand and Jim Beach
Sound recorded by Justin Shirley-Smith and Jerome Blôndel in Le Voyageur I
Music mix produced by Justin Shirley-Smith and Kris Fredriksson
Audio mastering by Tim Young at Metropolis Studios
Guitar technician Pete Malandrone
Special thanks to David Richards and Zemfira

Cover photography by Francyne Carr
Cover design by Brian May and Richard Gray

'Nothing Really Has Changed' bonus video:
Directed by Mike Slee, produced by Mike and Georgina Slee
Photography by Paul Williams, sound by Richard Sprawson, edited by Robbie Morrison


This release features the complete concert performed at the Montreux Jazz Festival in 2013, and was available as a DVD and CD set, a Blu-ray and CD set, and digitally.

During the concert, various footage is shown on a videoscreen, including the promo videos during 'Born Free' and 'The Kissing Me Song', wildlife footage during 'Nothing Really Has Changed', photographs of Brian and Kerry's childhood during 'The Way We Were', skies, trees, rivers and horses during 'Something', planets and space travel during '39', and stars during 'Last Horizon'. 'No-One But You' features footage of Montreux, Freddie's statue, and paintings of Icarus (who, in Greek mythology, flew too close to the sun).

The physical releases include two main titles; title 1 is the entire concert, lasting 1:27:33 on the Blu-ray and 1:27:28 on the DVD, both divided into 18 chapters. Title 2 is a bonus video of Brian and Kerry performing 'Nothing Really Has Changed' as a surprise for Viriginia McKenna. It was recorded at the Shamwari Game Reserve, South Africa, in early 2012, during the filming of the 'Born Free' video.

The menus have simple options to play the entire concert, select a song, play the bonus feature, or change audio options (LPCM stereo or DTS-HD master audio). The DVD features a main menu, and sub-menus for song selection (split over two menus) and audio options. The Blu-ray also features a main menu, with pop-up menus for these two options; when accessed while the concert is playing, it is shown as a bar across the screen. All menus feature audience noise, rather than song excerpts.

Both DVD and Blu-ray releases include the 2013 live album 'Acoustic By Candlelight'. The releases feature eleven of the same tracks, with the DVD/Blu-ray adding four Queen tracks and one Brian solo track, while the CD adds three tracks from the 'Anthems' album, and one cover version. Both discs in the DVD set have a glossier finish and slightly richer colours than the Blu-ray equivalents, as well as different catalogue numbers and logos.
---
---
---
---
---
---
---
---
---
---
---
---
---
---
---
---
---
---