Miscellaneous Exhibitions
This page includes details of miscellaneous exhibitions which have been held about Queen.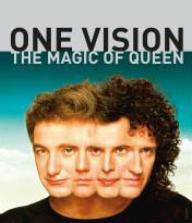 One Vision - The Magic Of Queen (2014)
A Kind Of Magic - The Richard Young Gallery (2016)
The Fine Art Photography Tour Of Queen By Denis O'Regan (2017)
---
One Vision - The Magic Of Queen
This exhibition opened in Germany in September 2014, and featured many photographs which had not been published before, by Terry O'Neill, Neal Preston, Peter Hince, Lord Snowdon, Denis O'Regan, George Hurrell, Simon Fowler, David Bailey, Richard Young, Jill Furmanovsky and Arthur Edwards, and captures various stages of the band's career.

The photographs were assembled from private collections, Queen's own archive, and various publishers, by Queen's manager Jim Beach.

The exhibition is free and has been staged at the following locations, although I am sure this list is incomplete:

31 July to 21 September 2014 - Munich Rock Museum in the Olympic Tower, Munich, Germany
28 September to 20 October 2014 - Gasteig Concert Hall, Munich, Germany
15 January to 1 February 2015 - Wien Mitte shopping mall, Vienna, Austria
---
A Kind Of Magic - The Richard Young Gallery
This exhibition featured the photography of Richard Young, and marked what would have been Freddie's 70th birthday. It featured photographs of Queen and Freddie, many previously unseen, in concert, backstage, and in private, over a 13 year period from 1978 through to 1991.

The exhibition was staged at the Richard Young Gallery, in Holland Street, London, England, from 5th September to 5th November 2016 and admission was free.

A number of limited edition prints were also available at the venue.
---
The Fine Art Photography Tour Of Queen By Denis O'Regan
This is a tour showcasing photographs of the band from their early days in 1974 through to The Magic Tour in 1986.

The exhibition will be staged by Off Beat Lounge, working closely with BMW, and will be held in BMW showrooms, which are transformed for the event. The tour will visit 14 towns and cities in the UK from September to November 2017:

19 September - Norwich Cooper BMW
21 September - Croydon Cooper BMW
22 September - Cambridge Elms BMW
26 September - Liverpool Williams BMW
28 September - Worcester Rybrook BMW
29 September - Leicester Sytner BMW
10 October - Bristol Dick Lovett BMW
12 October - Cardiff Sytner BMW
13 October - Swindon Dick Lovett BMW
14 November - Glasgow Douglas Park BMW
17 November - Harrogate Stratstone BMW
21 November - Bolton Williams BMW
23 November - Sheffield Sytner BMW
24 November - Milton Keynes Lancaster BMW

Prints of the photographs will be available to buy at each event, and in addition to the exhibition, there will be a question and answer session with Denis O'Regan himself, available to VIP ticket holders only.
---