Queen Biography
Freddie Mercury (born 5 September 1946, vocals & keyboards)
Brian May (born 19 July 1947, lead guitar & vocals)
Roger Taylor (born 26 July 1949, percussion & vocals)
John Deacon (born 19 August 1951, bass guitar)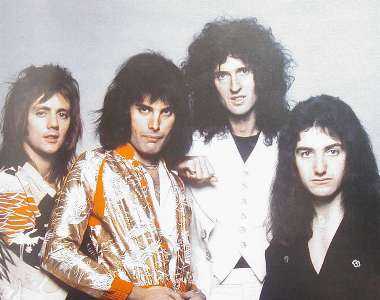 Group promo shot, 1975
In 1970, Tim Staffell left the group 'Smile' and a keen follower of the group, Farookh Bulsara, convinced the remaining members Roger Taylor and Brian May that he should be their new singer. He duly set about moulding the group into his own image, by changing the group's name to 'Queen' and his own name to 'Freddie Mercury', after the messenger of the Gods. The group tried out three bass players until February 1971, when John Deacon became their fourth and final permanent member.

The band played several small concerts for close friends, before they were offered the chance to test a new recording studio, called 'De Lane Lea'. In return for testing the studio and equipment, they could make their own demo tapes. In 1972 they signed a recording contract with Trident, and were given 'down time' at the studio to record an album. In July 1973, their debut album 'Queen', was released, after which they were offered a big break by playing support to Mott The Hoople, on a tour which began in November. In February 1974, their fan club was first established by Roger's friends, sisters Pat and Sue Johnstone, which is now recognised by the Guiness Book Of World Records as the longest running fan club for a band. The second album 'Queen II', was released in March 1974, delayed due to a minor printing error. The band then embarked on a first headlining tour of Britain, which also started in March, before an extensive American tour, again as support to Mott The Hoople, beginning in April. In May, Brian collapsed with Hepatitis, so the group were forced to cancel the remaining tour dates.

Work on the third album began without Brian, who was eventually well enough to return to the studio to record his guitar and vocal parts. The resulting album, called 'Sheer Heart Attack', was released in November 1974 and gave Queen their first #2 album and single, 'Killer Queen'.

In January 1975, Queen embarked on their first headlining tour of the USA, with phenomenal demand for tickets. However, some shows on the tour were cancelled as Freddie had developed throat problems. Queen hired Jim Beach as a lawyer to sever their links with Trident. They flew off to Japan in April, and arrived to a riotous reception, as 'Sheer Heart Attack' was the #1 album at the time.

Work on the new album began in June, and links with Trident were severed in August. In September, Queen enlisted John Reid as their new manager. They revealed their new single 'Bohemian Rhapsody', but at 5 minutes and 55 seconds everyone told them it was too long. However, Freddie gave a copy to his close friend, DJ Kenny Everett, who managed to play it on national radio 14 times in 2 days. This, and the first true promotional video, helped the single to reach no. 1, where it remained for 9 weeks.

'A Night At The Opera' was Queen's fourth album, and at the time the most expensive ever recorded. Released in November 1975, it too went straight to no. 1, and gave Queen their first platinum selling album. January saw another US tour begin, which was completed in March, before flying off to Japan then Australia for further tours. In 1976, all four Queen albums were in the UK top twenty, the first time this had ever happened. Work on the next album began, before a short UK tour, during which, Queen played a huge free concert in Hyde Park to thank their fans, attended by upto two hundred thousand people.

'A Day At The Races' was released in December 1976 and gave Queen their second no. 1 album, and the #2 single 'Somebody To Love'. In January 1977 they began an extensive tour of the USA and Canada, whilst May 1977 saw Queen begin another tour of Europe, featuring a new 'Crown' lighting rig costing £50,000. The 'News Of The World' album followed in October 1977, containing the classics 'We Will Rock You' and 'We Are The Champions', which again reached #2 in the singles chart.

November 11th saw Queen embark on another American tour, before returning to the UK in time for Christmas, with an hour long interview with the band being broadcast on Radio 1 on Christmas Eve. On 1 February 1978, Queen parted with their manager, John Reid, while a short European tour began in April, before work on the next album began. The first single from that album, 'Bicycle Race', was promoted with a bicycle race featuring 50 naked girls, and public outcry lead to the single's artwork being changed in many countries worldwide. Further tours of the USA and Canada began in October, whilst the album Jazz was released in November, featuring a poster of the legendary race. The album's launch party was held in New Orleans, and has since gone down in history.

The tour of North America finished in late December, before they flew to Europe to begin the European tour which began in January 1979. During this tour they recorded many concerts and set about working on their first live album, which they produced at Mountain Studios in Montreux, which they liked so much they eventually bought. They flew out to Japan in April 1979 for another tour, and in June approached the All England Lawn Tennis Club to play a concert on Wimbledon's centre court, but permission was refused. 'Live Killers', the first live album, was released in June, reaching no. 3 in the charts. Queen also began work on their next album in June.

October 1979 saw the release of 'Crazy Little Thing Called Love', and a new image for Queen, with short hair and clad in leather. The single became Queen's fourth UK no. 2 hit, and their first US no. 1. November and December saw Queen embark on the 'Crazy Tour', where they visited many smaller venues within London. On Boxing Day, they appeared as part of the 'Concert For Kampuchea' series of charity concerts, organised by Paul McCartney.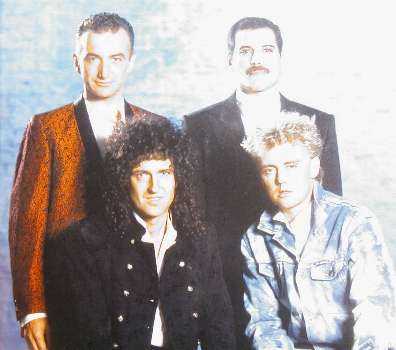 'Who Wants To Live Forever', 1986
At the start of 1980, work was continuing on the new album, which was the first to use synthesisers. In June, the album was released and went to no. 1 in the UK and USA, and went 5 times platinum in Canada alone. The final single from the album, 'Another One Bites The Dust', became the band's biggest ever worldwide single, and gave Queen their second US no. 1 in less than a year. In December, the soundtrack album to 'Flash Gordon', a futuristic sci-fi film, was released, with both album and single ('Flash') reaching no. 10 in the charts. At the close of 1980 they had sold over forty five million albums worldwide.

In February 1981, Queen flew to Rio De Janeiro to begin their first tour of South America, becoming the first band to do so, playing 5 sold out stadiums in just eight days. They then moved on to the Morumbi Stadium in Sao Paulo, performing in front of 131,000 people, the largest paying audience for a single band. During the tour, all of Queen's albums were in the Argentinean top 10, another first for any band. Whilst in Sao Paulo, Queen celebrated that their single 'Love Of My Life' had been in the Brazilian singles chart for an incredible 12 months. They returned to South America in September for the second leg of the tour.

In October, Queen released 'Greatest Hits', which went straight to no. 1 and became one of the best selling albums of all time. 'Greatest Flix', the world's first full-length release of promotional videos by any band, also became a best seller. 'Greatest Pix' was also released, a collection of photos of Queen from the previous decade. October also saw the release of 'Under Pressure', a collaborative single with David Bowie, which gave Queen their second no. 1.

May 1982 saw the release of 'Hot Space', an album with a disco flavour, which lost the band some fans, though it still got to no. 4 in the charts. The album was released during an extensive tour of Europe, which included a concert at the huge Milton Keynes Bowl, regarded by Brian as one of Queen's best ever concerts. At the end of December, Queen were listed in the Guinness Book of Records as Britain's highest paid executives.

1983 was a year off for Queen. Roger, Brian and Freddie all worked on solo material, only coming together as Queen to work on their new album in August. The result was 'The Works', released in February 1984, which gave them 4 hit singles including the hugely successful 'Radio Ga Ga' and 'I Want To Break Free'. A European tour followed in August, and the band's first live video was issued in September 1984. September also saw nine albums in the UK top 200, before Queen performed controversial concerts in South Africa in October.

January 1985 saw 'Rock In Rio', the biggest rock festival held anywhere in the world, and Queen were the headlining act. The concert was filmed and Queen became the only band to obtain rights to release their performance - 'Live in Rio' was later released as their second live video in May. In April, they flew to New Zealand to begin a small tour of Australasia, before flying to Japan for a small tour in May. July 1985 saw 'Live Aid', where many top bands gathered to raise money for the people of Ethiopia. Queen were unanimously regarded as the best act of the show, ahead of artists like David Bowie, Paul McCartney, Status Quo, The Who and many more. The day inspired Queen to work together again, and the result was the 'One Vision' single, which reached no. 7 in November.

Queen were approached by Russel Mulcahy to produce the soundtrack for his first film, 'Highlander'. The resulting album, 'A Kind Of Magic', was released on 2 June 1986, and went straight to no. 1. The first single from the album, which shared the name, reached no. 3 in the chart. Later in June, Queen began an extensive tour of Europe, entitled 'The Magic Tour', including two sell out shows at Wembley Stadium. The second show was later broadcast on TV, and became the first (and last) simulcast between a terrestrial TV channel and the Independent Radio Network in Britain. In July Queen made history by playing in Budapest, Hungary, the first time a major rock band had played behind the 'Iron Curtain'. The concert was filmed using every 35mm camera in the country. August saw the final date on The Magic Tour, and what was to become Queen's final concert, at Knebworth Park in Hertfordshire. The concert was attended by over 120, 000 people, and caused one of the biggest traffic jams in history. By the end of the tour, over 1 million people saw Queen, with over 400,000 people in the UK alone.

In November, EMI reissued the entire Queen album catalogue on Compact Disc - the first time a complete artist's collection had been released simultaneously. In December, the band's second live album, 'Live Magic', was released and reached no. 3. At the end of 1986, Queen had sold over 1.7 million albums.

1987 was a quiet year for Queen, with no concerts nor work on albums. Queen instead concentrated on solo projects, with 2 hit singles for Freddie and Roger forming another group, 'The Cross'. In November 1987 a highly successful set of documentaries on the band, 'The Magic Years', was released, featuring interviews with the band and behind the scenes footage. 1988 was another quiet year for Queen, with work continuing on the next album and various solo projects.

'The Miracle', Queen's 13th studio album, was released in May 1989 and went straight to no. 1, as it did in most European countries. The band gathered to record a rare interview with Mike Read for Radio One, which was broadcast on the Easter Bank Holiday, 29 May 1989. At the end of the year, Queen were voted 'The Best Band Of The Eighties', and appeared on television to collect the award.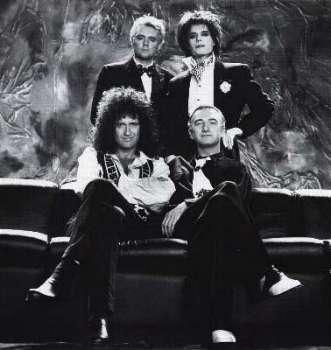 'I'm Going Slightly Mad', 1991
Queen were awarded an 'Outstanding Contribution To British Music' in February 1990 by the British Phonographic Industry. Work on the next album continued throughout the year, and in November Queen signed a new deal with Hollywood Records in North America. In January 1991, the band's first single from the next album, 'Innuendo', was released and went straight to no. 1, despite it's six and a half minute running time. The album of the same name also went straight to no. 1, when released in February. On 30th May, Queen went into the studios (without Brian), to record what was to be Freddie's last ever video, 'These Are The Days Of Our Lives', while in October 1991, they repeated their 1981 success by releasing 'Greatest Hits II', 'Greatest Flix II' and 'Greatest Pix II'. All three went straight to no. 1 in their charts.

On November 23rd, 1991, Freddie announced in a press statement that he had the AIDS virus, but only the next day, it was announced that he had died. It was Freddie's last wish that 'Bohemian Rhapsody' should be released after his death to raise money to fight AIDS. The resulting single, coupled with 'These Are The Days Of Our Lives', reached no. 1 again and spent a further 5 weeks at no. 1, raising over £1 million, making it one of the most successful singles of all time. Queen closed the year with 10 albums in the top 100.

In February 1992, on collecting 'Outstanding Contribution To British Music' and 'Best Single Of 1991' awards at the Brit Awards, Roger announced plans for a huge concert to pay tribute to Freddie. All 72,000 tickets were sold in six hours, with no announcement of who would play apart from Queen. On April 20th 1992, many top stars, including David Bowie, Elton John, Roger Daltrey and George Michael, played alongside Queen in a concert televised to over one billion people. In May 1992, a double album of their 1986 concert at Wembley was released, which reached no. 2 in the albums charts. Before Christmas 1992, a double video of the Freddie Mercury Tribute Concert was released, with all proceeds donated to the Mercury Phoenix Trust, a charity set up in Freddie's name to distribute raised funds.

In 1993, Queen returned to the top of the charts with George Michael, with 'Somebody To Love', recorded at Freddie's tribute, while later in the year Freddie claimed a posthumous no 1 in his own right with 'Living On My Own'. Work began in 1993 and continued through to 1995 on the tracks that Freddie had left unfinished in 1991.

In October 1995, 'Heaven For Everyone', from the long-awaited 'final' album, was released. It reached no. 2 in the charts (yet again). November saw the release of the album, 'Made In Heaven', which went straight to no. 1 and went five times platinum, making it Queen's most successful studio album. Released on the same day was 'Champions Of The World', a new 2 hour documentary on the band, again compiled by the Torpedo Twins, Rudi Dolezal and Hannes Rossacher. The album gave Queen a further four hit singles throughout 1995 and 1996.


'Let Me Live' promo poster, 1995
1997 began with a one-off performance as Roger, Brian and John were joined by Spike Edney and Elton John to perform just one track, 'The Show Must Go On', at the finale of the 'Bejart Ballet For Life', a ballet set to Queen music. November 1997 saw the release of 'Queen Rocks', a collection of heavier Queen material from over the years, which reached a relatively disappointing no. 7 in the charts. The album included a brand new Queen track, 'No-One But You', featuring vocals by Brian and Roger, which was released as a single in January 1998, reaching no 13. The track marked the last work of John Deacon with Queen, who subsequently retired from both studio and live work. Later in the year, 'The Eye', a 5 CD-Rom game was released, featuring remixed instrumental versions of many tracks, and featuring pioneering techniques in gaming.

1999 was another quiet year, with the 'Greatest Hits III' compilation album released in November, along with 'Flix III', with the album reaching no. 5 in the charts. The album featured four solo tracks from Brian and Freddie, 'The Show Must Go On' from the Bejart Ballet performance, and a new remix of 'Under Pressure', which reached no 14 in the charts.

In late 1999, 'Bohemian Rhapsody' was voted as 'The Song Of The Millennium'. In July 2000, Queen returned to the top of the singles chart with boy band Five, with a re-recording of 'We Will Rock You', and their first appearance on Top Of The Pops since 1982. They also released a three-CD boxed set of their 'Greatest Hits' albums for the Christmas market, called 'The Platinum Collection'.

In March 2001, Queen were inducted into the Rock And Roll Hall Of Fame at a ceremony in the USA, performing two tracks, one with Dave Grohl and Taylor Hawkins of the Foo Fighters. There was much speculation in the press throughout 2001 that Queen were recording an album with Robbie Williams, and in August 2001 the collaboration was revealed. They had recorded just one track - a remake of 'We Are The Champions', which appeared in the film 'A Knight's Tale'. December 2001 saw another project unveiled - 'Queen Heaven', a laser show based in Munich, set to Queen music and featuring much Queen imagery.

Much of 2001 and 2002 was spent working on the 'We Will Rock You' musical, with a script by comedian Ben Elton, featuring 31 Queen songs. In the meantime, they found time to play at a free jubilee event in the Netherlands, in front of 130,000 fans. The musical's premiere was held on 13 May 2002, and promoted with an appearance on BBC TV's 'Parkinson'. Also on the 13th, Queen re-released 'The Platinum Collection' and it went to no. 2 in the album chart. A special 2-DVD 10th Anniversary reissue of 'The Freddie Mercury Tribute Concert' was released on the same day, which went straight in at no. 1 in the DVD charts.

Queen performed at the Party In The Palace jubilee concert in London on 3rd June 2002, with Brian performing the national anthem from the roof of Buckingham Palace. Throughout the year, work had been in progress on remastering Queen's first Greatest Flix video, and the result, 'Queen Greatest Video Hits I', was released on DVD on 14 October 2002. True to form, the DVD went straight to no. 1 in the charts. Also in October, Queen were awarded a star on the prestigious Hollywood Walk Of Fame, and celebrated with a concert.

The 'We Will Rock You' musical quickly became the best selling West End musical, followed by a cast recording released in November 2002. In early 2003, 'Flash' was remixed by German producers Vanguard, and this became a major hit in many European markets. The single was released in the UK in March.

In May 2003, Roger and Brian appeared as Queen at two charity shows, one in London, and one with Pavarotti in Italy. Also in May the 'We Will Rock You' cast album was reissued to celebrate the musical's first anniversary. In early June 2003, the second volume of the Queen 'DVD Collection' was released, 'Live At Wembley Stadium', featuring the full concert for the first time with other rare footage.

In the Summer, Queen worked on a new version of 'We Will Rock You', with Australian vocalist John Farnham. This was done partly to celebrate the rugby world cup, but also to promote the new Australian production of 'We Will Rock You', which opened in Melbourne in August. In November, the Spanish production opened, whilst 'Greatest Video Hits II' was released on DVD, featuring a wealth of archive material, which went straight to no. 1 in the charts. Queen also worked closely with Nelson Mandela and Dave Stewart for the '46664' project, including new recordings and a huge concert in South Africa at the end of November, broadcast around the world to over two billion people. The concert was given a full CD and DVD release in April 2004.

January 2004 saw a compilation album, 'Jewels', and a single from it, 'I Was Born To Love You', reaching no 1 in the Japanese albums and singles charts respectively. The rest of the year was mostly dominated by the 'We Will Rock You' musical, with the UK production going from strength to strength, and new productions opening in the USA and Russia, as well as reopenings in Australia and Spain, and work on future productions in Germany, amongst others. Queen also performed a mini-concert at the finale of the MTV Russia Awards in Moscow in October. In September 2004, Brian teamed up with Paul Rodgers at the Strat Pack, a concert to celebrate 50 years of the Fender Stratocaster, alongside many other guitar legends.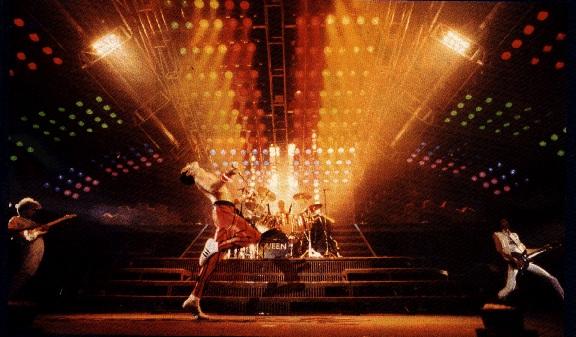 'Hammer To Fall', 1984
October 2004 also saw the release of the fourth volume of the Queen 'DVD Collection'. 'Queen On Fire - Live At The Bowl' was recorded at the Milton Keynes Bowl, in June 1982, and was previously only ever seen in a severely edited TV broadcast some 21 years earlier. It went straight in at #1 in the music DVD charts. On 8th November, a boxed set of the complete Live Aid concert was released, which included Queen's legendary performance for the first time. Later in the same week, Queen became the third artist to be inducted into the UK Music Hall Of Fame, after a UK television poll. At the awards ceremony, they teamed up with Paul Rodgers to perform three tracks, later broadcast on TV.

In December 2004, it was announced that Queen were to embark on an extensive European tour, again performing with Paul Rodgers, which they started in March 2004 at Fancourt in South Africa in aid of the 46664 campaign. Most venues for the tour were sold out, and the concerts received fairly good reviews from the usually hostile media. To tie in with the tour, Queen set another first, by releasing tracks from many of the concerts to download. The tour was originally going to include 27 dates, but due to demand this was extended to 33, as well as two dates in the US and a mini-tour of Japan. A double CD of the tour called 'Return Of The Champions' was released in September 2005, with a DVD following in October, whilst in November, a special 30th Anniversary edition of the classic 'A Night At The Opera' album was released, with a special download of 'Bohemian Rhapsody' following in December.

In March and April 2006, Queen + Paul Rodgers embarked on a 23 date arena tour of North America, while March also saw the release of 'The Making Of 'A Night At The Opera''. In June, a Japanese only DVD was released, titled 'Super Live In Japan', featuring a live show recorded in Tokyo during the 2005 mini-tour. In June 2006, Brian and Roger appeared together to perform the Queen classics 'We Will Rock You' and 'Tie Your Mother Down' at the Foo Fighters concert in Hyde Park. September saw the release of a new compilation of Freddie Mercury's solo material to mark his 60th birthday, alongside a DVD and book, and a special birthday party at the Dominion Theatre. December 2006 saw another Queen single, a remixed version of 'Another One Bites The Dust', which had previously been a big hit in clubs in the US.

2007 was a fairly quiet year for Queen. In July, Roger appeared as part of a 'drum extravaganza' at the opening of the Live Earth concert at Wembley Stadium, whilst in August Brian collected his doctorate from Imperial College, London, having finished his thesis nearly 40 years after starting it. October 2007 saw a simultaneous album and video release of 'Queen Rock Montreal', recorded at their 1981 Montreal shows and previously available as the 'We Will Rock You' concert in vastly inferior quality. For 'World Aids Day', on December 1, Queen marked the occasion by making a free download available of a new studio version of 'Say It's Not True', which was their first studio recording with Paul Rodgers and their first new studio material for nearly 10 years. Due to demand the single was rush-released on CD on 31 December, but it failed to chart.

In April 2008, Queen + Paul Rodgers announced they would be releasing a studio album in September, promoted with a European tour. As part of the publicity for this they appeared together on the Al Murray TV show to perform one of their new tracks, 'C-lebrity'. Their second performance of the year came in June, when they appeared as the headlining act at Nelson Mandela's 90th Birthday Party in Hyde Park, to raise awareness of the 46664 campaign.

September saw the long awaited released of the Paul Rodgers collaboration, 'The Cosmos Rocks', Queen's first studio album in 13 years, accompanied by a single release of 'C-lebrity'. Critical and public opinion was split over the album, as several tracks sounded far more like Paul Rodgers than Queen. A huge free concert for AIDS awareness in the Ukraine, attended by 350,000 fans, kicked off the European tour, which saw 34 dates across Europe, including 11 shows in the UK. This was followed by a single date in Dubai and a mini-tour of five concerts in a triumphant return to South America.

December 1st, World Aids Day, saw a number of cinemas throughout the UK showing 'Queen Rock The Cosmos', the concert film recorded in the Ukraine at the start of the tour. This was given a proper DVD release, simply titled 'Live In Ukraine', in June 2009. December 1st also saw the release of 'Queen Singles Collection - Volume 1', a boxed set containing Queen's first 13 singles pressed onto CD, which was followed by three further sets in 2009 and 2010.

In March 2009, a touring production of 'We Will Rock You' was opened which was initially to tour the UK for an initial 10 month run, which featured Roger's son Rufus on drums. November saw the release of the 'Absolute Greatest' compilation, which brought together 20 of Queen's best loved tracks on one album. This was the band's last album release on the EMI label, as in 2010 they signed to Island Records, part of Universal, after nearly 40 years. December 2009 saw the release a cover version of 'Bohemian Rhapsody' by The Muppets, featuring Queen's original backing track. The video was originally posted on Youtube and achieved over 10 million views in just two weeks, before being given a fully fledged release.

2011 saw the 40th anniversary of the legendary line-up of the group, and the year began with remastered releases of the 'Greatest Hits' and 'Greatest Hits II' albums, followed by the first batch of five albums on 14 March 2011. Each album was digitally remastered by Bob Ludwig, and comes with a handful of bonus tracks of live performances, BBC sessions and alternate mixes. To coincide with this, a special exhibition titled 'Stormtrooper In Stilettos' was staged which focused on Queen's early period from 1973-1976, featuring artwork, rare footage, clothing, and other memorabilia. This was also accompanied by a download single of the same name, and the releases were accompanied by 'Deep Cuts, Volume 1', a compilation featuring some of Queen's lesser known album tracks rather than their hit singles.

The reissues continued on 27 June with the second set of five, and another 'Deep Cuts' volume, focussing on the period 1977-1982. What would have been Freddie's 65th Birthday, 5 September, was marked with a birthday party at the Savoy Hotel in London with a range of guests, and the release of the third batch of albums and the final 'Deep Cuts' volume, focussing on 1984-1995, alongside a double DVD reissue of 'Live At Wembley Stadium', which featured the full concerts from both Wembley shows for the first time. November 2011 saw Queen awarded with the Global Icon Award at the European MTV Video Awards, which they marked with a performance with Adam Lambert, and a DVD release of the 'Days Of Our Lives' documentary, while it was also announced that Brian and Roger were working on some old material, including the track recorded with Michael Jackson, for possible future release.

In March 2012 it was announced that Queen with Adam Lambert would headline on the second day of the three day Sonisphere Festival, on 7 July, alongside Kiss and Faith No More, but the entire festival was subsequently cancelled. As a result, a second planned concert in Moscow was rescheduled, with additional shows added in Ukraine, Poland, and three shows at the Hammersmith Odeon. May 2012 saw the 10th anniversary of the 'We Will Rock You' musical, which has been performed across the world to great success since first opening in London in 2002, and the anniversary was marked with a reissue of the cast album in October. Queen's famous 1986 Budapest concert was remastered and re-titled 'Hungarian Rhapsody' and shown in cinemas and theatres worldwide in September, with a DVD and Blu-ray release following in November. November also saw a release of 'We Will Rock You Vonlichten', which featured the original version of the track, with additional guitars by Brian and orchestral music by composer Vonlichten, and was used in NFL and Superbowl coverage in the USA.

On 5 March 2013, Brian and Roger were honoured with a Music Heritage Award by the Performing Rights Society, marking their first live performance in London, at Imperial College. The awards were founded to recognise the role that live music has in launching the careers of musical talent. A reissue of 'The Freddie Mercury Tribute Concert' was reissued in September, as a 3 DVD or single Blu-ray set, while Brian and Roger teamed up with Adam Lambert again to perform at the iHeartRadio Music Festival on 20 September, marking their first concert in the USA. On 2 December, Brian and Roger opened a new exhibition 'The Studio Experience Montreux', which re-created Mountain Studios where Queen recorded seven albums, featuring a mixing desk, instruments, album and single sleeves and other memorabilia.

The 'We Will Rock You' musical closed in London on 31 May 2014 to allow the theatre to be renovated, after 12 years and 4,600 performances, with Brian and Roger performing at both the afternoon and evening shows. In June, they performed for iHeartRadio again, as a preview for a 24 date tour across the USA and Canada in June and July, again with Adam Lambert, which was followed by dates in Japan, South Korea, Australia and New Zealand in August and September. Also in September, they released 'Live At The Rainbow '74' on CD, DVD and Blu-ray, featuring both March and November shows in full for the first time. Despite the release being an archived concert from 40 years ago, and featuring only 3 hit singles, it peaked at number 11 in the UK albums chart. In November, Queen + Adam Lambert were awarded Band Of The Year at the annual Classic Rock Awards.

In November 2014, the compilation album 'Forever' was released, which collected numerous ballads and love songs from throughout Queen's career, plus three 'new' tracks, namely 'Let Me In Your Heart Again', a demo recorded for the 1984 'The Works' album, a new ballad version of Freddie's solo hit 'Love Kills', and a long awaited release of 'There Must Be More To Life Than This' featuring Michael Jackson. In December, Queen + Adam Lambert performed in London as part of the New Year celebrations, which was broadcast live on TV and streamed worldwide, and followed by a 25 date European tour in January and February. This was followed by a six date tour of South America in September.

September also saw the release of 'The Studio Collection', an 18 LP boxed set featuring all fifteen studio albums, most pressed onto coloured vinyl for the first time. In October and November, there were celebrations to mark the 40th anniversary of the release of 'Bohemian Rhapsody', which included a UK reissue as a 12" single for the first time, Queen receiving the 'Classic Single Award' at the annual Q Awards, and the 'Living Legend Award' at the Classic Rock awards. November also saw the release of 'A Night At The Odeon', which featured the legendary concert performed at the Hammersmith Odeon on Christmas Eve in 1975, as an album, DVD, Blu-ray and boxed set.

Queen and Adam Lambert performed further shows throughout Europe in 2016, including the prestigious Isle Of Wight Festival, followed by an Asian tour in September, which included their first ever shows in Israel, Singapore, Taiwan, China, Hong Kong and Thailand. This was followed in December by their first DVD release, a recording of their show in 2014 as part of the Super Sonic festival in Tokyo, titled 'Live In Japan'. Meanwhile, in November, Queen released 'On Air', a 2 disc album which included all twenty four tracks recorded for the BBC, the majority being released for the first time. The album was also available as a six disc deluxe boxed set, which added four discs of live highlights and interviews.

May 2017 saw the release of a Queen themed Monopoly game, designed with Brian and Roger, as well as 'Queen In 3-D', a book written by Brian which presents stereo photographs of the band throughout their career, many previously unseen. October saw the 40th anniversary of the 'News Of The World' album, which was marked with a boxed set featuring the original album on CD and LP, a CD of bonus tracks, a new documentary about their 1977 North American Tour, and a selection of reproduction memorabilia. It also included a 'Raw Sessions' version of the album, which contained alternative takes and early versions of each track, including a rendition of 'All Dead, All Dead' with Freddie on lead vocals, and the only known live performance of 'Sleeping On The Sidewalk'.

Queen + Adam Lambert toured North America in the summer, followed by Europe in the winter, Australasia in early 2018, and a series of European shows in June and July 2018, which will be followed by a residency in Las Vegas where they will perform 10 shows during September. A biographical film of Freddie's life, titled 'Bohemian Rhapsody', is due to be released in October, starring Rami Malek as Freddie.

In 2020 the band released a Japanese only compilation, titled 'Greatest Hits In Japan', which featured their 12 most popular tracks, as voted for by Japanese fans. Due to the Covid-19 pandemic, the 2020 Queen + Adam Lambert tour was postponed, with shows eventually taking place in 2022. Later in 2022, the band performed at two tribute concerts, in London and Los Angeles, for Foo Fighers drummer Taylor Hawkins who died earlier in the year.

There are also plans for further archive releases and live shows, more worldwide productions of the 'We Will Rock You' musical, a possible sequel, and hopefully the long awaited anthology boxed set, still in the pipeline.

Whatever happens, the legacy of Queen will be around for a long, long time.
---