Smile Biography
Brian May (lead guitar, backing vocals)
Tim Staffell (vocals, bass guitar) (born 24 February 1948)
Roger Taylor (drums, backing vocals)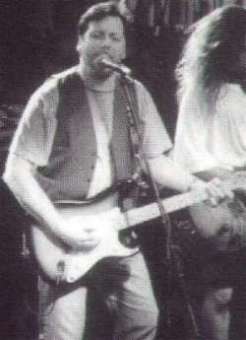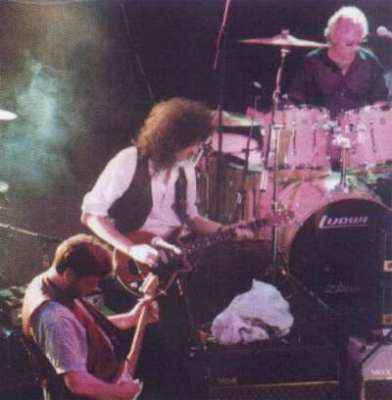 Tim Staffell, and Smile, on stage at The Marquee, London, in December 1992
The group Smile was formed in October 1968 by Brian May and Tim Staffell, who placed an advert for a 'Ginger Baker / Mitch Mitchell type drummer' and among the applicants was Roger Taylor. At the audition, Brian was impressed by watching Roger tune a snare drum, and he became the group's drummer.

The group spent the rest of 1968 and the early half of 1969 playing concerts in England. Most concerts were either at Imperial College, London, where Brian was at university, or in Roger's home town of Truro. They played as support to acts such as Pink Floyd, Jimi Hendrix, The Troggs and Yes, and performed at the Royal Albert Hall alongside Free, Joe Cocker and the Bonzo Dog Do-Dah Band.

In June 1969, Smile recorded three tracks at Trident Studios in London. 'Earth' and 'Step On Me' would later be released as the group's only single, albeit only in the USA in August 1969. The third track, 'Doing Alright', was written by Tim and Brian, and would later be re-recorded by Queen for their debut album in 1973.

The group went into De Lane Lea Studios in London in September 1969 to record three more tracks, 'April Lady', 'Polar Bear' and 'Blag', the latter of which was primarily a Brian May guitar showcase. This track later evolved into 'Brighton Rock' from Queen's 1974 album 'Sheer Heart Attack'.

Smile would perform only two more concerts before their split in March 1970, when Tim Staffell left to join another group, Humpy Bong. However, this left the door open for Farookh Bulsara (later Freddie Mercury) to enter the group as lead vocalist, and Queen were born. In 1971 they auditioned bassist John Deacon and the line-up was complete. Meanwhile, Tim Staffell went on to be a model maker, working on the 1984 series 'Thomas The Tank Engine & Friends' on UK children's TV.

The next event in the life of Smile was the release in 1982 of the six tracks they had recorded back in 1969. At the time there was much debate as to whether it was actually Smile or not, until Brian himself confirmed that they did indeed record the tracks. This Japanese-only release titled 'Gettin' Smile' very quickly became a sought-after collector's item and the source of many bootlegs.

It wasn't until 1992 that Smile were active again. On 21 and 22 December 1992, at the Marquee Club in London, The Cross performed at two Christmas fan club parties. On the first night, Tim Staffell joined Roger on stage for renditions of 'Earth' and 'If I Were A Carpenter', which was a no 9. hit for Bobby Darin in 1966. On the second night, Brian May also joined Roger and Tim on stage for a Smile reunion, 23 years after their last performance, again performing 'Earth' and 'If I Were A Carpenter'. The tracks have unsurprisingly been heavily bootlegged.

Some five years later, in 1997, a Dutch-only CD was released, again containing the original six Smile recordings, titled 'Ghost Of A Smile'. This was followed in 2003 by re-recordings of 'Earth' and 'Doin' Alright', by Tim Staffell, featuring Brian May. Although the six released tracks are probably all that was recorded, Smile will remain one of the most important groups in the history of music, as it brought together the unique talents of Brian, Roger and Freddie, who would go on to become one of the most successful groups of all time.
---