The 'Mercury's Magic' Stamp
The "Mercury's Magic" stamp was issued by the Royal Mail on 1st June 1999, and features a live photo of Freddie taken from the 'Hammer To Fall' video. The stamp was part of the 'Entertainer's Tale' edition, comprising:
"Mercury's Magic" 19 pence (second class) stamp, featuring Freddie Mercury (and Roger Taylor)

"World Cup" 26 pence (first class) stamp, featuring a drawing of Bobby Moore

"Doctor Who" 44 pence stamp, featuring a Dalek

"Chaplin's Genius" 64 pence stamp, featuring a drawing of Charlie Chaplin
The series was aimed to illustrate British developments in music, sport, television and film. The 'Mercury's Magic' stamp features a photograph by Denis O'Regan, and was designed by Peter Blake. The stamp caused much controversy because Roger's head can be seen in the background on both parts of the stamp, and nobody living, except royalty, is allowed to appear on a stamp. As a result, some people laughingly called for Roger to be beheaded for treason.
---
The stamps were made available in five forms. Full detailed scans of each can be found in the gallery.

1. Individually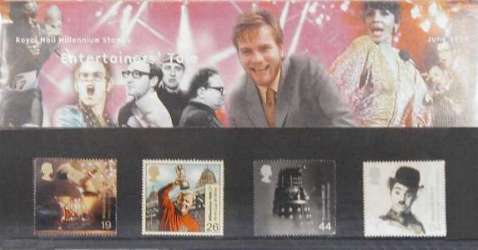 2. "Entertainer's Tale" Presentation Pack
All four stamps presented with a colour fold-out sleeve, detailing developments of British radio, TV, film, sport and music, and featuring images of many celebrities from each field.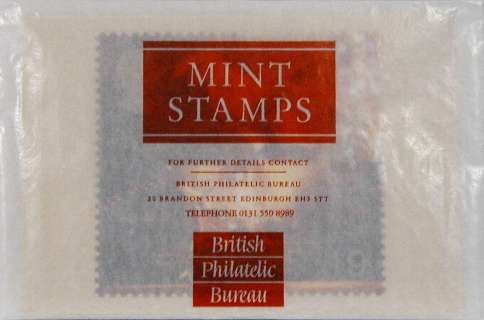 3. Postcard Set
All four stamps presented as postcards, with each stamp approximately three times it's normal size on a gold background, in a semi-plastic pack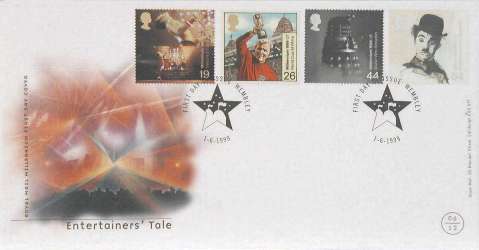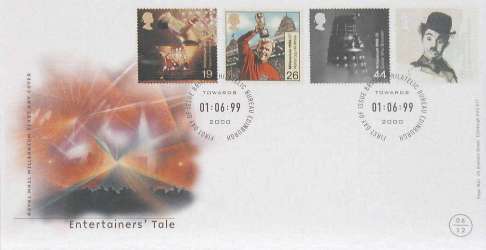 4/5. First Day Covers - Wembley or Edinburgh
All four stamps mounted on a specially printed envelope, addressed to the purchaser (the address appears below and between the two stamp marks).
---
The celebrities and sportsmen/women featured in the Presentation Pack are:
Music:
Stamp: Freddie Mercury
Front Sleeve: Elton John and Shirley Bassey
Back Sleeve: Courtney Pine (Saxophonist) and David Bowie
Inside Sleeve: Cliff Richard and Mick Jagger
Fold out sleeve: The Spice Girls, The Beatles, Tom Jones, Robbie Williams


TV & Radio:
Stamp: A Dalek
Front Sleeve: The Goons and Vic Reeves & Bob Mortimer
Back Sleeve: Michael Parkinson and Kenny Everett
Inside Sleeve: Helen Mirren
Fold out sleeve: Lenny Henry, Morcambe & Wise, Pauline Quirke & Linda Robson


Film:
Stamp: Charlie Chaplin
Front Sleeve: Ewan McGregor
Back Sleeve: Judi Dench
Inside Sleeve: Emma Thomson and David Niven
Fold out sleeve: Michael Caine & Noel Coward, Sean Connery, Laurence Olivier and Peter Ustinov


Sport:
Stamp: World Cup (Bobby Moore)
Front Sleeve: Linford Christie
Back Sleeve: Roger Bannister
Inside Sleeve: Ian Botham, Jackie Stewart and George Best
Fold out sleeve: Prince Naseem, Red Rum and Fatima Whitbread
---