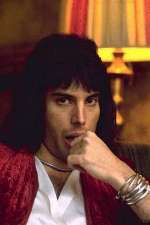 'I Want To Break Free', 1984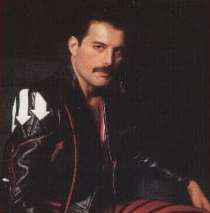 1982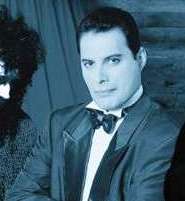 Barcelona, 1989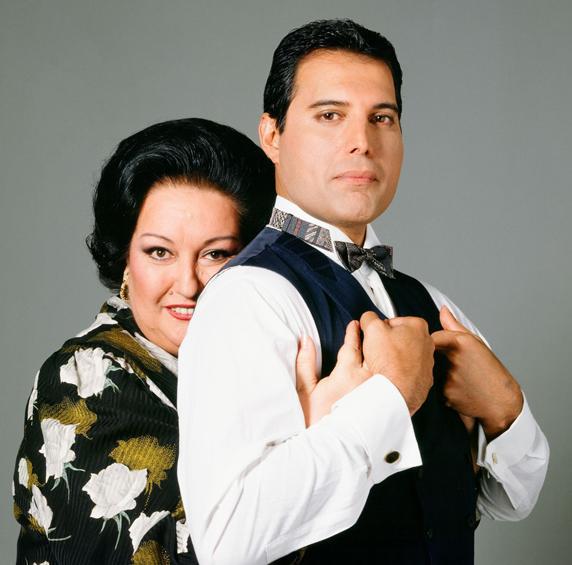 Barcelona, 1988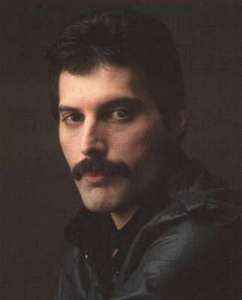 'Greatest Hits' photography session, 1981
Freddie is one of the most successful vocalists and songwriters in the world, and is generally regarded as the best frontman of any band. He has written some of Queen's biggest hits and enjoyed a moderately successful solo career. Among his Queen compositions are 'Seven Seas Of Rhye', 'Killer Queen', 'Bohemian Rhapsody', 'Somebody To Love', 'Good Old Fashioned Loverboy', 'We Are The Champions', 'Bicycle Race', 'Crazy Little Thing Called Love', 'Play The Game' and 'It's A Hard Life', while solo hits included 'Love Kills', 'The Great Pretender', 'Barcelona' and 'Living On My Own'.

Farookh Bulsara was born in Zanzibar in 1946, and the family moved to India in 1947, where Farookh would eventually attend boarding school in Bombay. Whilst there, he won awards for boxing and table tennis, and joined his first band, 'The Hectics', in 1959, playing the piano. His family moved to London in 1963, due to a political uprising. He then attended Ealing College of Art, becoming friends with fellow student Tim Staffell, and eventually obtaining a diploma in Graphic Art & Design. Freddie joined his first UK band in 1969, 'Ibex'. In September 1969, Ibex were joined on stage by Smile, presumably the first meeting between Freddie, Brian and Roger. The group eventually broke up in October 1969.

Freddie's second band, 'Wreckage', were formed in October 1969, and they played a handful of concerts in the UK before splitting up, in early 1970. Freddie's third band was 'Sour Milk Sea', but they only lasted until around March 1970.

Freddie had become a big fan of the group 'Smile', but his friend Tim Staffell left the group in March. Freddie then endlessly pestered Roger and Brian to join the group, telling them what they should be doing. Despite some initial reluctance from Brian and Roger, the resulting group, Queen, performed their first concert together in June 1970. The band recruited bass player John Deacon by 1971 and the group was born. It was around this time that Freddie changed his name from Farookh Bulsara to the more glamorous Freddie Mercury, named after the messenger of the Gods.

Between 1970 and 1984, Freddie toured most of the world with Queen and co-produced 10 studio albums. In 1984, he began his solo career, by writing the track 'Love Kills' with Georgio Moroder for his colour version of Fritz Lang's classic 'Metropolis', which became a no 10 hit.

In 1985, Freddie released his first solo album, 'Mr Bad Guy', which reached an impressive number 6 in the chart. The album featured 11 self-written songs, in a blend of pop, disco and ballads. Four singles were released throughout the year, but only the first, 'I Was Born To Love You', made any impact on the chart, reaching no 11. Two tracks from the album, 'Made In Heaven' and 'I Was Born To Love You', were later reworked for the 1995 Queen album 'Made In Heaven', the latter becoming a no 1 hit in Japan in 2004.

1986 saw Freddie's next project, two solo songs for Dave Clark's musical 'Time'. Dave Clark had become a great friend of Freddie's, and Freddie provided the title track and 'In My Defence' to the musical. 'Time' reached no 32 in the charts in May 1986, while August 1986 saw Freddie's last concert with Queen, at Knebworth Park in Hertfordshire.

February 1987 saw the release of 'The Great Pretender', a cover version of The Platters 1956 hit. The track soon became Freddie's most successful single so far, reaching number 4 in the UK charts. The video was one of the most extravagant of all of Queen's, which saw Freddie, Roger Taylor and actor friend Peter Straker in drag as backing singers, while Freddie sang surrounded by hundreds of cardboard cutouts of himself and revisited videos of the past.

Later in 1987, Freddie released his eighth solo single, a collaboration with Montserrat Caballe. Freddie had been a great fan of hers for many years, and mentioned this in a Spanish TV interview. Freddie wrote a track for her, about her home town, and she was so impressed that they recorded the song together. 'Barcelona' was the resulting single, which reached number 8 in the singles charts. The pair would also perform the track at the Ibiza 1992 Festival, in May 1987.

Throughout 1988, Freddie and Montserrat recorded a further six tracks together, and the resulting album was released in the UK in October 1988, reaching a relatively disappointing no. 25. Two singles from the album, 'The Golden Boy' and 'How Can I Go On' both only managed to reach the mid-eighties. In October 1988, Freddie and Montserrat made their second and final public performance together, performing the three singles at 'La Nit Festival' in Barcelona.

Freddie's health had been deteriorating for some time, and on the 23rd November 1991, he revealed to the world's press that he was HIV Positive and had AIDS, to end years of speculation, and to raise the profile of the disease to hopefully help find a cure. Tragically, Freddie died the next day, on 24 November 1991, of AIDS related Bronchial Pneumonia.

It was Freddie's last wish that 'Bohemian Rhapsody' should be reissued to raise money for AIDS charities. The single was hence released and topped the chart a second time, spending five weeks at number one, making it one of the most successful singles of all time. Queen's 'Greatest Hits II' album was also released, just before his death, and eventually reached 5 times platinum sales. At the 1992 Brit Awards, Roger Taylor announced that a tribute concert would be staged to raise money for the newly created 'Mercury Phoenix Trust', set up in Freddie's name to distribute money to AIDS charities around the world.

On Bank Holiday Monday in April 1992 the concert was staged at Wembley Stadium. Stars such as Elton John, David Bowie, George Michael, Guns 'n' Roses, Lisa Stansfield, Annie Lennox, Paul Young, Extreme, and many others, all played alongside Queen to pay tribute to Freddie, watched by millions worldwide on TV. Later in the year, in July, 'Barcelona' was re-released, and reached no 2, his biggest hit so far. A follow up single, a reissue of 'How Can I Go On?', was released in October, but failed to chart.

In November 1992, a compilation of original and remixed solo tracks was released, titled 'The Freddie Mercury Album', which reached no. 4, becoming his highest charting album. At the same time, 'In My Defence', previously only available on the 'Time' soundtrack album, was also released and reached number 8. At the start of January 1993, Freddie's fourth posthumous solo single was issued, a re-release of 'The Great Pretender', reaching just no 29.

1993 however had a vast turnaround in terms of chart success. In April, a live version of 'Somebody To Love', recorded at Freddie's tribute by Queen and George Michael, was released as the lead track on 'The Five Live EP', which reached number one, Queen's fifth no 1 single. In July, a remixed version of the 1985 track 'Living On My Own' was released, also reaching no 1 on the chart, giving Freddie his first and only solo number one single. The success meant that Freddie became the first person to write, produce and sing number one singles both pre and post-humously, as part of a group and as a solo artist.

October 1995 saw the release of the final Queen album, 'Made In Heaven', which featured Freddie's very last songs, recorded in Montreux, Switzerland, only a few months before his death. The album went straight in at number one, gave Queen five further hit singles, and soon became their best selling studio album, achieving five times Platinum status.

In October 2000, a 10CD and 2DVD collection was released, titled 'Freddie Mercury: Solo', featuring remixes, out-takes and demos which Freddie recorded over the years, giving a fascinating insight into the development of his solo work. The collection featured almost every track Freddie recorded as a solo artist, so it is unlikely that any original material will be released in the future.

September 2006 saw several releases to mark his 60th birthday - 'Lover Of Life - Singer Of Songs: The Very Best Of Freddie Mercury Solo' was released as a CD, double CD and double DVD set, with the CD reaching no 6 in the charts and the DVD reaching no 1. The CD featured original versions, demos, and new remixes, with a remix of 'Love Kills' released as a single in several European countries. September also saw the release of the book "Freddie Mercury - A Life, In His Own Words", a collection of interviews with Freddie arranged in an autobiographical style.

September 2012 saw another set of releases, with the 'Barcelona - Special Edition' album, which combined a new orchestral score with Freddie and Montserrat's original vocals, and a book and DVD/Blu-ray documentary titled 'The Great Pretender'. Directed by Rhys Thomas, who previously directed the successful 'Days Of Our Lives' Queen documentary, the film featured unique interviews and video footage, and concentrated on Freddie's solo projects and life away from Queen.

In September 2015, a track titled 'Little Freddie Goes To School' was released, in aid of the Mercury Phoenix Trust. The track was composed by Stuart Leathem, and sung by Esther Trousdale, and features short vocal excerpts of Freddie from several solo tracks.

On 1 September 2016, to mark Freddie's 70th birthday, Brian and Freddie's sister Kashmira Cooke unveiled an English Heritage blue plaque on Freddie's former home in Gladstone Avenue, Feltham, London, while on 2nd September, a new compilation 'Messenger Of The Gods' was released. The set featured all of Freddie's original release singles, plus Larry Lurex 'I Can Hear Music', and their corresponding B-sides, and was available as a 2CD set or a boxed set featuring each single pressed onto coloured vinyl.

Since his death, Freddie's musical achievements have continued to live on through new releases, the 'We Will Rock You' musical, the Queen live tours and the countless cover versions which are released each year, a continuing testament to his very unique vocal range and songwriting ability.