Diableries - Stereoscopic Adventures In Hell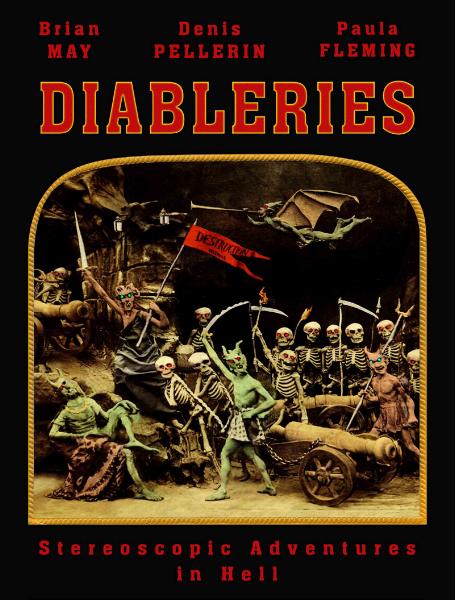 'Diableries - Stereoscopic Adventures In Hell' was published on 31 October 2013, and was written by Brian May, Denis Pellerin and Paula Fleming.

The book is a study of 'Diableries', which are French stereo cards produced between 1840 and 1900, which have fascinated Brian for over 40 years since first discovering them as a student. The book contains 280 pages and 500 full colour photographs, and comes in a slipcase with an 'Owl' stereoscope viewer. It was also available as a special deluxe collectors edition, which was signed by the authors, bound in faux leather with gilt edged pages, and came with a gold Owl stereoscope viewer and a certificate.

The authors promoted the book by hosting a series of lectures, talks, and book signings in the UK. Brian also opened a free gallery in a disused telephone box in the English village of Settle, which featured a selection of photographs from the book.

A short film titled 'One Night In Hell' was released in 2014, which features animated scenes based on Diableries featured in the book. Brian was one of the producers of the film, contributed a new track to it, and also briefly appears. In addition, an app was produced for the iPad and iPhone platforms, and later Android, allowing you to view 24 original stereo cards and interact with the characters through a 'Diabl-O-Scope' augmented reality application.

A set of 12 stereoscope cards from the book were later included in the 'Victorian Gems' boxed set in 2015.

The original 2013 release featured 180 Diableries, with two missing. These two cards were then discovered in 2018, and the book was re-published as 'The New Complete Edition' on 31 October 2019. To mark this, they were presented as a free exhibition on 28th October at the Century Club, Soho, London, for one day only. This also included the skull guitar from Queen's 'It's A Hard Life' video, which features in the 'One Night In Hell' film.


The following is taken from the book's official website, www.diableries.co.uk:
Brian May is one of the world's foremost collectors of Victorian stereo cards. He published his first book about these cards in 2009. 'A Village Lost And Found' contained a complete series of stereo cards taken in a small Oxfordshire village, and was a huge success and the subject of a great deal of media attention.

In this second book, the subject is of broader interest and is more controversial. Diableries (which translates roughly as 'Devilments') presents an extraordinary set of French stereo cards, which were published beginning in the 1860's, and continuing on until around 1900. They depict a whole imaginary underworld, populated by devils, satyrs and skeletons which are very much alive and, for the most part, having fun. The cards are works of art in themselves, and are known as French tissues, constructed in a special way to enable them to be viewed (in a stereoscope, which is supplied with the book) illuminated from the front, for a normal 'day' appearance in monochrome, or illuminated from the back, the view becomes a 'night' scene, in which hidden colours magically appear.

The scenes depicted in these Diableries were made in clay, on a table-top, with amazing skill, by a small bunch of gifted sculptors, and then photographed with a stereo camera. The resulting stereo pair of prints was made on thin albumen paper, and water-colours were applied to the back of the prints. The eyes of each skeleton were then pricked out with a sharp instrument, and small pieces of red gel, or blobs of reddened varnish, were applied to the back of the pricked holes. Behind this pair of prints was added a layer of tissue paper, which hid the 'works' to the rear surface of the view. The print and the backing tissue were then mounted together, sandwiched between two cardboard frames – each with twin cut-out 'windows' for the prints, and the whole was glued together to make a French Tissue stereo card and the eyes of the skeletons leap out in red, in a most macabre way! Collectors prize these cards, which are quite delicate, and must be handled with care, in order not to damage them.

In addition to the beautiful images of the complete set of over 70 stereo cards which can be seen in 3D using the viewer provided, Brian and his fellow authors and researchers Denis Pellerin and Paula Fleming provide an explanatory text for every card to unravel its meaning – the satirical nature of the cards is hidden to modern eyes.


Brian May, CBE, PhD, FRAS is a founding member of Queen, a world renowned guitarist, songwriter, producer and performer. Brian postponed a career in astronomy when Queen's popularity first exploded, but after an incendiary 30 years as a rock musician, returned to astrophysics in 2006, when he completed his PhD and co-authored his first book, 'Bang! The Complete History of the Universe', with Patrick Moore and Chris Lintott. Stereoscopy has been a life-long passion, and his second book, 'A Village Lost and Found', written with Elena Vidal, introduced the genius of Victorian Stereophotographer T. R. Williams to a global audience.

Denis Pellerin, dedicated photohistorian, was a teacher for over 30 years and has been interested in photography since the age of ten. He was bitten by the stereo bug in the 1980's, has been fascinated by the Diableries for over 25 years and has written several books and articles on 19th-century stereophotography for various magazines, institutions and museums. He graduated as an MA in Art History at the Sorbonne in 1999 and has since been specialising in French and British Victorian genre stereoviews. He is also currently working on his PhD.

Paula Richardson Fleming is a photographic historian with a special interest in stereo photography. She is the retired Photo Archivist of the Smithsonian Institution National Anthropological Archives, and a Fellow and former member of the Board of Directors of the National Stereoscopic Association. Her credits include publications on 19th-century photography, as well as the curation of many photographic exhibits. Her association with Brian and Denis came naturally from their mutual appreciation of Diableries.
---