A Village Lost And Found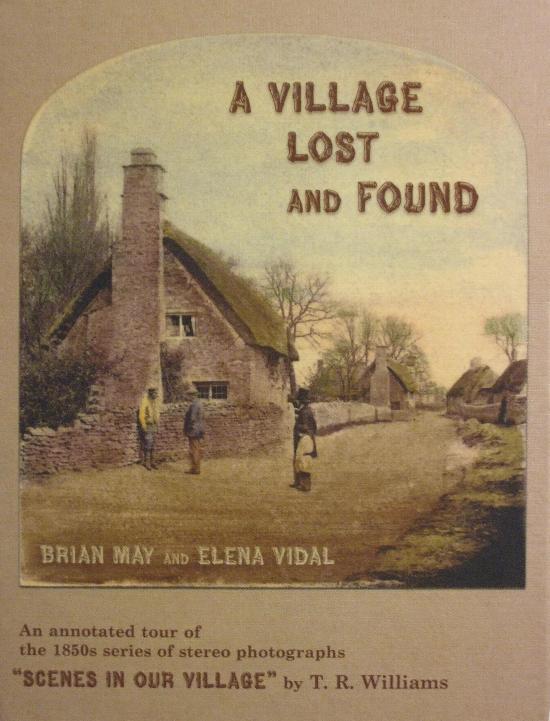 An Annotated Tour Of The 1850's Series Of Stereo Photographs "Scenes In Our Village" By T. R. Williams
"A Village Lost And Found" was published on 22 October 2009, and was written by Brian May and Elena Vidal.

The book is a study of the work of T. R. Williams, a 19th century photographer and pioneer of stereoscopic photography, which involves taking two photographs at the same time from slightly different angles to give a three dimensional image. He took numerous photographs of a then unknown village, which in 2004 was revealed as Hinton Waldrist in Oxfordshire, after an appeal on Brian's website.

The book features 239 pages and contains the original stereo photographs, alongside some modern day equivalents, the majority taken by Brian. The book also comes with a fold-out stereoscope known as 'The Owl', which enhances the ability to view the photographs correctly. The stereoscope was designed by Brian himself, and was later redesigned and available individually, or as part of the 'Owl's Nest' box set, with a set of four stereo cards (two of Queen live, one astronomy, and one of French diableries).

A set of 12 stereoscope cards from the book were later included in the 'Victorian Gems' boxed set in 2015.

Brian and Elena promoted the book by hosting a series of lectures, talks, and book signings in the UK.

The following is taken from the back of the book itself:
This book is the perfect antidote to the stress of life in the 21st Century. It portrays the idyll of life in an 1850's village, 'far from the sound of the train's whistle'.

The identity of the village was lost to the world for 150 years, and only by a miracle does this magical set of stereoscopic views survive, brought together for the very first time by Brian May and his co-author, photo historian Elena Vidal. Their research is amazingly in-depth, but the book is utterly readable, and the pictures truly leap into life, viewed with the new focussing stereoscope that May has designed and produced, which then folds neatly back into the slip-case of the book.

'A Village Lose And Found' brings master pioneering stereographer T. R. Williams's passionate life-work 'Scenes In Our Village' to a new audience - in glorious 3D - as never before.

Brian May, CBE, PhD, FRAS is a founding member of Queen, a world renowned guitarist, songwriter, producer and performer. Brian had to postpone a career in astronomy when Queen's popularity first exploded, but, after an incendiary 30 years as a rock musician, was able to return to astrophysics in 2006, when he completed his PhD, and co-authored his first book, 'Bang! The Complete History Of The Universe', with Patrick Moore and Chris Lintott. Stereoscopy has been a life-long passion for Brian. To enjoy updates on his work and his thoughts on various topics, visit his website at www.brianmay.com.

Elena Vidal is an experienced conservator and photo historian. She has worked as a conservator of paintings in Florence, Spain and the UK. She graduated as an MA in Photographic Conservation at the Camberwell School of Arts, and has subsequently specialised in the history of stereoscopic photography. Since meeting Brian May in 1997, Elena has collaborated with him on a long-term study of Thomas Richard Williams, and has published a number of articles.
---
Outer Slipcase.....
.....Book.....
.....and Pop-Up 'Owl' Stereoscope
---