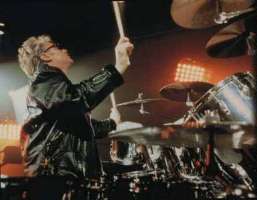 'I Want It All', 1989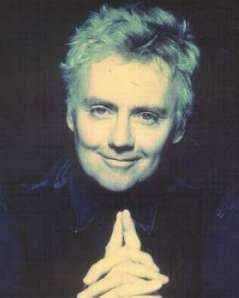 'Happiness?', 1994

'Let Me Live', 1995
Roger is world renowned as Queen's drummer, but is also a successful songwriter, having written some classic Queen tracks, including 'Modern Times Rock 'n' Roll', 'Tenement Funster', 'I'm In Love With My Car', 'Sheer Heart Attack', 'Radio Ga Ga', 'A Kind Of Magic' and 'Heaven For Everyone'. He is also the most active solo artist, having released a total of 7 albums, including three with The Cross.

Roger was born in Norfolk but moved to Truro in 1957, at the age of eight. He joined his first group in 1965, called 'Johnny Quale and The Reaction', but when lead singer Johnny Quale left the same year, Roger took over lead vocals for 'The Reaction', which lasted until July 1968. Later in 1968, Roger decided he wanted to become a dentist, and enrolled on a course at London Hospital Medical School. However, he eventually left to study Plant and Animal Biology at North London Polytechnic.

It was in 1968 that Roger auditioned for Tim Staffell and Brian May, who were looking for a 'Ginger Baker type drummer'. Roger passed the audition and became the drummer for 'Smile', who played many concerts until 1970, when Tim Staffell left. Freddie Mercury then joined the group, and later John Deacon was chosen as bass player, and Queen was born.

In August 1977, Roger became the first member of Queen to produce solo work, by a clear six years. His debut single was a reworking of a track titled 'I Wanna Testify', but this failed to make an impact on the chart. His next solo venture was his 'Fun In Space' album, in 1981, which reached no 18 in the chart, the first single from which gave Roger his first singles chart entry (albeit only no. 49).

Roger's second solo album came in 1984, titled 'Strange Frontier'. It featured eight own compositions and two covers, with guest appearances by Freddie and Status Quo's Rick Parfitt. The first single, 'Man On Fire', gave Roger his second chart entry, but only a disappointing no 66, while the second single 'Strange Frontier' fared even worse, stalling at no 98.

In 1987 Roger decided that for his new album, the tracks had to be performed live in the studio, so he embarked on selecting four musicians for the band, and the result, 'The Cross', released three albums between 1988 and 1991, touring throughout the UK and Germany.

It wasn't until 1994 that Roger's next album was released. 'Happiness?' reached no 22 in the chart and gave Roger three top-30 hit singles. The first, 'Nazis 1994' was banned from advertising and commercial airplay, and many shops refused to stock it, but despite this it reached no 22 in the chart (just like the album). Roger followed the release with a tour of the UK and, in 1995, Italy.

Roger's next album did not come until 1998, mainly due to other projects, such as the final Queen album, 'Made In Heaven', and the first post-Freddie song, 'No-One But You', on which Roger sang some lead vocals. 'Electric Fire' was released in September 1998, and spawned two singles, 'Pressure On' and 'Surrender', although neither the album nor singles made any significant impact on the charts. Roger followed the album with a tour of the UK, including an internet concert from his home in Surrey which broke the world record for viewers of an online concert.

In 2006, Roger recorded a song with his son, Felix, under the name 'Felix & Arty', a play on his initials. The track, 'Woman You're So Beautiful', had huge download exposure in the Summer of 2006, but sadly failed to make much impact when later released as an official download. In 2008, Roger's other son Rufus played drums for Kerry Ellis and Brian May at the 2008 Royal Variety Performance and subsequently played drums for the UK Touring production of 'We Will Rock You', the 2012 Queen + Adam Lambert tour, and numerous other appearances with Queen and solo projects.

In November 2009 a second one-off single was released, 'The Unblinking Eye (Everything Is Broken)', a song about the state of society, followed up in July 2011 by 'Dear Mr Murdoch', a reworked version of his track from 'Happiness', as a response to the phone hacking scandal. Also in 2011 he launched 'The Queen Extravaganza', a talent search to find a group of musicans to appear in a tribute band to tour North America in 2012, with a second tour following in 2013.

On 11 November 2013, Roger released his long-awaited fifth album, titled 'Fun On Earth', a reference to his debut album 'Fun In Space', alongside a 12 CD and 1 DVD career-spanning boxed set titled 'The Lot', which contained all eight albums he released as a solo artist and with The Cross, and four compilation albums collecting all of the remaining tracks, remixes and alternate versions released throughout his career. The 'Fun On Earth' album was later released on vinyl on 19 April 2014, as part of National Record Store Day.

In 2014, Roger appeared in brief interview segments in "Brian Pern: A Life In Rock", a spoof BBC documentary about an ageing rock star, loosely based on Peter Gabriel. The series was written and directed by Rhys Thomas who had worked with Queen on a number of projects, and Roger went on to appear in both subsequent series. On 26 September 2014, Roger was an awarded an honourary doctorate in music by Plymouth University. On the 27th October, he released 'Best', a North American exclusive 'best of' album featuring 18 tracks from his solo albums, while 'The Lot' boxed set was also given a North American release on 11 November. A few days later, on 15 November, Roger played drums on the Band Aid 30 re-recording of 'Do They Know It's Christmas?', which subsequently reached no 1. In March 2015, his first two solo albums were re-released on CD and limited edition coloured vinyls, exclusive to the USA.

Roger also composed the soundtrack to the film 'Solitary', which premiered in April 2015. He acted as an executive producer, alongside his wife Sarina, who also appears in the film. He also contributed a track to the Terry Jones film 'Absolutely Anything', while in June, his son Rufus became the new drummer of rock band The Darkness, who were heavily inspired by Queen. He also performed at several SAS Band concerts in the UK later in the year.

In May 2017, Roger released a video download for a new track, 'Journey's End'. The song was inspired by the deaths of David Bowie and many other musicians in 2016, as well as Roger's own mortality. The video was a cinematic short, mostly filmed near his home in Cornwall, and was directed by BAFTA award winning director Stuart Brennan. It topped the iTunes video download charts in the UK in it's first week of release, and charted highly in many other countries worldwide, before being given a full audio release in June, and a physical release in the USA in November, followed by the UK in April. Meanwhile, a remix of 'Two Sharp Pencils', Roger's 1984 non-album track from the 'Strange Frontier' sessions, was released in July. In April 2019, he released another new single, 'Gangsters Are Running This World', which was followed in June 2020 with 'Isolation', as a response to the Coronavirus pandemic and lockdown. In the New Year's Honours in 2020, he was awarded the OBE for services to the music industry and charity, which he dedicated to drummer Taylor Hawkins after his death in March 2022.

Naturally, he continues to work on other projects and collaborations, live performances with Brian, and continued productions of the 'We Will Rock You' musical.