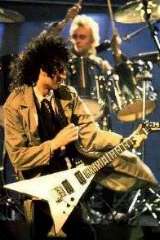 'Princes Of The Universe', 1986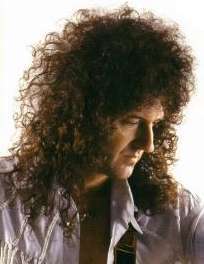 'Back To The Light', 1992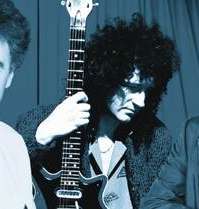 'Let Me Live', 1995

Brian is world renowned as Queen's lead guitarist, using the guitar he built from an old fireplace with his father whilst still at school, and is one of the world's most successful songwriters and producers. His songwriting credits include 'Now I'm Here', 'Tie Your Mother Down', 'We Will Rock You', 'Fat Bottomed Girls', 'Flash', 'Hammer To Fall' and 'Who Wants To Live Forever', and to date has written 22 top 20 hits worldwide. He has also collaborated with many other artists, including Cliff Richard, Meat Loaf, Diana Ross, Paul McCartney and Robbie Williams.

Brian formed his first band in 1964, titled '1984'. They split up in 1968, and several months later he formed 'Smile' with Roger Taylor and Tim Staffell. They lasted for two years before splitting up, when Tim left and Freddie Mercury joined to form 'Queen'. John Deacon was added as bassist in 1971 and the group was born. Brian spent the next 12 years recording and touring the world.

In 1983, Brian went into the studios with four friends for a simple jamming session, and the result was released as a mini-album titled 'Starfleet Project'. The album featured a 15 minute jam titled 'Bluesbreaker' which was dedicated to Brian's hero, Eric Clapton. One track, released as an edited single, was based on the theme tune to a children's TV programme called 'Starfleet'. Brian had written the third track, 'Let Me Out', years earlier, intended for a Queen album. The next 3 years saw extensive touring with Queen, followed by 5 years work on his next solo album and Queen's 'The Miracle', during which time he started seeing EastEnder's actress, Anita Dobson, after working together on her album 'Talking Of Love'.

In 1991, Brian was one of the leading creative forces behind the Comic Relief single 'The Stonk' by Hale & Pace. Brian produced the track, plays guitar and keyboards, and the track also features Roger Taylor and a wealth of Brian's future collaborators. The single went straight to no 1, making it one of three number one's which Brian appeared on in the year.

1992 saw the release of Brian's first proper solo album, 'Back To The Light'. Two singles, 'Driven By You' and 'Too Much Love Will Kill You', gave him his first solo hit singles. Extensive tours of the UK, Europe and US followed with the newly formed 'Brian May Band', with 'Live At The Brixton Academy' being released as a live album and video in 1994.

In the following two years, Brian devoted his time to the completion of Queen's last studio album, 'Made In Heaven', and two solo soundtrack projects, 'The Amazing Spider-Man' and 'Pinocchio'.

1998 saw the release of 'Another World', Brian's most recent studio album. Shortly before the release, Brian's great friend and collaborator Cozy Powell was tragically killed in a car accident. Cozy had worked with Brian on both his studio albums and live concerts. The first single from 'Another World', 'The Business', was released as a tribute to his memory. Extensive touring throughout Europe and Asia followed in the latter half of 1998.

Between 1999 and 2001, Brian made a few live performances, married long term partner Anita Dobson on 18 November 2000, and did several Queen reworkings, including collaborations with Five and Robbie Williams. Brian also appeared on the Robbie Williams track 'Eternity', which reached no. 1 in the chart, making it the eighth no. 1 that Brian has played on. Brian then produced a 41 track double CD, 'The Best Air Guitar Album In The World', featuring two Queen tracks.

Brian also worked extensively with Roger and Ben Elton on the 'We Will Rock You' musical, and the 'Heaven' laser show. He has also found time to write the theme tune to two TV programmes, 'The Stretch' and 'Fun At The Funeral Parlour', and to produce the theme music for the 2002 Winter Olympics with conductor Michael Kamen, a mini-opera called 'The Fire Within'.

In September 2002, Brian joined presenter Sue Lawley as the first guest for the new series of Radio Four's 'Desert Island Discs', discussing his life and career and selecting 8 records to take with him, alongside a book and an object. His book was 'Out Of The Silent Planet' by C.S Lewis and his object, naturally, was his Red Special guitar. In June 2005, Brian was awarded the CBE for services to the music industry and charity, which he collected from the Queen on 6 December 2005.

In 2006, Brian added to his impressive list of collaborations by recording tracks with Diana Ross, Meat Loaf and Cliff Richard, the latter ("Move It") reaching no 2 in the charts as part of a double-A sided single. Meanwhile, October saw the release of 'Bang - The Complete History Of The Universe', co-written by Brian with Patrick Moore and Chris Lintott from 'The Sky At Night'. Brian is also an occasional contributor to the programme and continues to be fascinated by astronomy. The book won numerous awards and was subsequently revised and re-published in 2007. Also in 2006, Brian filmed a role for a musical 'Return To The Forbidden Planet', in which he played the part of Doctor Rockit.

In June 2007, Brian collected an honorary doctorate from the University of Exeter, and collected an honorary fellowship from Liverpool John Moore University on his birthday, 19 July. In August he became a fully-fledged Doctor in his own right; 36 years after starting work on it, he handed in his thesis 'Radial Velocities In The Zodiacal Dust Cloud' on 3 August 2007. At 48,000 words, it showed that clouds of inter-galactical dust travel in the same motion as planets. He was awarded his PhD on 23 August, while his PhD was later published, in full, in August 2008.

At the end of 2008, following Queen + Paul Rodger's extensive tour of Europe and South America, Brian performed again with original 'We Will Rock You' vocalist Kerry Ellis, at the Royal Variety Performance, and were joined by Roger's son Rufus on drums. In June 2009 he joined her at four of her concerts at the Shaw Theatre in London, as a surprise guest during the encores.

November 2009 saw the release of Brian's second book, 'A Village Lost And Found', about the work of stereo photographer T.R. Williams, whom Brian has been an enthusiast of since the 1960's. Early 2010 saw Brian launch the Save Me website, which aims to raise awareness of animal rights issues, notably targeting the proposed repeal of the fox hunting ban surrounding the 2010 election. As a result of his work, he was awarded the Campaigner Of The Year Award by the International Fund for Animal Welfare, which he received at the House Of Lords in October 2010.

Much of 2010 was spent on the completion, and promotion, of Kerry Ellis' debut album, 'Anthems'. Kerry performed the part of Meat in the original London production of 'We Will Rock You', and the album was a true collaboration, with Brian producing every track, playing all but the drums on each one, and writing several songs. Brian and Kerry promoted the album with a number of TV appearances, and performed at the 'Proms In The Park' event in Hyde Park. In 2011, they toured throughout the UK on a 15 date tour, starting with two sell-out performances at the Royal Albert Hall, along with a number of other appearances. In June 2011, Brian was one of the speakers at the Starmus Festival, a six day festival held in Tenerife, which gathered together physicists, astronomers and astronauts to celebrate 50 years of space exploration. As part of the festival, he performed at a concert with Tangerine Dream, which contained music harnessed from the natural vibrations of stars. 2011 continued with further live shows with Kerry Ellis and Roger, guest appearances alongside My Chemical Romance and Lady Gaga, and the recording of 'Rockstar' with rapper Dappy, which reached no 2 in the charts in 2012.

In September 2012, Brian was awarded the Saxby award for his work on stereo photography, and in the same month was named vice president of the RSPCA, in recognition of his work to repeal the hunting ban and badger cull. A second book on astronomy was published in October 2012, titled 'The Cosmic Tourist', again co-written with Chris Lintott and Sir Patrick Moore, who died in December, and whom Brian described as 'a dear friend and a kind of father figure'. In November, Brian and Kerry released a reworked version of 'Born Free', to raise funds for the Born Free Foundation to help wild lions in Africa, which was followed by an 11 date acoustic and candlelit tour of England. In late 2012, Brian was named Person of The Year by PETA (People For The Ethical Treatment Of Animals) for his campaigning against the badger cull.

In 2013, Brian and Kerry released a single 'The Kissing Me Song', in addition to a live album of selected tracks from the Born Free tour, titled 'Acoustic By Candlelight'. The release of the album coincided with a futher 'Born Free' tour of the UK and selected dates in France, Italy, Switzerland and Austria. They are currently working on a second studio album and a DVD. Brian also teamed up with Weebl and Brian Blessed to record 'Save The Badger Badger Badger', to raise awareness of the badger cull, which charted in the top 40. He also appeared as a special guest playing the role of God in the Monty Python musical 'Spamalot', to raise money for the 'Save Me' campaign. He recorded his parts in advance, which were shown in the musical via videoscreen from the 9th to 14th September.

In November, Brian's third book was published. Written with Paula Fleming and Denis Pellerin, 'Diableries - Stereoscopic Adventures In Hell' focuses on stereoscopic horror images of skeletons and devils, which were produced in France in the 1800's. The authors presented a number of lectures around the UK to promote the book, while Brian also opened a gallery in a disused telephone box in the village of Settle in England, which presented some of the images from the book. In late 2013 and early 2014, Brian had a number of extensive tests to investigate whether cancer may be the cause of continuing back pain and bone abnormalities. He documented much of this through his Soapbox, before thankfully receiving the all clear.

In 2014, Brian performed more shows with Kerry Ellis, across England and Europe, with a DVD and Blu-ray of their 2013 Montreux Jazz Festival performance released on 31 March. In June, he was named The Observer newspaper's Ethical Campaigner Of The Year, followed by Celebrity Supporter Of The Year at the annual Animal Hero awards in November. He was also a guest speaker at the second Starmus festival, held in September, which also featured the premiere of the film '51 Degrees', for which he has contributed the soundtrack.

In October, an animated short film titled 'One Night In Hell' was released, based on the Diableries cards featured in Brian's book. Brian was involved in the production of the film, contributed a new song to the soundtrack, and appears briefly. Both the film and track were available to download, with the film ranking at #1 on the worldwide short films chart on iTunes. Also in October, he released two further books. 'Brian May's Red Special - The Story Of The Home-Made Guitar That Rocked Queen And The World' featured an in-depth account of designing, building and performing with the guitar, including photographs from the early 1960's, the guitar's restoration, technical drawings and specifications. Meanwhile, 'The Poor Man's Picture Gallery' studied the relationship between paintings and stereo photographs in the 1850's and 1860's, and was also staged as an exhibition at the Tate Britain gallery in London.

Brian was very busy in the run up to the 2015 General Election, launching 'Common Decency', which aims for colourblind politics, where politicians vote for the issues that matter to them, rather than the issues that matter to their party, and continues to be an active campaigner against animal cruelty. To coincide with this, Brian and Kerry released a new single titled 'One Voice', while they have also worked on a sequel to the 'Anthems' album.

In February 2016, Brian and Kerry embarked on a 16 date European tour, and released a new single titled 'Roll With You', followed by 'Amazing Grace' in April, the latter to raise awareness of the plight of hedgehogs in the UK. April also saw the release of 'Crinoline: Fashion's Most Magnificent Disaster', written by Brian and Denis Pellerin, about the fashion trend and stereoscopy. July saw Brian performing with Hans Zimmer at the third 'Starmus' festival, and the announcement of an eleven date 'Candlelit Christmas' tour with Kerry Ellis across the UK in December 2016. This entire tour was later cancelled, in October 2016, as Brian revealed he was battling a "persistent illness". In November, 'Air Guitar Anthems' was released, again compiled by Brian, featuring 2 Queen tracks and a new track with Kerry Ellis.

April 2017 saw the release of 'Golden Days', a 13 track album recorded with Kerry Ellis. The album featured a mixture of acoustic and electric tracks, and included 8 cover versions, 4 new tracks, and a re-recording of the track which Brian had written for Minako Honda in 1986. It also featured a version of their live favourite 'I Who Have Nothing', with Irene Fornaciari on vocals. In May, the book 'Queen In 3-D' was published, written by Brian, which included a vast number of stereoscopic photographs from Brian's own collection, showing the band on stage, backstage, and in the recording studio.

January 2019 saw the release of 'New Horizons', a track written in tribute to a NASA space programme of the same name. The track was later released as a 12" single for National Record Store Day on 13 April. Brian was knighted in the 2023 New Year Honours, for services to music and charity.

Aside from this, there is a possible new boxed set of Brian's solo work outside Queen in the pipeline, while Brian also continues to work with Roger on numerous Queen projects and live performances, in addition to continued productions and a possible sequel of the 'We Will Rock You' musical, and his ongoing passions for astronomy and stereoscopy.